Korean authorities and disputes that Apple made carrier pay for advertising on iPhone, Apple commented on unusual criticism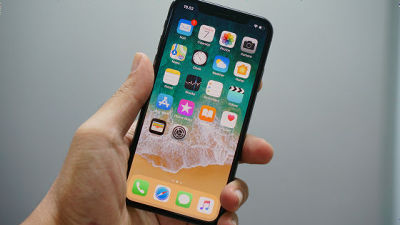 by
Bagus Hernawan
The Korea Fair Trade Commission (FTC) filed a lawsuit against Apple in January 2019, saying that 'we used the superiority of the company to pay the advertising carrier to the telecommunications carrier.' Although Apple was in direct opposition to the FTC's claims, it turned out that it did not show a lawsuit, but showed an attitude of compromise. On the other hand, Apple has announced an unusual comment on the matter, 'I was deeply disappointed with Korea's FTC approach.'
Apple to take voluntary action to correct unfair practices in Korea
http://www.koreaherald.com/view.php?ud=20190704000573
Apple seeks consent decree over its alleged violation of competition law
http://www.theinvestor.co.kr/view.php?ud=20190704000447
Apple wants to settle antitrust standoff with South Korean regulators | Cult of Mac
https://www.cultofmac.com/636310/apple-wants-to-settle-antitrust-standoff-with-south-korean-regulators/
This is not the first time any other incidents occur between Apple and Korea's Fair Trade Commission (FTC), and in 2016 the Korea Fair Trade Commission made an unfair contract by Apple with a local mobile carrier We are investigating to find out.
In 2018, Korean authorities
developed a
forced investigation of
the
Apple office prior to the launch of the iPhone X.
In January 2019, "Apple takes advantage of its position to use advertising carriers, etc. Problem has been pointed out.
According to The Korea Herald
, Apple has made it possible for local carriers to pay for TV advertising, events, and repairs for the iPhone. The Korea Fair Trade Commission has filed a lawsuit against Apple, saying that 'Apple's advertising activities should not be justified as a' brand strategy. '
Apple exploits mobile carriers: FTC
http://www.koreaherald.com/view.php?ud=20190121000607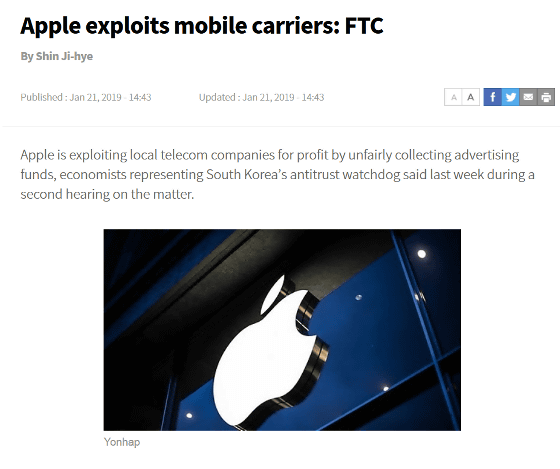 On the other hand, economists defending Apple deny that 'Apple has strong power.' TV commercials benefit both Apple and its carriers, and the claim was made that 'the advertising activities conducted by Apple are justified as preserving Apple's brand reputation.' Meanwhile, Korea's Fair Trade Association said that Apple's power surpassed that of local carriers, and it exploited unfair profits by letting advertising carriers pay for advertising expenses.
If Apple were convicted, up to 2% of the relevant sales could be fined, but a media report on July 4, 2019 revealed that Apple sought a
consent decision
. This means that Apple has acknowledged, violated, and accepted the recommendations against antitrust violations.
In response to Apple's action, South Korea's Fair Trade Commissioner Sang Sang-min said, 'Apple seems to have chosen a more economic option as to whether it will continue in court disputes or break up with the Korean Fair Trade Commission.' comment. Meanwhile, a few hours after the announcement, Apple said, 'We are deeply disappointed with the Korea Fair Trade Commission approach, and we agree that such actions have been taken despite Apple's presence 'I can not do it,' he announced an unusual comment condemning the Korea Fair Trade Commission.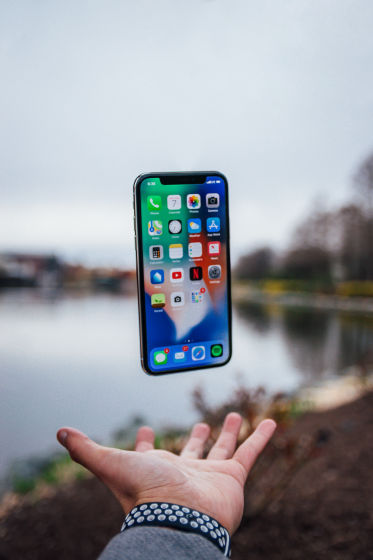 by Neil Soni

As for the future flow, the Antitrust Bureau will submit an examination report, and the contents will be discussed within 14 days. The decision is then communicated to the chairman of the Korea Fair Trade Commission, after consultation with stakeholders, relevant organizations and the Attorney General. Apple may continue to be fined if Apple does not approve the consent decision it has filed.

In response to a dispute between Apple and the Korean authorities, Roger Kay, who is representative of consulting firm Endpoint Technologies, said, "The Korea Fair Trade Commission is known for imposing fines against foreign companies" doing. On the other hand, this is not the first time Apple has covered communications carriers and advertising expenses, and from the same problem, we paid about 73 million yen in Taiwan in 2013 and about 6.4 billion yen in France in 2016 You

in Mobile, Posted by darkhorse_log