It turns out that a monitoring spy app is forcibly installed on the smartphones of travelers visiting Uyghur Autonomous Region


It has been frequently pointed out that the Chinese government has intensified its
oppression
and
surveillance
of people living in the
Xinjiang Uygur Autonomous Region
in recent years. Meanwhile, a team of British newspaper company
The Guardian
and other international media has revealed that an app for information collection is forcibly installed on the smartphones of foreign travelers trying to cross the Xinjiang Uyghur Autonomous Region. .
China is Forcing Tourists to Install Text-Stealing Malware at its Border-VICE
https://www.vice.com/en_us/article/7xgame/at-chinese-border-tourists-forced-to-install-a-text-stealing-piece-of-malware
Chinese border guards put secret surveillance app on tourists' phones | World news | The Guardian
https://www.theguardian.com/world/2019/jul/02/chinese-border-guards-surveillance-app-tourists-phones
China Snares Tourists' Phones in Surveillance Dragnet by Adding Secret App-The New York Times
https://www.nytimes.com/2019/07/02/technology/china-xinjiang-app.html
The Xinjiang Uygur Autonomous Region at the western end of China is home to Muslim people, mainly Uygur ethnic minorities, but the Chinese authorities are known to have strict surveillance in the region.
How should residents protect themselves from 'monitoring apps' where the Chinese government forces installation? -GIGAZINE

Meanwhile, it was discovered that the app for surveillance was installed on the smartphone of a German reporter who went to Xinjiang Uyghur Autonomous Region. According to a report from The Guardian, travelers trying to enter the Xinjiang Uyghur Autonomous Region will first be able to retrieve their smartphones to the border guard at the checkpoint and be released if they are locked.
Your smartphone will be taken to another room and returned in about an hour. In most cases, the spy app is uninstalled and returned to the owner, but some are returned with the app remaining.
The following image is a screenshot of an app that was installed on a smartphone that the German daily newspaper
Süddeutsche Zeitung
had. In the red box, you can see that the app named '采' with the Android default icon is installed.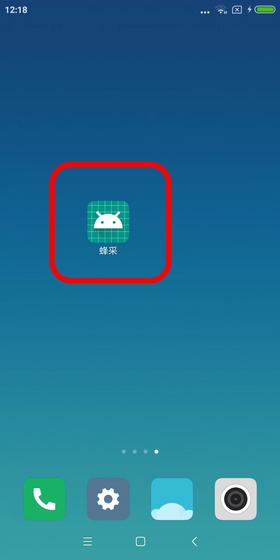 In Japanese, 'honey bee' means 'collection by honey bee'. When The Guardian and The New York Times have asked several experts and security companies to analyze "Bee-Boo", this app will collect smartphone calendar, call history, contacts, text messages, device information etc. It
turned
out that it was programmed. In addition, a total of 73,000 media files and content search capabilities have been identified.
This is a screen shot of how Hachiman is actually searching the contents of a smartphone.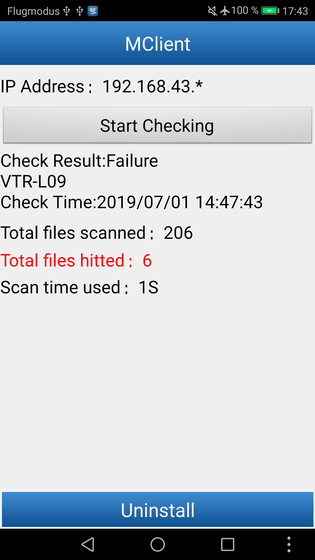 "Bai-don" contains a blacklist that detects a total of approximately 73,000 types of content, including the English-language magazine "
Inspire
" published by the terrorist organization
Al Qaeda
and the same as the Xinjiang Uygur Autonomous Region In addition to the file about
Dalai Lama XIV,
the leader of the
Tibetan autonomous region
, where the Chinese government has indicated
repression,
it also included the music of the Japanese metal band
Unholy Grave
.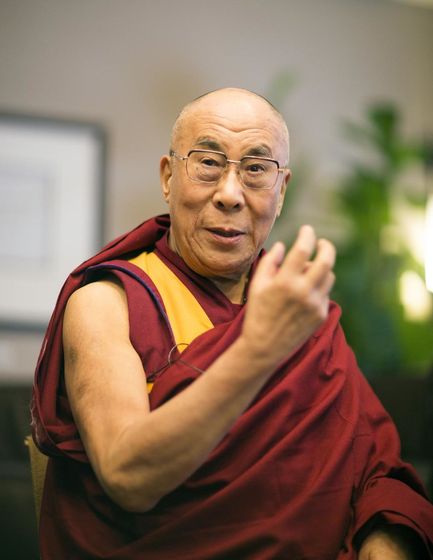 by Christopher Michel

Note that 'Bee Bee' was installed on the Android smartphone, but according to The New York Times, the traveler's iPhone is also connected via USB to the checkpoint device with the lock unlocked. That. However, it was unclear what happened to the iPhone there.

'The long-time residents of Xinjiang Uyghur Autonomous Region, especially Muslims, are aware that they have received multiple surveillance over the clock,' said Maya Wang, a senior researcher for China at Human Rights Watch, an international human rights organization. 'This finding means that the eyes of the Chinese authorities are monitoring even the foreigners who visit the area.'

GitHub has also published a copy of the spy app 'Bee Ting,' which the Chinese Border Guard installed on the traveler's smartphone.

GitHub-motherboardgithub / bxaq
https://github.com/motherboardgithub/bxaq