I actually drank what kind of taste of 'Giraffe's Body Feeling Toma and Ama Liqué' of sweet sake × tomato juice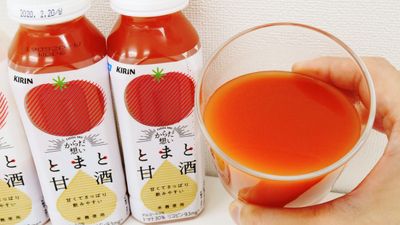 From June 18, 2019 (Tuesday), " Giraffes' Body Feelings, Tomato Amazake " will appear. A new sense drink made of rice bran sweet wine with a sense of satisfaction divided by a lycopene-rich tomato juice can take vegetables while filling the belly, so '
healthy snacking
' to prevent overeating by suppressing hunger between meals It is perfect for Since such "Giraffe Body Thought Toma and Akashu" was sent to the editorial department, I drank it for a while.
'Giraffe Body Thought Tomo Akashi' June 18 (Tue) New Release | 2019 | News Release | Kirin
https://www.kirin.co.jp/company/news/2019/0426_01.html
This is "Kirin's Body Feeling, Toma Amusashi".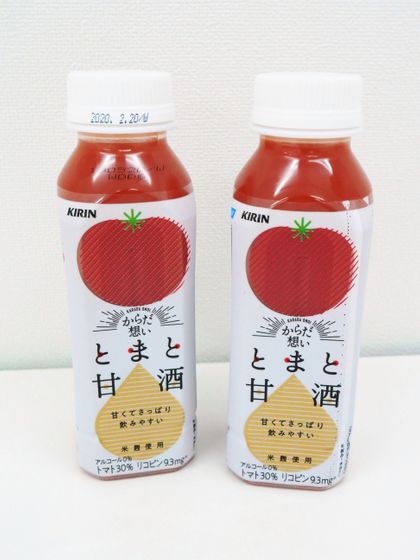 Illustration of tomato and sweet sake drop is printed on the design based on white.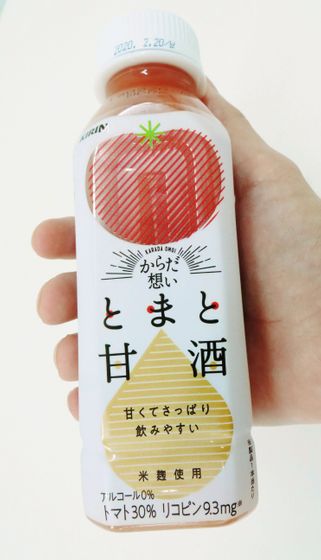 At the bottom of the bottle, it was stated that one bottle contained 'alcohol 0%' 'tomato 30%' 'lycopene 9.3mg'. Even if it is described as '
non-alcohol
', it may actually contain less than 0.05% alcohol, so it was confirmed with the manufacturer that no alcohol was included. Therefore, even small children and people who can not take alcohol can drink safely.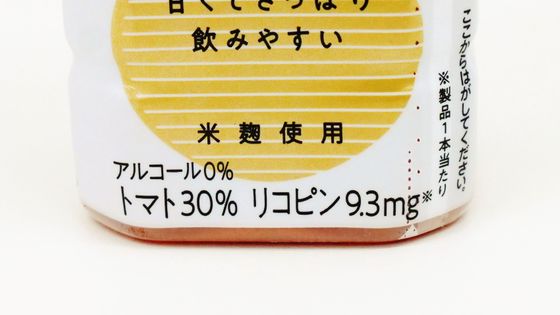 Raw materials are only tomato paste, sugar, sweet sake, salt, acidulant and flavor, and they are very simple.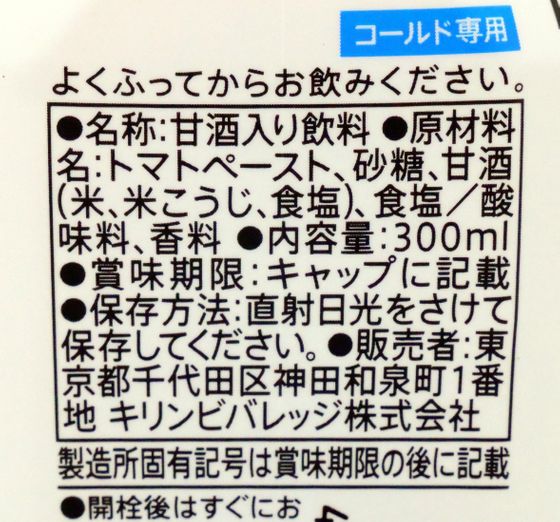 Calories are 46 kcal per 100 ml. Since the content of the bottle is 300 ml, the calorie per bottle is calculated to be 138 kcal. As it contains 0.11 g of salt per 100 ml and meets the criteria recommended by the Ministry of Health, Labor and Welfare as a heat stroke countermeasure drink, it is an ant to drink as a heat stroke countermeasure as well as when a small belly is available.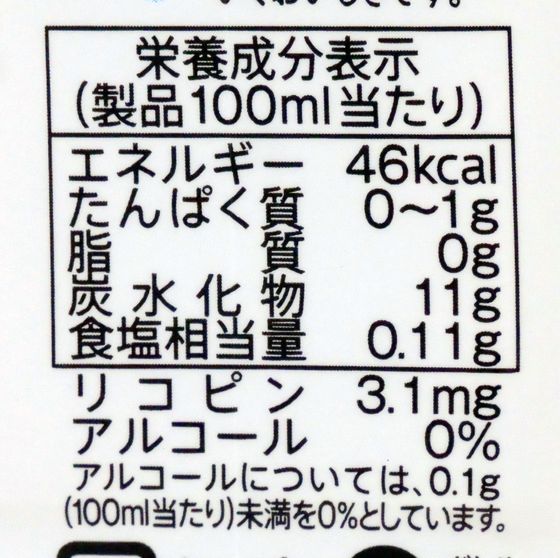 I will try drinking now. It says 'Please drink well' and shake it first.



It looks like a refreshing tomato juice, and unlike a sweet liquor, it is a complete liquid.



When I drank it, the smell of plump sweet sake and the mild acidity of tomatoes spread in my mouth. The taste is slightly sweet and easy to drink, and there is no peculiar smell of sweet sake, so it is a finished drink that can be recommended for people who are not good for sweet sake. I felt that it was the perfect drink when I said, 'I was a little hungry but I could eat calories when I eat sweets ...' because the sweet taste of sweet sake and the refreshing taste of tomato are compatible. .



"Kirin Body Feelings Toma Amazake" can be purchased at retail stores nationwide from June 18, 2019 (Tuesday), and the price is ¥ 160 excluding tax. At Amazon.co.jp, 24 bottles can be ordered for 3123 yen including tax (130 yen including tax per bottle).


Amazon | Kirin Body Feeling Tomo Akane Sake 300 ml PET x 24 bottles | Kirin Beverage |