Why not just vegetables but also cheese and homemade cookies can be sold unattended?


Amazon is expanding stores without cash registers, but there are stores that sell products without cash registers and without sales staff even if they do not have the latest technology. Journalist Jurgita Simeleviciene looks at the Swiss unmanned sales system and is approaching the reason why it is possible to sell things unmanned.

Many Swiss farmers use honor system to sell their products. Here's why
http://www.businessfondue.com/2018/09/15/which-country-is-famous-for-using-honor-system-yes-its-switzerland

In the village of Signy Avenex in Switzerland, I often see the scene that some pumpkins are spread on the street. Among the pumpkins that roll around, there is a billed table with the word 'Caisse' standing for 'accounting', and it is unmanned. There is no accounting for someone who buys pumpkins, nor is there a surveillance camera around them.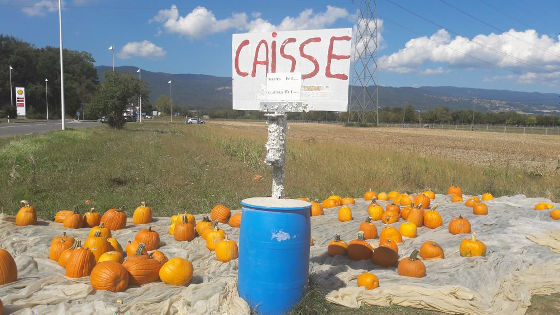 Unmanned sales offices that assume the integrity of such people have been going on for many years in Switzerland, and farmers prefer the method of unmanned sales offices rather than listing them at farmers' markets. Unmanned sales offices are not uncommon in countries such as Japan, the United States, Canada, the United Kingdom, Germany, and Norway, but they are very special globally.

At Signy Avenex, there are also knives on farmland. People who visit farmland are likely to harvest their favorite vegetables and fruits with a knife and pay the money according to the price tag.

Switzerland's unmanned sales office goes beyond vegetables and fruits. You can also buy firewood, eggs, and dairy products at self-reporting unmanned sales outlets. 'I think that honesty is very important for Swiss,' said Christiane Baumgartner, who sells firewood, so that a self-reported sales system is possible.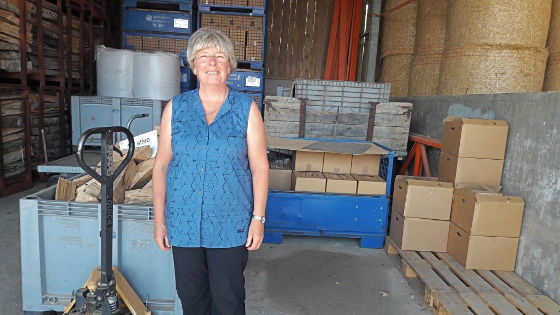 However, it seems that theft does not occur at all. There are many farmers who have introduced vending machines because they can not continue unmanned sales due to the theft.

On the other hand, many Swiss people think that the self-reporting unmanned sales system is very important. Unmanned sales offices can get locally grown crops, they do not have working hours and are often cheaper than shops. It is also an advantage to know that they are not using pesticides because they are made by farmers who know each other.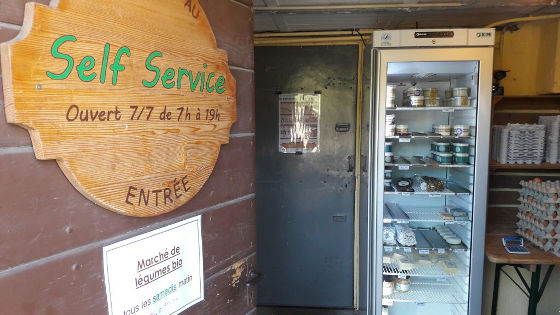 In addition, a variety of products are sold at unmanned stores in Switzerland. It is unmanned despite the fact that eggs, apples, tofu, pasta, homemade cookies, yogurt, cheese, butter and many other things are sold like supermarkets. There are surveillance cameras in the shop, but no one is watching the product on the spot. Switzerland's supermarkets are usually closed on Sundays, but unmanned stores are very convenient in that they can shop at any time and without talking to anyone.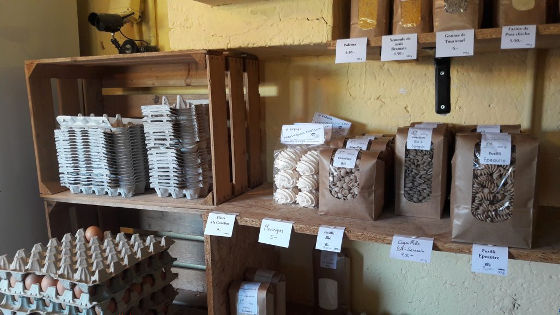 Unmanned sales office for sold out grapes.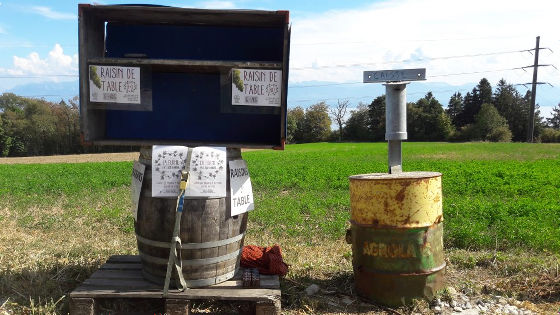 Below is a farm where you can harvest raspberries and blackberries yourself. Right next to the road, no fence. Once you have harvested as much as you like, you climb the hill and go to the farmer to measure and sell the fruit.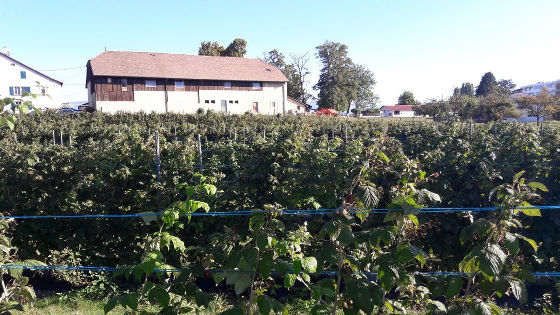 Unmanned sales places are excellent systems that save time and money for farmers to sell their crops, and for consumers it is not only easy to buy something fresh but also 'trusted'. It has become a

In Hacker News , the above system is 'Switzerland has only an unmanned sale site in the countryside, and it does not work in cities like Geneva,' and 'It also exists in the United States, but the real reason this works is It was also pointed out that 'it is because it is a community that no one is anonymous'. On the other hand, when I set up an unmanned sales office at work and sell bagels, there is always more money left than the sales amount, and in an anonymous note, some people have forgotten or rushed. Somebody stole The anecdotal story was also posted that it was left because it was thought that they did not want to make the work a disgusting air.

in Note, Posted by logq_fa