Darvish has knocked down a batter, catcher and referee with only one ball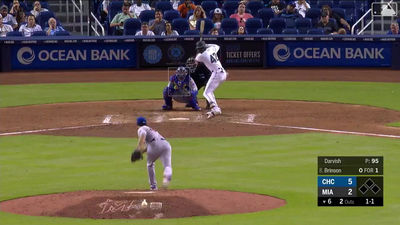 The MLB
's official video corner covers the fact that a
Darvish
player from
MLB
's
Chicago Cubs
has made a batter, catcher, and referee hit a ball with just one ball.
Pitcher Yu Darvish hits three people with one magnificent throw
https://mashable.com/article/yu-darvish-pitch-hits-three-people/
The scene in question is as follows. I tweeted the movie is the Twitter account of Cut4 which is the official video corner of MLB.
Yu Darvish throws the most devastating fastball of his career. Pic.twitter.com/sicvVLhnUL

— Cut 4 (@Cut 4 ) April 16, 2019


The thing happened was the scene where Lewis Brinson stood in the batter's box six times back two outs.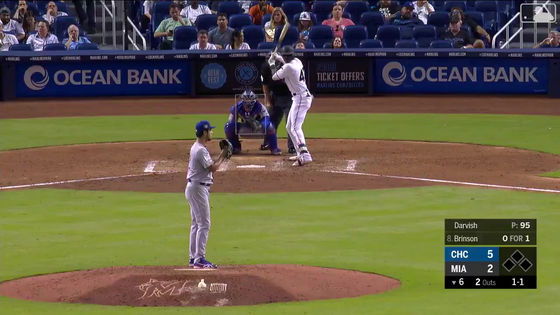 The ball thrown by Darvish players is turning from the strike zone to the right ...



Hit Brinson's crotch with his hips, but he seems to have hit the left thigh.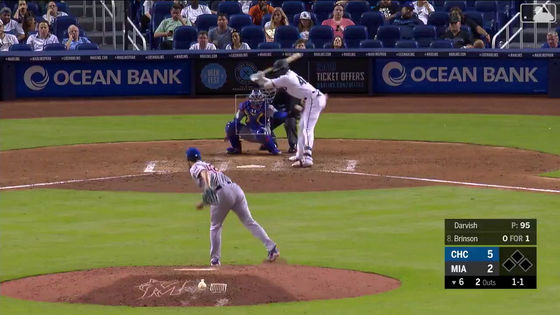 Then the bouncing ball bounces the catcher Wilson Contreras and Brian Onora referee's face, and a solid sound of 'Katsun' sounds. The ball was hit near the Nora of the Onora referee, and he hit Contreras's back.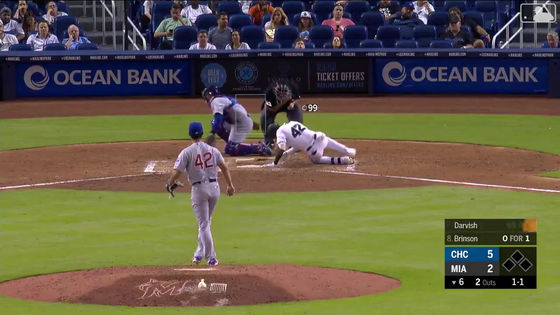 In the lower right red frame part, 99 MPH (about 159 km / hr) was displayed. All players, including Darvish, are wearing uniforms with a No. 42, as it was Jackie Robinson Day, which celebrates the day that Black's first big leaguer Jackie Robinson played is.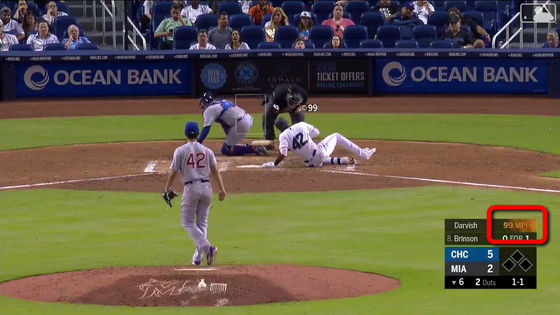 Seeing this one ball in slow motion is as follows.

Close call for Brinson. Pic.twitter.com/YqxTAuAKhP Yu Darvish hurts Lewis Brinson and the home plate umpire on the same 99 mph pitch.

— Chris Cote (@ChrisCoteESPN) April 16, 2019


It looks like this is the ball's trajectory.

Yu Darvish, 99mph Triple Kill Fastball (with motion tracker). Pic.twitter.com/34DtSIigFG

— Rob Friedman (@PitchingNinja) April 16, 2019


Mashable of the foreign media states that 'I can not do the same thing again even if I practice for decades.'

One ball that hit three players with Darvish attracted a lot of attention overseas, and Yahoo Sports in the United States said, 'Darbish had a ball that hit every member of the batter, referee, and catcher unexpectedly.'

Yu Darvish managed to hit the batter, umpire, and catcher all in one pitch ????

(via @ Cut4 ) pic.twitter.com/WR11AUCOh8

— Yahoo Sports (@YahooSports) April 16, 2019


'Sports 99 mphs of Darvish's tossed off batter, catcher and referee,' Sports Illustrated, the most popular sports weekly magazine in the United States, tweeted.

This 99 MPH fastball from Yu Darvish took out the batter, his catcher and the ump ????

(via @ Cut4 ) pic.twitter.com/SIv7nQG9Ks

— Sports Illustrated (@SInow) April 16, 2019


The game was won by the Chicago Cubs 4 to 2 and Darvish has won his first victory this season, his first victory after returning from a right arm failure.

4/15/19: Cubs' offense rolls past Marlins in 7-2 win-YouTube


·bonus
It is a rare event that a deadball that hit a batter hit an umpire or a catcher, but it seems to happen once in a few years, and some other examples have been reported, and official images are left There are also some.

The Nationals v. Tampa Bay Rays match on June 16, 2015, pitcher Elasmo Ramirez throws a ball that hits the left hand of batter Yunel Escover and the off-track ball catcher Rene Rivera's mask and the referee's mask.

Ball hits Escobar, catcher and umpire-YouTube


A ball thrown by Nationals pitcher Steven Strasberg at the Philadelphia Phillies-Washington Nationals match on September 13, 2018 held the arms of Batter's Holfe Alfaro We hit the catcher's mask of catcher Matt Waters, and finally hit the referee's mask.

Stephen Strasburg hits the batter, catcher, and umpire again-YouTube


In Japan, the ball thrown by pitcher Jason Stanridge at the Softbank Hawks vs. Rakuten Eagles match on May 10, 2015, the batter Willie Moe Peña, Taisei Sugimoto referee, catcher Tsuruoka Shinya has hit directly.

[Professional baseball pa] Rainy day 1 ball! Dead ball hits three people 2015/05/10 HE-YouTube



in Video, Posted by logu_ii