"Ironman" Kimoto Chimonni's consecutive match appearance record is cut off at 1766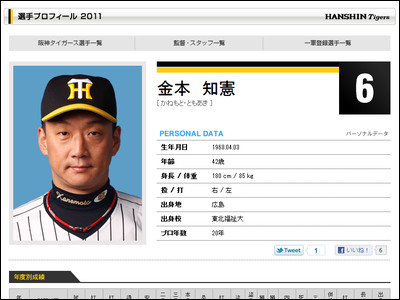 Speaking of Hanshin Tigers' Kimoto Tomonari as' Tetsujin '' Aniki ', it is also known that it keeps the longest consecutive game appearance record of active duty and continues to update it, but April 2011 15 That record was cut off at the game of the day.

Details are as below.
Continuous appearance stop of Hanshin / Kanemoto / baseball flash / Daily Sports online

On April 15, a match between the Chugoku and Hanshin in Nagoya Dome was held.Kimoto playerHe was out of the starting game in this game and played as a pinch hitter eight times. Although it was a bat at the scene of 2 out first base, it was the first base runner'sShunsukeHe failed to steal second base and the inning ended. The batting of Kanemoto did not end and it was never to be defensive even in this latter time, so the consecutive game appearance record was cut off.

In order to be recorded "Continuous match appearance", it is necessary to standing in the bat and out or go out to base (= batting is recorded), or to take defense for more than one inning, Because it was not cleared, it was not counted as a match. Likewise, for example, merely entering the game at the runner-up does not satisfy the above-mentioned conditions, so we can not keep updating the record of consecutive match appearances.

With this, Kanemoto's record will be confirmed at 1766 games and will be the second-largest record since the original game "Ironman" Kiyoshi Kinugasa's contested contest 2215. The third place is Matsui Hideki's 1250 games, currently the longest active duty is 917 games Alex Ramirez has recorded since August 6, 2004.

Until now, Hanshin must also use Kanemoto certainly somewhere in the game due to the recordings. Kanemoto himself also played a whipping ball into the body and continued to participate in the situation, but it may be possible to take a rest slowly as the record is interrupted.
in Note, Posted by logc_nt