Private railways in Osaka introduced 42 Powerpacks of Tesla's power storage equipment, and expect to be active in power outages and in summer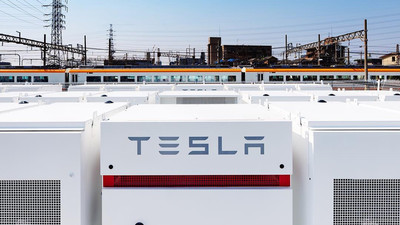 On March 27, 2019, Tesla, a manufacturer of electric cars and batteries led by CEO Eron Mask, announced that Kinki Nippon Railway (Kintetsu), a private railway in Osaka, installed 42 Powerpack storage devices of Tesla. . Powerpack's power is used as auxiliary power during the summer, and works as a backup in case of emergency.

Kintetsu Railway in Japan installs 42 Tesla Powerpacks as backup electricity | Ars Technica
https://arstechnica.com/cars/2020/03/kintetsu-railway-in-japan-installs-42-tesla-powerpacks-as-backup-electricity/


1 / In the event of a grid outage, this Osaka Powerpack installation is designed to provide emergency backup power to safely move a train and its passengers to the nearest station – https://t.co/yS6VALjIbR https://t.co / 2Ui6jUmGwo

— Tesla (@Tesla) March 27, 2019


Osaka, Kyoto, Nara, Mie, Aichi and Kinki Japan Railway, which crosses the Kinki region, are private railways that are known by the abbreviation 'Kintetsu'. According to Tesla, the Kinki Japan Railway introduced 42 Powerpacks. With a total capacity of 7 megawatt hours, it can supply 4.2 megawatts of power at a time. With Powerpack's power, it is possible to move the train for about 30 minutes if there is an emergency power failure due to an earthquake or typhoon, and it is possible to send passengers safely to the nearest station.

In addition, Powerpack's power is expected not only for backup, but also as an auxiliary power for summer when power consumption is intense due to air conditioners etc. Tesla comments that the introduction of Powerpack by Kinki Japan Railway will help save electricity costs . The 42 Powerpacks will be installed at one station in Osaka Prefecture.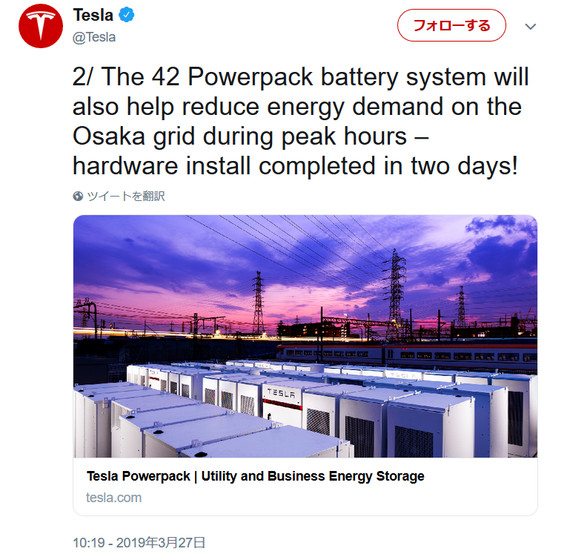 Tesla says the Kinki Japan Railway Powerpack system is the fourth largest in Asia. According to Tesla, Powerpack installation itself was finished in two days, thinking that it would be a large-scale construction if this scale was introduced.