A catastrophic power outage in Texas, hit by a cold wave, affecting 4 million households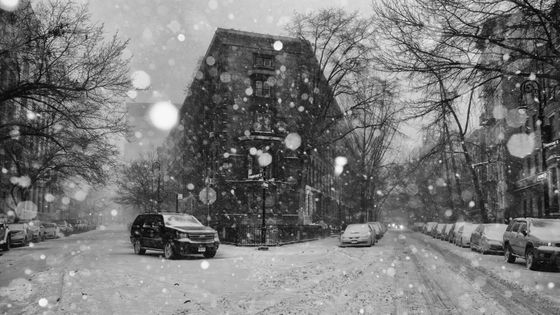 In Texas, which was hit by an unusual cold wave, the supply and demand of electricity was tight, forcing a large-scale rolling blackout of more than 4 million households. Due to this cold wave, local temperatures have reached below freezing, and emergency shelters for homeless people have been opened.

Texas power outages: 2 million households in the state are without power | The Texas Tribune

https://www.texastribune.org/2021/02/15/rolling-blackouts-texas/
Texas'power grid crumples under the cold | Ars Technica
https://arstechnica.com/science/2021/02/texas-power-grid-crumples-under-the-cold/
On February 14, 2021, local time, an unusual cold wave struck Texas. The National Weather Service has issued cold wave warnings to all 254 counties in Texas, closing numerous roads due to freezing. Many schools have also been closed, and at the request of Governor Greg Abbott, President Joe Biden has issued a federal emergency declaration.
Governor Abbott Announces Approval Of Federal Emergency Declaration For Severe Winter Weather | Office of the Texas Governor | Greg Abbott
https://gov.texas.gov/news/post/governor-abbott-announces-approval-of-federal-emergency-declaration-for-severe-winter-weather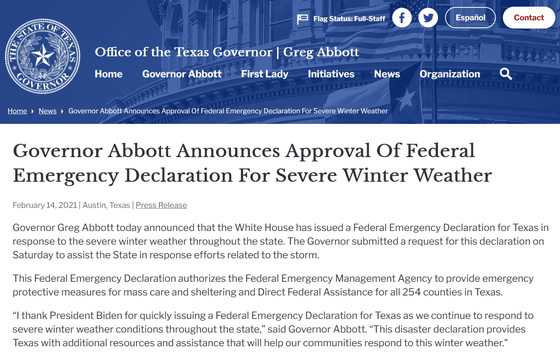 The problem in Texas, which faced such a severe cold wave, was the rapid increase in electricity demand from heating. The Texas power grid provides the highest levels of power in anticipation of rising demand in the summer, when average maximum temperatures reach over 30 degrees Celsius every day, while closing some of its supply facilities in the winter as demand falls. It was a system to leave. As a result, a part of the facility was forced to shut down due to the unusual cold wave, and as a result of trying to meet the rapidly increasing demand for electricity, equipment failures such as transformers also occurred.
On February 14th, the electricity demand from 18:00 to 19:00 reached a new record of 69,150 MW in winter, but as of the morning of the 15th, the supply of 30,000 MW was cut off, and electric power companies Implemented a large-scale rolling blackout. The total scale of rolling blackouts has not been accurately tabulated, but according to
PowerOutage.us, a
web service that allows you to check the status of power outages throughout the United States, Texas as of 20:20 local time on February 15th. 4.38 million households are out of power in the state.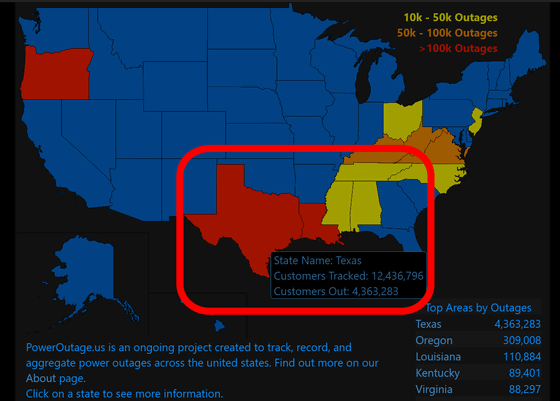 It is reported that such power outages have affected some counties that have asked manufacturing companies that use electricity in their operations or manufacturing processes to shut down operations, as well as the new coronavirus vaccine that requires low-temperature storage in the freezer. In addition, there are reports that the water supply will be insufficient due to the suspension of operations due to a power outage, and it is uncertain how much impact this case will have.


in Note, Posted by darkhorse_log