We have eaten 'fresh lemon cut steak set meal' eaten with fresh squeezed lemon juice over steak meat on hot plate of iron at a good place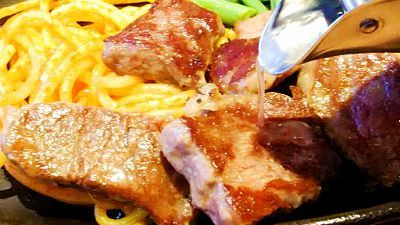 Yayoi eaves of the eating out chain started selling ' freshly cut steak set meal ' for a limited time from March 19, 2019. I was really concerned about what kind of taste the new menu eats with salt by putting fresh lemon juice freshly made on the spot on a bite-sized steak on a hot plate, so I actually went to the shop to eat it It has come.

'Sappy lemon cut steak set meal' Released on Tuesday, March 19 for a limited time! | What's New | Yayoi

https://www.yayoiken.com/news/view/290
Fresh lemon cut steak set meal 【Ume salt sauce】 | Menu | Yayoi
https://www.yayoiken.com/menu_list/view/449
Refreshing lemon special cut steak set meal 【Ume salt sauce】 | Menu | Yayoi
https://www.yayoiken.com/menu_list/view/450
I arrived at Yayoi eaves.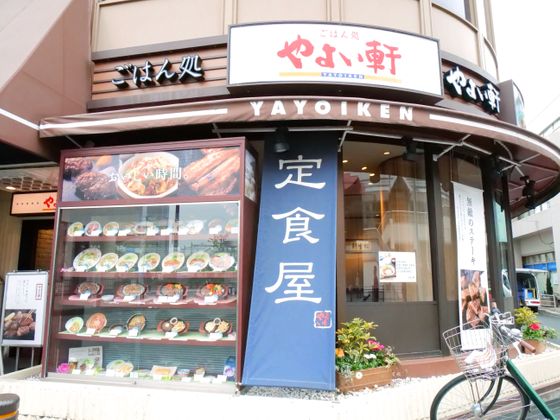 At the store, there was a signboard telling the appearance of the new menu with the phrase 'Steak is like spring'.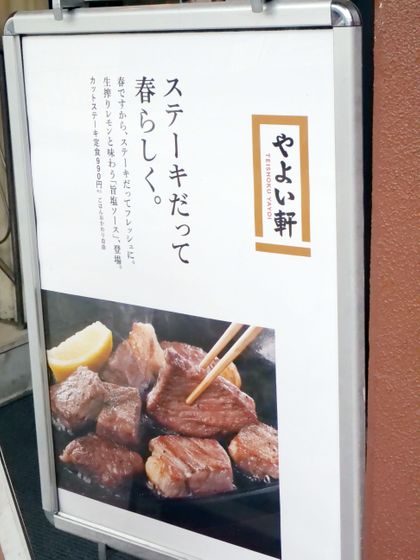 Immediately go into the room and buy a ticket for 'Coffe lemon cut steak set meal' (tax-included 990 yen) with a ticket machine. I will give you a meal voucher for the seat that was shown to the clerk.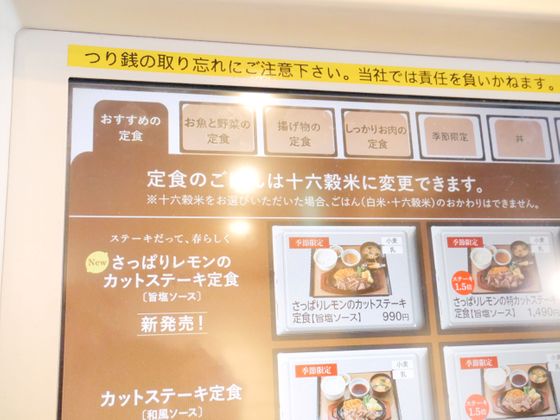 After waiting for about 5 minutes, a 'fresh lemon cut steak set meal' was delivered. Contents of set are cut steak, miso soup, umami salt sauce, rice.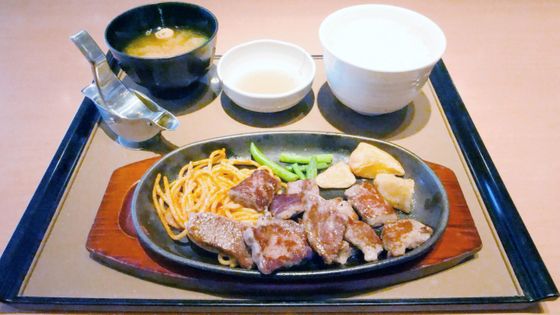 A bite-sized steak cut into about 10 pieces makes a noise on an iron plate. The side dishes are Neapolitan-style pasta, potatoes and potatoes.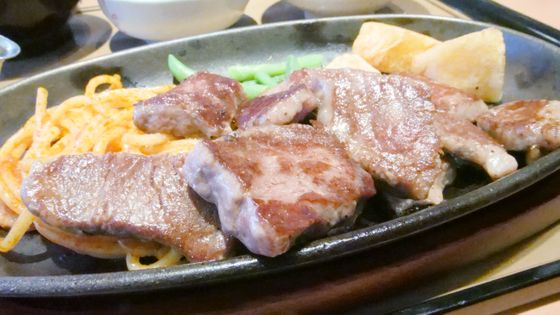 The lemon was set in the squeezer.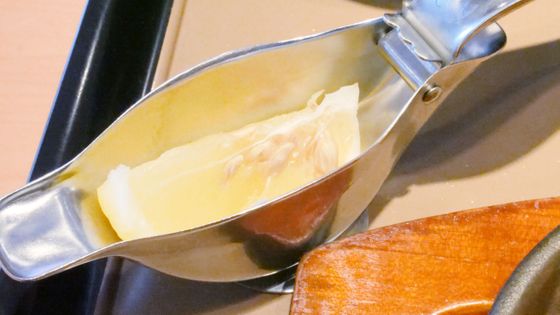 When I squeeze the lid of the squeezer and crush the lemon ...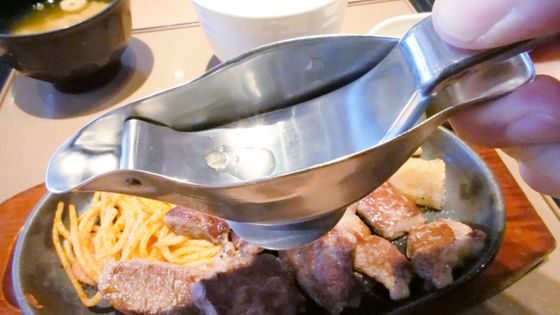 I will go over the steak.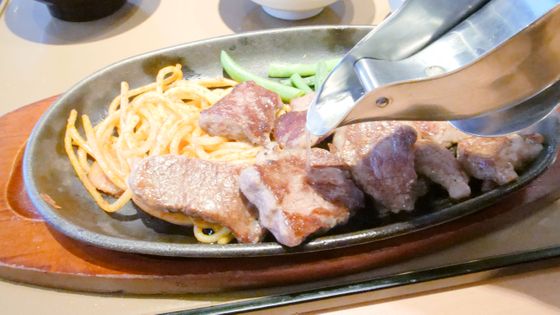 Let's eat the steak after putting on the salt sauce. The lemon juice tightens the rich umami that is felt from the meat juice, so I was able to fully enjoy the freshly baked beef's aroma and richness.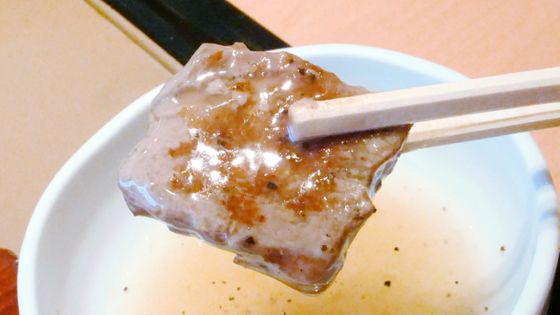 A small plate is used to make the salt sauce soak the meat and enjoy the taste of the meat itself, which sharp saltiness can bring out, or it can be used as a detonator that engulfs the sauce with plenty of speed and accelerates the rice. It is the point of cut steak set meal that you can taste the size steak in various ways of eating.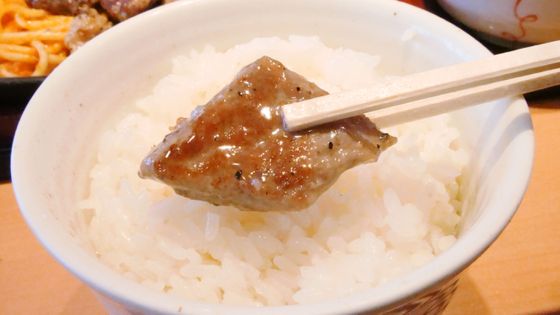 The meat that is prepared by soaking in seasoning liquid before baking can be recommended to those who are not good at rare meats, as it has a strong heat to the inside.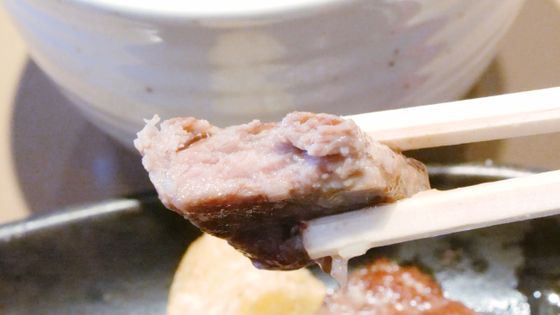 When I saw the lemon after squeezing, it was only the skin. The squeezer has a shape that is designed to squeeze only the flesh of the lemon so that the juice of the seeds and astringent skin is not mixed with the juice.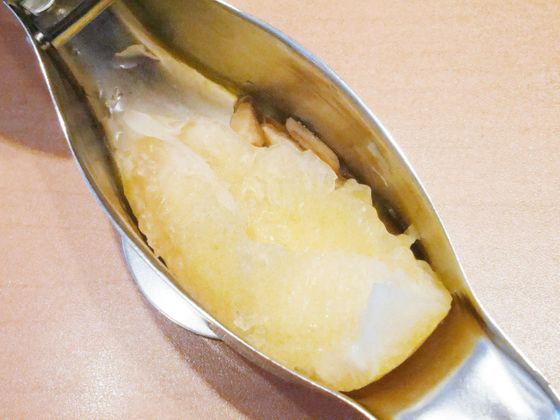 The garnished potato is finished with a soft texture and just fine saltiness, so it will be a good break for your steak.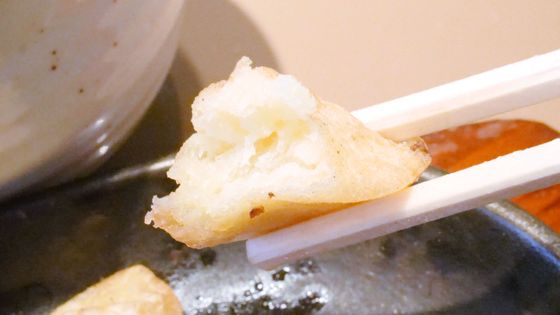 The 'fresh lemon cut steak set meal' has been on sale since March 19, 2019, and the price is 990 yen including tax. As there is also a ' fresh lemon special cut steak set meal ' with 1.5 times the amount of meat, it is an ant to order this also for those who want to eat more meat.