Netflix Expands Comprehensive Business Alliance with Japanese Animation Production Company, Produces "Ashingus Riot Corps SAC_2045" "Spligan" "Dragons Dogma"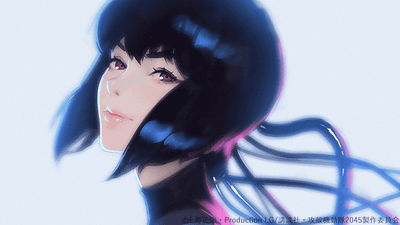 Netflix announced that it has entered into a comprehensive business alliance agreement with animation production companies Anima , Sublimation and David Productions in the production of animation works. We have already entered into a comprehensive business alliance agreement with Production IG and Bonds in January 2018. As the first work of this series of business alliances, six works of " Ghost in the Shell SAC_2045 ", " Super Crux ", " Spriggan ", " Dragon's Dogma ", " Altered Carbon: Relied ", and " Vampire in the Garden " It will be sent out.

Netflix Japan-Enjoy your favorite movies and dramas!
https://www.netflix.com/jp/

News release titled "Toward further expansion of animation content through comprehensive business alliance with Netflix, Japan's leading animation production"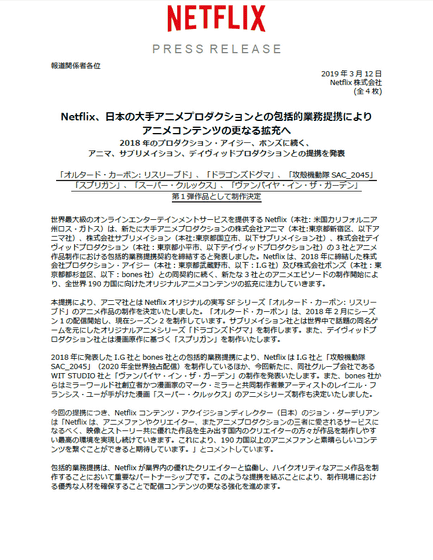 An interview was conducted in March 2018 with Production IG President Mitsuhisa Ishikawa and President Bons Minami Masahiko, who had previously signed a comprehensive business alliance agreement.

Production IG, President Ishikawa Mitsuhisa & Bonds, President Minami Masahiko talk about making a comprehensive business partnership with Netflix-GIGAZINE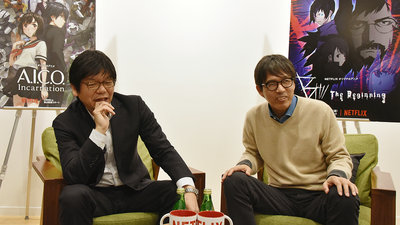 Production IG has teamed up with SOLA DIGITAL ARTS to produce the " Ghost in the Shell SAC_2045 " and announced that it will be distributed worldwide in 2020. The director has adopted the double director system of Kenji Kamiyama of "STAND ALONE COMPLEX" and Shinji Aramaki of "Apple Seed" .

Production IG | New animation "Ghost in the Shell SAC_2045" Netflix to be distributed in 2020 worldwide
https://www.production-ig.co.jp/hotnews/2018/120801.html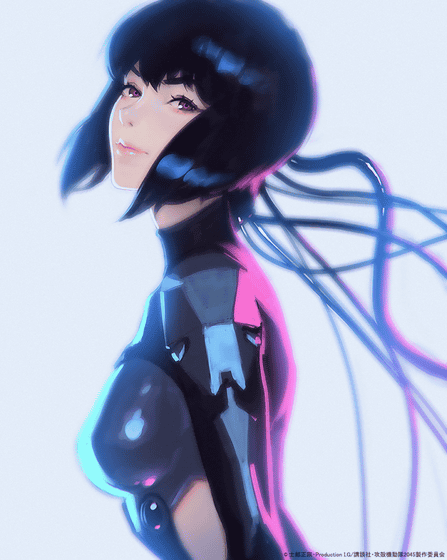 Bonds produces " Super Crux " , a combination of Mark Miller who created the original comics of " wanted ", "kick ass" and "Kingsman" and Reinil Francis Yu who is an American comic artist.

Producing the "Jojo's Bizarre Adventure" series and "Sakura Darette" and "Working Cells", David Productions animates the masterpiece SF battle action manga "Spriggan" serialized in Weekly Shonen Sunday. "Spriggan" is supervised by Mr. Katsuhiro Otomo, and has been animated in theaters in 1998 and will be re-animated after more than 20 years.

Saburimation, who worked on CG for "Space Battleship Yamato 2202 Warriors of Love, " animated the Dragon World Dogma, an open world action game produced by Capcom.

Anima, the creator of the anime "Monster Strike", produces a spin-off anime " Altered Carbon: Relied " of the original SF drama series " Altered Carbon ", which has been distributed on Netflix since February 2018.

In addition, WIT STUDIO, which is known for producing " Attack on Titan " at a production IG group company, produces a completely original work " Vampire in the Garden ". "The girl Momo met was a vampire girl who was taught to be a human enemy. The fate of the two men who were connected by the song is now moving in a big way."

The comments from each production company on the conclusion of the Comprehensive Business Alliance Agreement are as follows.

Mr. Mitsuhisa Ishikawa, Representative Director, Production IG:
By creating a project from scratch with Netflix, you can secure the necessary production period, and while making new challenges, you can stably produce highly complete works. Most of the works so far have been created within the framework of Japanese business, but the comprehensive business partnership with Netflix has transcended that framework, and the content brought forth by the spirit of Production IG and WIT STUDIO has become more and more I think it will be an opportunity to send it out to the world.

Mr. Masahiko Minami, CEO, Bonds Company:
I feel that this partnership, which can send works to viewers all over the world, has a great meaning for our creators. From now on, I would like to work with Netflix to impress many people of all nationalities and ages, and to create good works that will continue to be seen forever.

Mr. Koji Shibata Representative Director, David Productions:
With this partnership, we will be able to work with a long-term perspective rather than individual works, planning and development of works with a view to fans not only in Japan but also overseas, development and improvement of various technologies, video I had a very good opportunity to challenge the expression. Taking advantage of this opportunity, as a member of a Japanese animation studio, I would like to work on production with all my strength.

Satoshi Koishikawa, Representative Director, Subremation Company:
Until now, most submissions to sublimation have been for other companies' CG parts, but the goal was to announce one's own work someday. I am really happy to be able to achieve that through a comprehensive partnership with Netflix. We hope that you will be able to deliver an animation experience that is different from the past to fans around the world with Celluc CG that does not impair the taste of handwriting that we specialize in.

Mr. Tatsuya Kuwahara, President of Anima Company:
With this comprehensive partnership, I am pleased to be able to focus more on content production than ever before. It is a great honor for me to be involved in the major title of "Alternate Carbon" as the first work of the partnership, and I think it will be very interesting from now that I think that people around the world can see the content they have produced You excited. Please expect "anima-like" animation.