'Airbnb' enters the hotel industry or acquires HotelTonight, a hotel last minute reservation service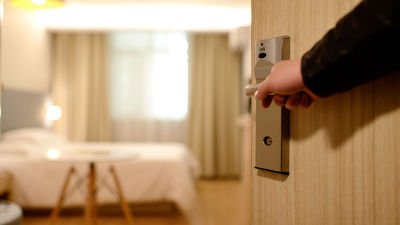 by davidlee 770924

We announced that "Airbnb" of the night-stay service signed an acquisition agreement for hotel reservation service "HotelTonight" on March 7, 2019. As a result, Airbnb is reporting to the overseas media that it is entering the hotel industry.

Airbnb Signs Agreement to Acquire HotelTonight
https://press.airbnb.com/airbnb-signs-agreement-to-acquire-hoteltonight/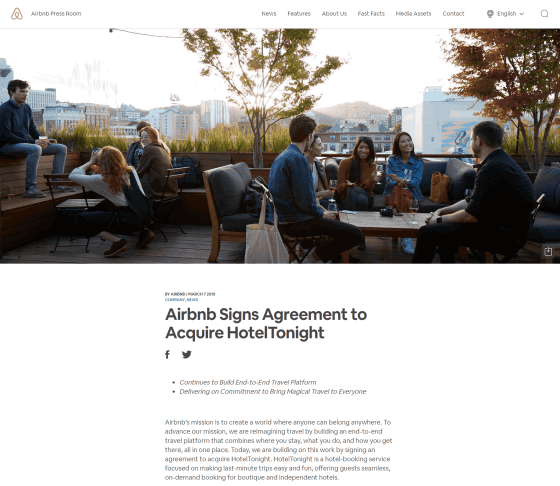 Airbnb is buying HotelTonight - Quartz
https://qz.com/1567574/airbnb-is-buying-hoteltonight/

Airbnb does not clarify the purchase amount, but in 2017 it is announced that HotelTonight raised about 460 million dollars (about 51 billion yen). For the time being, Airbnb and HotelTonight will be deployed as separate brands, but in the end there will be room to be registered with Airbnb also from the boutique hotel registered at HotelTonight.

The hotel reservation site HotelTonight is an immediate reservation service for people who need to stay overnight, which is gaining popularity as boutique hotels and independent hotels can be booked with a great discount.

Last Minute Hotel Deals at Great Hotels - HotelTonight
https://www.hoteltonight.com/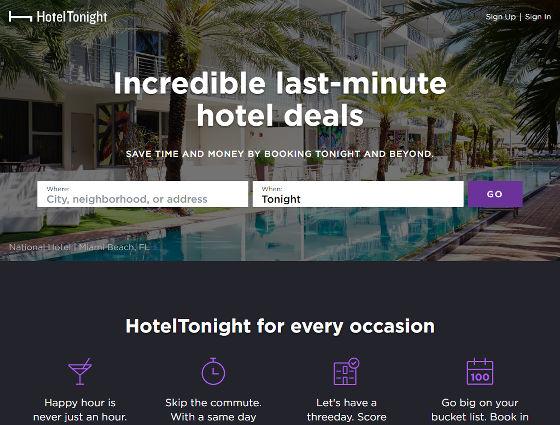 Airbnb, a private residence service that allows you to rent a bed at a stranger's house, was founded in 2008 and has made a drastic change in the hotel industry, largely changing the existing way of traveling. As of March 2019, more than 6 million accommodation facilities in more than 81,000 cities in 191 countries were posted on Airbnb, and in 2018 boutique hotels also became easy to register on the Airbnb platform . Compared between 2017 and 2018, the number of reservations for boutique hotels registered with Airbnb has tripled. In January 2019, Airbnb announced that the number of hosts classified as available hotels, B & B, hostels, resorts etc. increased by 152% compared to the same month the year before.

Because many of those who register vacant rooms on Airbnb are general people rather than businesses, it is difficult for people who set up a trip planning "just booking and staying immediately" to use Airbnb. If hotel rooms like HotelTonight also come out soon, we can take in the layers that were difficult to target until now, and it is thought that it is easy to return the user who once flowed to the hotel to Airbnb again .

Brian Chesky, CEO and co-founder and community manager of Airbnb said, "The purpose of building an end-to-end platform is to develop a platform for travelers one year ago, regardless of who planned the day before. It is to help all guests.With collaborating with the wonderful team of HotelTonight guests can experience unique and unforgettable hospitality on a journey no matter what schedule or when you book. "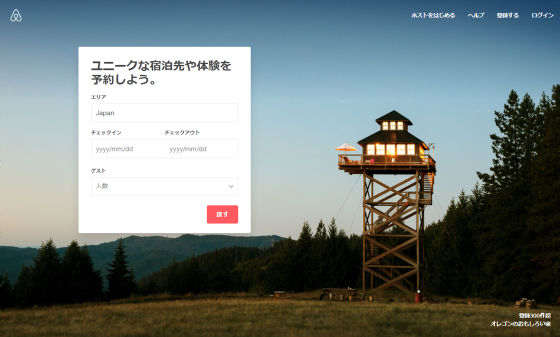 Airbnb is expected to plan an initial public offering (IPO) in 2019. Mr. Cesky was looking for ways to further expand Airbnb after failing to monetize " Experience " which allows Airbnb to participate in local activities rather than staying. In addition, Airbnb is concerned about sending excessive tourists to the city, and regulations are being established in various countries around the world. Due to the fact that the business is in danger at important tourist cities, the acquisition of HotelTonight is considered to be an important step in expanding business.