A super difficulty quiz 'Human Or AI' that accurately sees whether a face photo is 'real real person' or 'fake automatically generated by AI'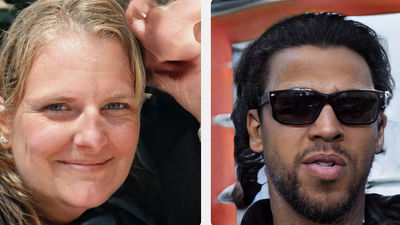 While websites that can easily generate facial pictures at a level that can not be distinguished from real people by machine learning become topics, " Human Or AI " makes it possible for photographs of human beings to be seen through true works and counterfeits (cancer) You can try out the power to find out. There are also sites where similar discrimination quizzes can be made, but in "Human Or AI", in addition to "Which is the real person" plus the option "neither real person" nor "fake image by AI" , And it became difficult to transcend.

Human Or AI
https://humanorai.net/

When you visit the site, two people's images are displayed suddenly with the message "Which Image Is Of A Real Person? (Which one is real?"). If you click the image you think is "This is a real human picture!" OK.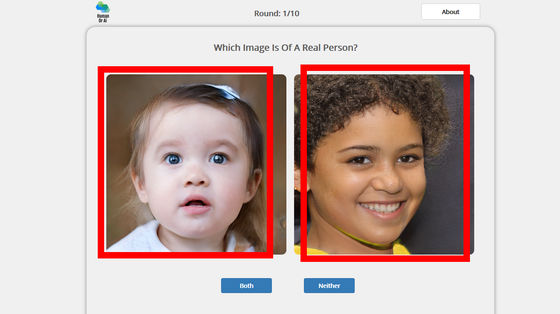 However, if you think "both are authentic people", click "Both" at the bottom of the image, "Neither" when you think that both are fakes made by AI.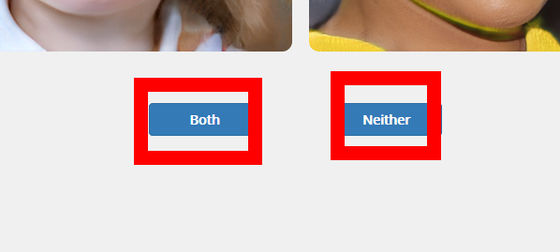 "Wrong Answer (incorrect answer)" was displayed when I clicked the image on the right thinking that "The girl on the left is a little strange in the hair, so the right side is a human!" The right side which seemed to be a real human being was a fake by AI, both of which have a check mark indicating correctness in imitation "Neither".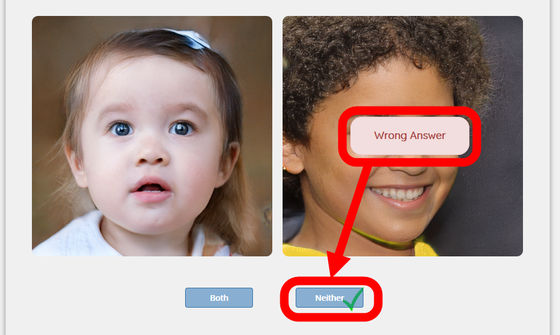 When you finish the answer, click "Next" in the lower right to move on to the next problem.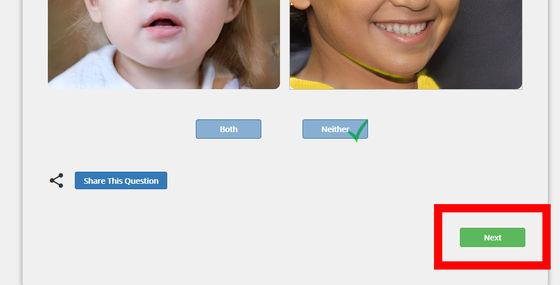 The person next to the man on the right was obviously distorted this time, and such a sense of incongruity was not found in the woman on the left side, so click on the image on the left.



When "Correct Answer" is displayed, it is correct. I was able to see the living human being without being misled by fakes by AI safely.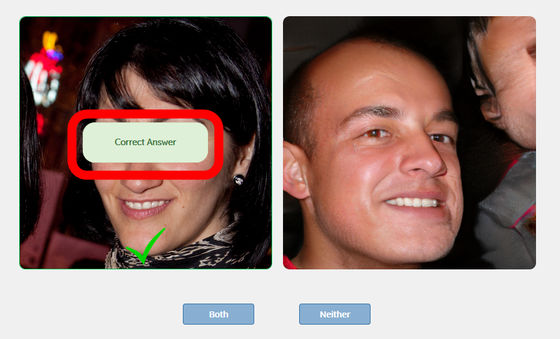 The score will be displayed after finishing all 10 questions. You can correctly answer 7 questions 8 questions if you get accustomed to how to distinguish such as "looking at background distortion rather than facial shaping" or "difficult scenes like underwater in AI" learned with a different quizze, but all questions Working as hard as it is a correct answer.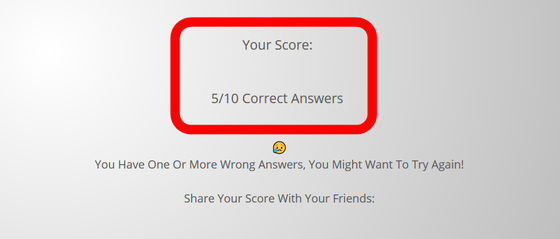 Under the following image, based on the method of distinguishing "complex backgrounds are difficult with automatic generation", it is judged that "the photograph on the left carrying on the background of a stained glass is genuine, the photograph on the right carrying a background with a simple and blurred background is a fake" As a result of selecting it, what was "the real person neither" was the correct answer. Since images are randomly switched every time, people who want to further develop their eyes to discern authenticity may want to challenge themselves repeatedly.