Learn from the storytelling strategy of 'Folsom & Co' that profits by selling watches free of charge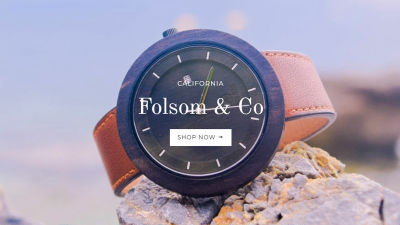 "Folsom & Co" advertising selling watches on Instagram or Facebook on "0 yen" is a mail order website that uses words that stimulate the hearts of people called "free". "Folsom & Co" is condemned by purchasers as being fraudulent, but strictly it is not a fraud, and because it is not carrying out wrongdoing, it can not crack down as a criminal act. Folsom & Co is an example that anyone can do a storytelling strategy that could only be done by major brands, due to advances in technology, and writer Jenny Odell summarizes the actual situation of Folsom & Co.

There's No Such Thing as a Free Watch | Topic
https://www.topic.com/there-s-no-such-thing-as-a-free-watch

In July 2017, a clock was donated to MUSEUM OF CAPITALISM (Capitalist Museum) in the USA. This watch belongs to "Folsom & Co" which is supposed to be based in the US · San Francisco, and advertisement was issued as "free clock" though Instagram was required for $ 7 shipping cost (about 790 yen) It was.

The clock which the instagram account "@shopfolsom" displayed as promotion around June 2017 is a simple design that makes Daniel Wellington more daunting, especially the brand name etc. not inscribed. Although the band part is a texture like a chain scroll, it is difficult to wear, uncomfortable to wear, "square wrist is necessary" enough to be evaluated. However, it seems to work as a clock without problems.

Looking at the website of "Folsom & Co", high resolution images and clean designs are used, and it looks like an ordinary apparel brand.

Designer Watches for Women | Buy watches For Men Online - Folsom & Co
https://folsomshop.com/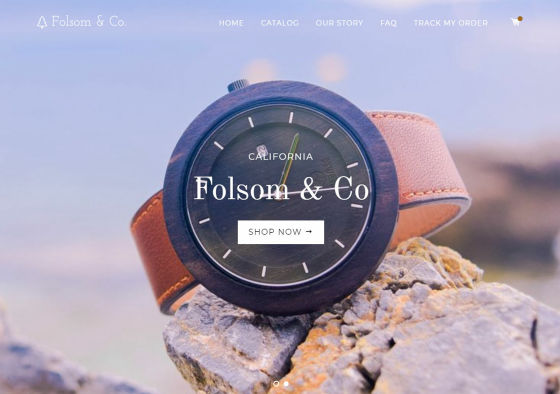 However, the photo of the table tennis club called " SPiN " which was produced by Susan Sarandon was used like a company or its own store, and "home to web gurus, urban warriors (urban warrior and web guru Home) "that he brought the whole sentence from another website .

And at the watch sales page at that time, a watch of $ 29.99 (about 3400 yen) was sold as "0 dollars" in the form as follows. And under "ADD TO CART" it is said that a countdown indicating that "a deadline is only a few hours" is displayed whenever you visit. Also, elements such as "5% customer limitation", "popularity will take 3 to 4 weeks to ship", and pop-ups such as "somebody has purchased" pop-ups of people who visit the website A lot of was set up.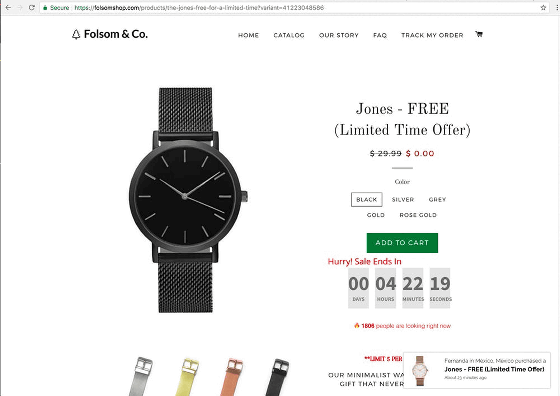 However, the review of Folsom & Co, which is on the Internet, is a trivial thing, some of which are obviously broken.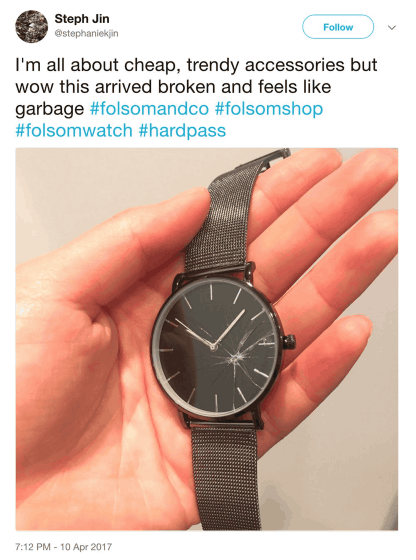 Some people point out that in the online forum, "someone bought a cheap watch from China in China, selling it by requesting a high shipping cost". In other words, this is one of the marketing strategies that focuses on people who like "free", "selling 10 dollars (about 1100 yen) watches with 2 dollars (about 230 yen) shipping fee" It is not necessary to make people feel "profitable" by "free, but shipping fee of 12 dollars (about 1350 yen)".

Also in the Trustpilot Reviews of the review site Folsom & Co watch "Soficoastal" high brand for women In the past Soficoastal also sold the watch as "free" and received a lot of appraisal. Soficoastal is a company based in Miami Beach, and the product is inspired by Miami, but the website is similar to that of Folsom & Co.

soficoastal - luxury watches and bracelets at affordable prices
https://soficoastal.com/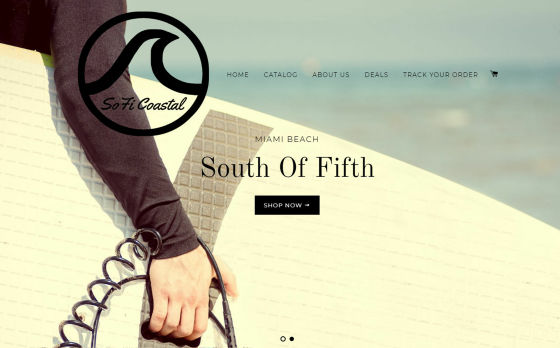 Also, I also know that the picture on the top page is the image of the surfer that I got from Shutterstock dealing with free material.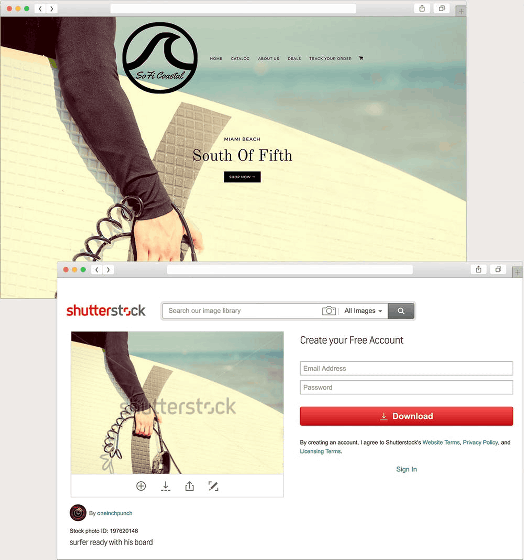 Actually, Folsom & Co and Soficoastal are just a part of the website that claims to be based in different towns, and in addition to this, we also sell the same watch including "Ottega", "Gilchrist Watch Company", "Regent & Co" There are many similar websites to do. The price of the watch varies depending on the site, but the design of the sales page is similar in each case. These sites use the template "Brooklyn" which is provided free by EC site creation service " Shopify ".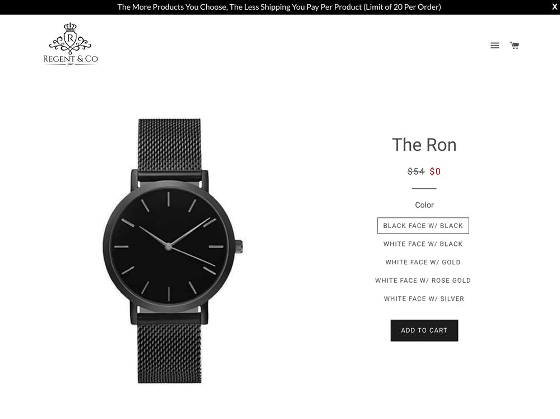 The brand site differs depending on the website, as if the actual store exists in that town, but photos are also displayed on the website "Alexandria NYC", for example, free stock photos edited in Photoshop What you did. On the other hand, since the website protects WHOIS information for a fee with privacy, it seems that it is impossible to find out where the real site of the website is.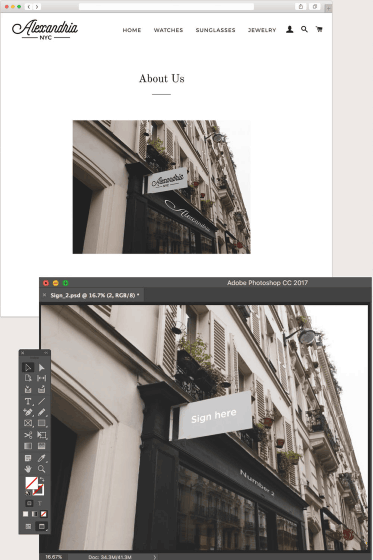 On the "About" page of the website, "Bradley's Mens Shop is inspired by a person named Bradley who wants to show himself well but thinks" fashion and style should not be expensive " Information that has been posted with stock photos.

And when I reverse search the image of the clock named "The Alpha" sold on the site, it says that I arrived at Amazon's page selling similar watches at how much $ 1.99 (about 220 yen).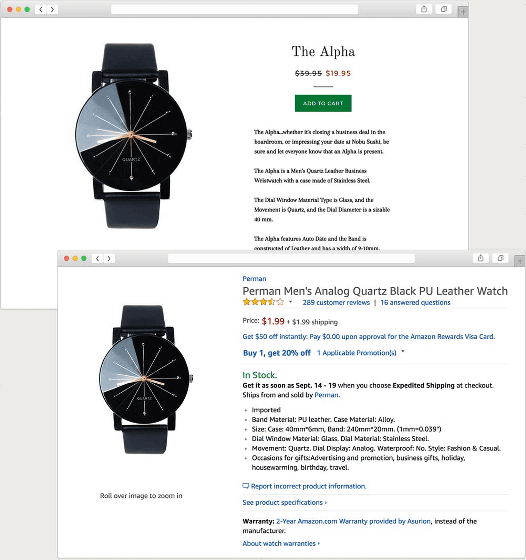 An attempt was made to identify the manufacturing location of the clock from the reverse search of the image, but in the first place the product photos of Folsom & Co and Soficoastal are "fiction" using real watch brand photos such as ROSEFIELD , Even when searching, there were many things that only genuine images were found. Some photos of Folsom & Co and Soficoastal's clocks even forgot to erase the brand name in Photoshop.

Shenzhen Gotop Technology Co. Ltd in China is listed as a company that makes Folsom & Co watches. Shenzhen Gotop Technology has a shop in Alibaba and sells a watch of the same design as Folsom & Co for about $ 5 (about 560 yen), but since some are on sale at prices lower than that , Shenzhen Gotop Technology may not be the beginning of the supply chain. Shenzhen Gotop Technology on Facebook is "Manufacturer / Supplier / Exporter / Wholesaler", which is also seen to be both manufacturing and wholesale.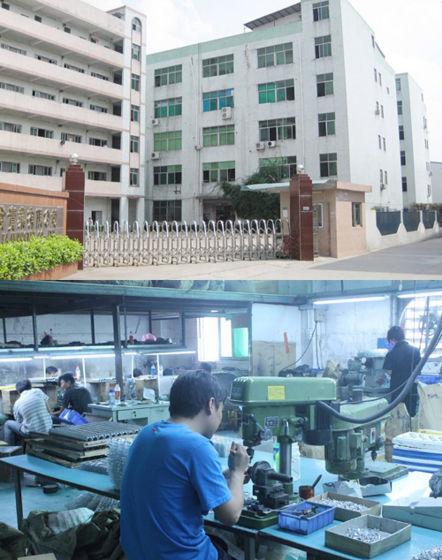 Meanwhile, Folsom & Co is doing business mainly on Instagram and Facebook postings. Accounts frequently reprint photos of the city's photos and users wearing the clock, but these users are considered to be people with less than 1,000 followers who think that they want to "see more exposure" I will. Because Folsom & Co itself has tens of thousands of followers, it can be said that we are getting exposure in exchange for promotion.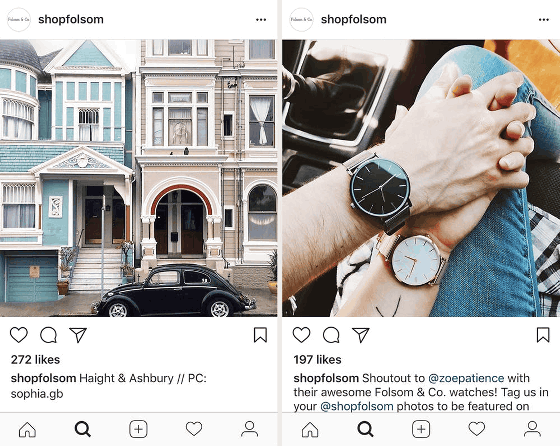 According to those who reviewed the watch of Folsom & Co, the shipping sources were Malaysia and China. Some buyers said they received a box with "Value $ 1.05" written. Considering that Folsom & Co is not a manufacturer but a wholesaler, it is very difficult to identify the clock's arrival.

Also, although it is possible to read that multiple sites are managed by one group, because websites such as Folsom & Co, Soficoastal and Alexandria NYC use the common wording that they seem to have copied and pasted , This identification is also difficult. The sale is done in the form of drop shipping , because the publisher actually does not handle the watch. Folsom & Co's FAQ page states that "as well as many of the great American companies, we are also shipping from Asian warehouses", but Folsom & Co actually owns it There is no "warehouse".

Folsom & Co's business model includes obvious misleading. Many users who purchased the product claim that this is almost a fraud, but in the question section saying "I do not want to put the bank account in jeopardy as it is good to waste ten dollars" Soficoastal told the person that "We do not get customer's credit number, purchase is made safely through Stripe and PayPal", and trading itself is not done in a wrong way. Also, how much you put a price on your watch depends on people, and if one says "It is $ 29.99" that watch will cost $ 29.99. It can be said that strictly speaking, Folsom & Co is doing nothing because it is not a fraud, so many people will be angry. Folsom & Co and Soficoastal are good examples of brand storytelling strategies that use instagram to convey messages and stories.

The storytelling strategy itself is not new. J. Crew launched Madewell 1937 using the brand of "Madewell" of a work arrival shop closed in 2006. Madewell 1937 succeeded in branding in the form of "since 1937" using the fact that Madewell headquarter was founded in 1937, but the headquarters Madewell did not emphasize style or design. Although Madewell 1937 is a high-end female brand, the headquarters Madewell was a brand that was similar but not similar, that was poor in quality and sometimes mimicked the design of another manufacturer for the purpose of profit only.

Soficoastal has a very straightforward conversation with buyers on Facebook. "Have you bought coffee for 2 to 4 dollars (about 240 to 480 yen)" to the purchaser who says that the same watch was found at 2 dollars (about 240 yen)? Dunkin Donuts and Do you think that Starbucks needs that much price to make coffee, or do you think raising the price for profit? "" You can drink coffee for 10 cents (10 yen) at home This is called capitalism, "Soficoastal said.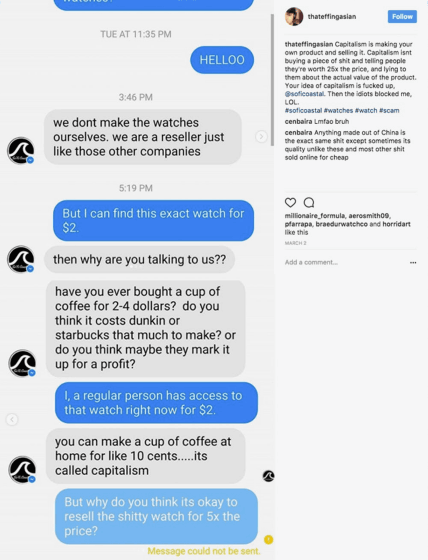 In the modern day technology is generalized, the example of "free clock" shows that "By anyone can talk about any story" by making use of drop shipping network, Shopify template, Instagram account etc.
in Note, Posted by logq_fa