【Dread:】 Stefan Helenberg, the creator of that 'Sponge Bob', died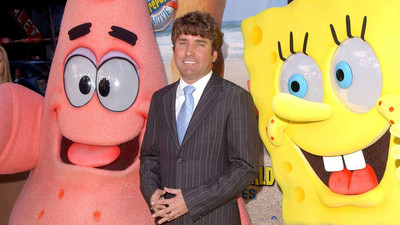 " Sponge Bob ", which began airing in the United States in 1999, is a popular animation series for a wide range of generations ranging from children to adults. It is reported that Stefan · Heilenberg, who was the creator of such "Sponge Bob" and served as executive producer of the series, died on November 26, 2018. I was 57 years old.

Stephen Hillenburg Dead: SpongeBob Squarepants' Creator Was 57 - Variety
https://variety.com/2018/tv/news/spongebob-squarepants-creator-dead-dies-stephen-hillenburg-1203037362/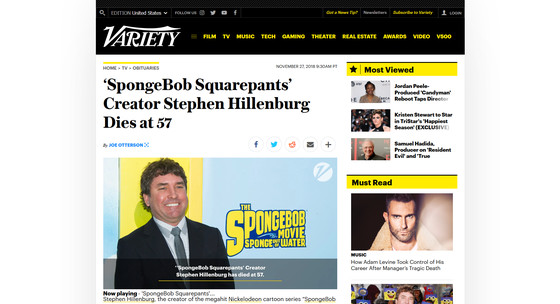 Stephen Heerenberg was born in Oklahoma State, USA on August 21, 1961. He graduated from Humboldt State University in 1984. I heard that he was conducting research on the natural resource plan focusing on marine resources while studying abroad. After graduation I became a teacher of marine biology at Ocean Research Institute in Dana Point, California. Herienberg's research and experience at Ocean Research Institute later had a great influence on "Sponge Bob" character and world view.

In 1987, Mr. Heerenberg got a degree in experimental animation from California Art University, and a master's degree in 1992. In the same year, he won the Best Animation and Concept Award in the short section at the Ottawa International Animation Festival . After that I also appeared in various international animation festivals. From 1993 to 1996 he covered and directed the " Modern Life of Rocco " at the cable TV (CATV) channel " Nickelodeon " specialized for children's program.

SDCC 'Rocko's Modern Life: Static Cling' Sneak Peek | Rocko's Modern Life | Nick - YouTube


After that, he began producing the animation "Sponge Bob" drafted on the comic "The Intertidal Zone" which was drawn as a study material for international students when he worked at the laboratory. "Sponge Bob", which began broadcasting on May 1, 1999, has episodes of more than 250 episodes aired until 2018. Although it is said to be an animation for children, adults also have many fans of "Sponge Bob", and voluntary appreciation sessions by fans are often held. "SpongeBob" has won various honorable prizes including Emmy Award, and has been dubbed in over 60 languages ​​including English, Japanese, Azerbaijani, Maori.

SpongeBob's Funniest Moments from NEW Episodes !??? | SpongeBob SquarePants | Nick - YouTube


In 2004, "The Sponge Bob / Square Pants The Movie " of the movie version, which Director / Screenplay is directed by Mr. Heerenberg, was released and achieved worldwide sales of $ 140 million (about 16 billion yen) . In addition, Mr. Healenberg was involved as an executive producer in the second movie version of the movie released in 2015 " Everyone in the sponge · Bob sea rescuing the world " !

Healenberg 's cause of death was amyotrophic lateral sclerosis (ALS), and it was only a mere discovery that it was diagnosed in March 2017.

Nickelodeon told Variety, "I am surprised at the news that Mr. Stephan Heerenberg died in the fight against ALS, he is a loving friend and a creative partner for everyone of Nickelodeon. Mr. Healenberg is pleased with children and families beyond generations at "Sponge Bob" which feels unique humor and innocence.The character he made is optimism, friendship, infinite It will last as long as it reminds me of the value of imagination. " It shows a memorial service to Mr. Healberg even on official Twitter.

We are sad to share the news of the passing of Stephen Hillenburg, the creator of SpongeBob SquarePants. Today, we are observing a moment of silence to honor his life and work. ????

- Nickelodeon (@ Nickelodeon) November 27, 2018