LG is planning a smartphone equipped with '16 lens camera' with as many as 16 lenses, and a patent has already been acquired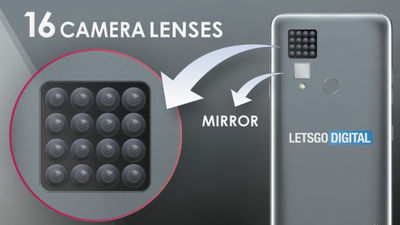 The main camera installed in Apple's " iPhone XS " adopts a "dual camera system" with two different lenses, and Huawei's "P20 Pro" has three lenses mounted on one camera "Triple camera" is adopted. As the number of lenses increases, it will be possible to use lenses suited to various shooting scenarios, making it possible to shoot higher quality pictures, but Korea's LG is engaged in the development of "16 lens camera" It is clear that the patent has already been acquired.

LG smartphone met 16 camera lenzen | LetsGoDigital
https://nl.letsgodigital.org/smartphones/lg-smartphone-camera/

LG patent hints at a 16-lens smartphone camera - The Verge
https://www.theverge.com/circuitbreaker/2018/11/26/18112728/lg-patent-16-lens-smartphone-camera-array-photography

In 2018 the next iPhone is reported to be adopting a triple lens camera with three lenses, or that a photo that seems to be a smartphone equipped with Nokia's five different cameras is leaked, and multiple smartphones The installation of cameras and lenses is a kind of trend.

Nokia's 5-eye camera attached smartphone leaks, next-generation flagship machine "Nokia 9" - GIGAZINE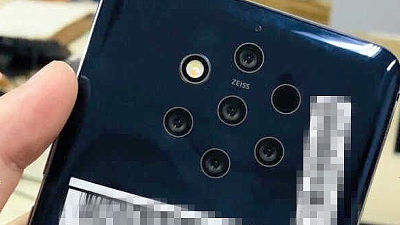 For smartphone makers, camera performance can be an excellent point to be different from competitors' smartphones, so if iPhone, for example, in the portrait mode using 'dual camera system' the performance of the camera is appealed extensively. Meanwhile, LG, which has been adopting dual lens cameras for its own products quite early among smartphone makers, is developing a "16 lens camera" equipped with 16 lenses, and it is now clear that the patent was acquired I will.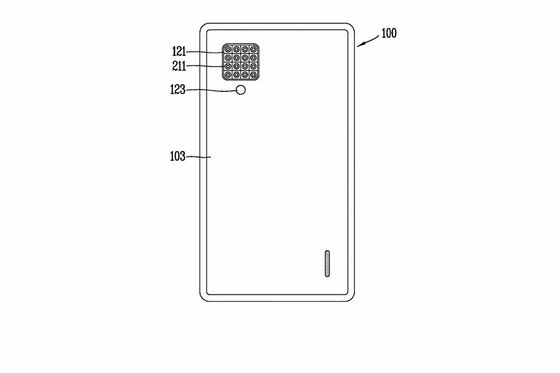 According to the international media LetsGoDigital, LG acquired a patent on the 16 lens camera from the US Patent and Trademark Office on November 20, 2018. The patent states that "16 lenses are arranged with a specific curvature in the matrix array and it is possible to take pictures from multiple viewpoints with different lenses.For example, if the user selects only a specific lens You can also take a picture "is written.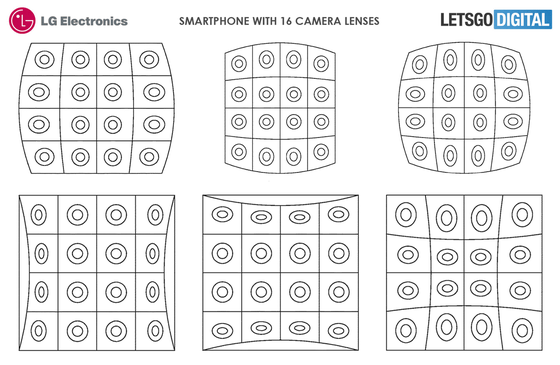 "Photographing from multiple viewpoints using different lenses" is also used in LG released in 2011 "Smartphones that take pictures from different positions with two cameras to create 3D pictures" . In addition, it is also possible to take pictures at the same time using multiple lenses, it is possible to select the best one from the photographed images or combine the photographs and movies taken at the same time.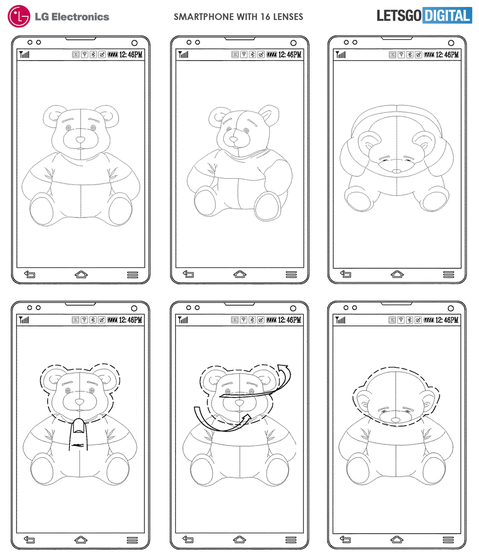 By combining photographs taken with different lenses, it is possible to replace them with high-quality ones captured by a different lens, for example, only on the person's head. There is also a face recognition function, it is possible to search whether the same face as the selected face exists in the memory of the smartphone, and brings only the face part of the same person as another photo as it is can also do.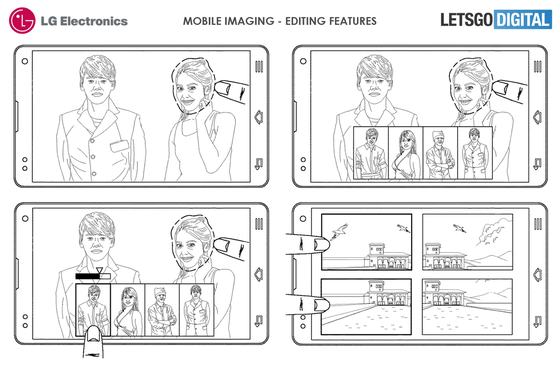 The camera will be mounted on the back of the smartphone as below, but the bottom of the camera has a flash and a large mirror. By using this mirror together with the camera, the user will be able to take self-taking with 16 lens camera.

The image of the 16 lens camera looks something like this. There is a large mirror on the bottom of the camera, so if you use it you will be able to take self-shots.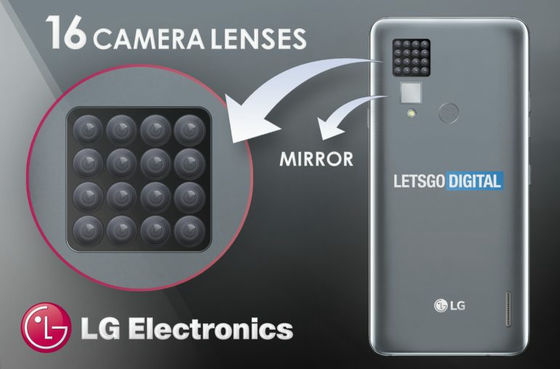 In addition, the patent also states the possibility of integrating the touch screen on the back of the smartphone, and that the audio output unit is located.

In addition, it is not the first time that LG is developing a camera with 16 lenses. A camera called "L16" with 16 lenses in 2015 has appeared, and you can tell what kind of camera it is actually finished by checking the following article.

"L16" that can shoot 16 single lenses on a compact camera and photographs equivalent to digital single lenses and 4K movies - GIGAZINE