Reactions on the Internet to Pokemon's first live-action movie 'Detective Pikachu'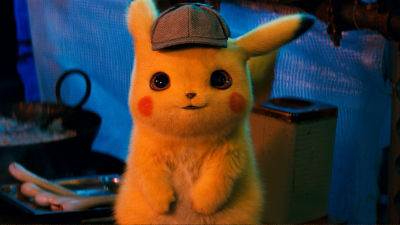 A trailer of Pokemon's first live-action movie " Detective Pikachu " was finally released . In this trailer it is Pikachu covered with Muomofu 's hair, unlike Pokemon who was deformed with deformed animation and games, Rizzardo which the clothing feeling has increased and the power is more powerful, and Barryard which brings forth hatredness Is appearance. I summarized the reactions of Internet users who saw the trailer of a live-action movie "Name Detective Pikachu" that I could see a Pokemon that I have not seen so far.

The Internet Reacts To The Detective Pikachu Trailer
https://kotaku.com/the-internet-reacts-to-the-detective-pikachu-trailer-1830392856

The trailer of the movie "Detective Pikachu" can be checked from the following.

Pikachu moves around the reality worldly Pokemon's first live-action movie "Detective Pikachu" trailer released - GIGAZINE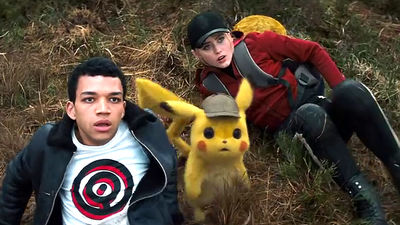 Heather Alexandra from Overseas Game Media · Kotaku says, "I do not have much thought about Pokemon but as I wrote the super realistic Pikachu speaking in the voice of the dead pool and felt a strange cold" , Many users also post various opinions on pros and cons, even on the Internet.

Ryan Reynolds who played the role of dead pool at the movie "Deadpool" is responsible for the voice of Pikachu at the movie "Detective Pikachu". I thought that Reynolds would be a small detective "repeating the same words as" shiny "on his Twitter account, but I did not think that the opportunity will soon come."

I think we all knew I'd wind up as a miniature detective repeatedly saying the same two words. Just did not think it 'd be this soon. # PikaPika # DetectivePikachu pic.twitter.com/L4iB760fJO

- Ryan Reynolds (@ VancityReynolds) November 12, 2018

That Reynolds was tweeted in 2016 as follows and on reddit on the foreign bulletin board, "I want to see the movie (dead pool) of the version whose dead pool was replaced by Pikachu" or "I like this I got an actor, so I hope that this movie is wonderful. "

I do not know who made this, but thank you. # MaximumEffort pic.twitter.com/nH1ywqeshN

- Ryan Reynolds (@ VancityReynolds) September 22, 2016

"Why is Lizardon shaggy?" "Why not use the original detective Pikachu's voice? Ryan Reynolds is a wonderful voice actor, but his voice does not match the apparent look of the blunt name detective Pikachu" This is based on the game However, why is not the second game of the game? "" About the redesign of some Pokemon, I do not know why, but it looks strange for me, for example Kodak "Pokemon fans cite questions.




Kodak that has been told "I do not mind" is like this.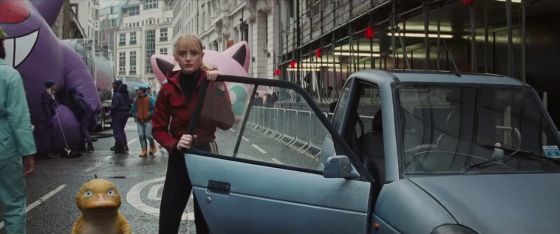 Many people do not like the design of Pokemon who got to the reality.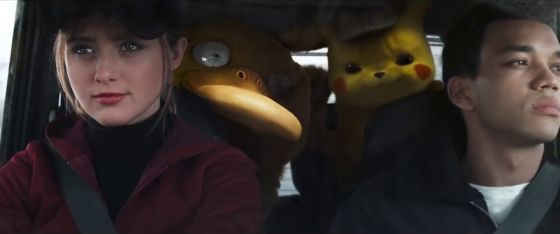 However, some of them are "strange, it is a very strange look, but I like it."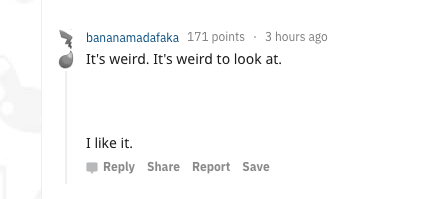 "To be honest, I thought it was a strange live-action movie, but we are there, it looks wonderful" "It's weird and fucks I love you"




It is pointed out that live-action version barriers are similar to YouTuber's SethEverman ... ...

seth everman pic.twitter.com/0rhh26o4DK

- Cerise! Pumpkaboo Master (@ bakaccha) November 12, 2018

"Barrier's shoulder is just a kick ball, it's a very kick ball! It's a wonderful Pokemon ...", someone who praises the shoulder for some reason also appeared.

Mr. Mimes shoulders are just kickballs. Freakin 'kickballs! Freaky pokemon ... # Pokemon # DeetectivePikachuMovie # DeetectivePikachu # mrmime pic.twitter.com/SukVmu 7 MJi

- Ryan Haft (@haftydoesit) November 12, 2018

There are a lot of users who are not convinced that pudding is particularly hairy. Tweet that "I do not love you if you do not love me."

If you do not then then you do not
love me deserve me
at my at my pic.twitter.com/boezIVNye1

- Bree Lundberg ✨ (@ BreeLundberg) November 12, 2018

"I read the indication that the purine that appeared in the detective Pikachu had" There should be no hair ", but I think of only the horrible choices.Pudding like hairy paws or pudding like the testicles singing" I do not like tweets ......

Just read a full rant about how Detective Pikachu's Jigglypuff should not be 'furry', and now all I can think about is the terrifying alternative ...

Jigglypuff with hairless cat flesh.

Jigglypuff, the singing testicle.

- Zelda Williams (@ zeldawilliams) November 12, 2018

"If the name detective Pikachu's pudding does not have hair it will be like this" tweet. It certainly is creepy when it comes to lack of hair.

FYI if jigglypuff did not have fur in Detective Pikachu it would look like this pic.twitter.com/fuX6h8AeDY

- Adam Moussa (@adamjmoussa) November 12, 2018

Four topics that took such looks are also talked about.

November 12, 2018

Whether the name detective Pikachu's "Tim and Pikachu become detectives and the challenge of missing Pokemon missing incidents occurring in town" is not liked, some Twitter users like "Synopsis of my Pokemon live-action movie" tweeted doing.

Synopsis B movie feeling is amazing "Tweet Pikachu came back! This time Pikachu is a fucking cop!" Tweet ......

Pikachu is back! And this time * record scratch * he's a fucking cop

- bob dolezal (@ alexqarbuckle) November 12, 2018

"To make sure the identity is late, we pulled out all the teeth and cut off all the fingers, probably Tim, a friend of the detective Pikachu," a synopsis of the suspense style.

DETECTIVE PIKACHU: Yup. Same as the last one. Pulled all the teeth and chopped off the fingers to slow down the ID. This guy's good
TIM, DETECTIVE PIKACHU'S HUMAN FRIEND: [puking a lot]

- Patrick Monahan (@ pattymo) November 12, 2018

"Children call it Dogasse, saying that it catches a poison type Pokemon, gushes out and makes it high, and the mortuary is said to be too bad," says a psychological synopsis.

"The Kids Call It Ass Koffing. They Catch Poison-Type Pokemon And Huff The Gas Out Of Them To Get High. Too Bad The Morgue Says The Comedown Is Not Pretty." Pic.Twitter.Com/E1Xzig1Kpb

- Mike Drucker (@ Mike Drucker) November 12, 2018

Another tweet that changed the scene of movie " Ally / Star Birth " to pudding.

Tell me something girl ???? # DetectivePikachu #AStarIsBorn pic.twitter.com/GjlWJJmBXs

- Joey Nolfi (@ joeynolfi) November 12, 2018

On reddit, "who made the Rogers · rabbits with Pokemon?" or "Negative such as" It will be the most disgusting movie scheduled to appear soon as well as Sonic movies "" Like a Super Mario Brothers movie " "I am very excited," Reynolds has dubbed at his dead pool where his face does not come out, his charm was well expressed. " There was also favorable opinion such as. Also, there is an opinion that "Super Mario Brothers movies are amazing evolution, considering that dinosaurs invaded New York and trying to" evolve "humans into chimpanzees.

First plot details for 'Detective Pikachu': movies
https://www.reddit.com/r/movies/comments/9pv88r/first_plot_details_for_detective_pikachu/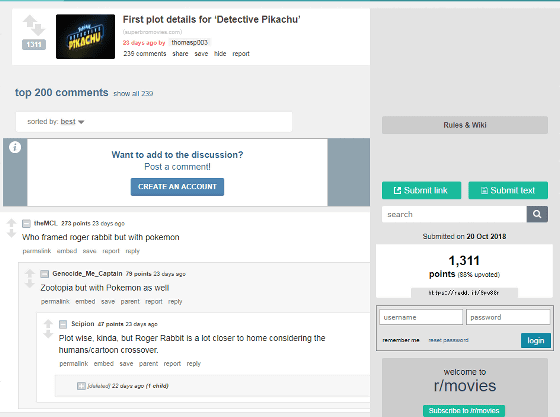 Furthermore, pointed out that the detective Pikachu is an aesthetic sense like a movie of the 1990s.

I'm glad that with Detective Pikachu we're somehow back in this aesthetic zone for movie adaptations. Pic.twitter.com/0I6AGkzEPC

- Jake Rodkin (@ ja 2 ke) November 12, 2018
If it smells like a duck #DetectivePikachuMovie pic.twitter.com/4Bgcfvn7UG

- Raph J. (@ digigaph) November 12, 2018

Sorrowful tweets from Zenigame fans saying "What happened to my tick box?"

WHAT HAPPENED TO MY SON SQUIRTLE? #DetectivePikachu pic.twitter.com/ar44LaOGnO

- Jay Heart (@ Kalex BD) November 12, 2018

Tweet saying there was a turtle.

FREE SQUIRTLE pic.twitter.com/B88 kBzR 2 i O

- aaron washington (@theaaronwash) November 12, 2018

And soon many fan art has appeared.

Even though some designs scared me at first, I 'm already warming up to the Detective Pikachu trailer. I think I like it? # Detetivepikachu pic.twitter.com/DVG74fQ2vG

- Junaid Chundrigar (@ ImaJunation) November 12, 2018
he fluffy. I like him #DetectivePikachu pic.twitter.com/54IIXUs9Jg

- doodlelotl (@ Doodlelot) November 12, 2018
this one frame got me i pic.twitter.com/ u 7 zvy G 5 Xod

- breadborne ???? LOOΠΔ (@ kyaatu) November 12, 2018
asgahsgahsa LET PIKACHU SAY FUCK pic.twitter.com/y9CF5 WUaaR

- ????????? (@ work ironandwine) November 12, 2018
Https://t.co/RbanmoBxuh #Deadpool #DetectivePikachuMovie pic.twitter.com/LfmK8B4s8I

- Mitch C. (@ MitchtheCoyote) November 12, 2018
Oh god, American detective Pikachu Is 2spoopy # DetectivePikachuMovie # DetectivePikachu # detectivepikachu pic.twitter.com/F9uzjGkpm3

- SPOOPYNicky (@ Nicholas Draws) November 12, 2018

It seems to be popular especially colored facial expressions like human like you could not see in Pikachu.

Some people did not like the trailer that was released, some people made it back.

I dunno guys, the tone of this new Detective Pikachu movie seems kind of weird to me ... pic.twitter.com/ng4GeqFOS9

- Jay Baylis (@ Samuri Ferret) November 12, 2018