Impact on laptop shipment worldwide due to lack of Intel's processor supply, expected to last through the latter half of 2019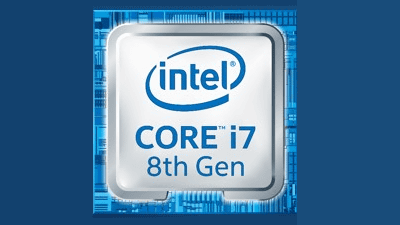 Worldwide, the processor of Intel has become short. Martin Wong, President and CEO of Compa · Electronics Corp. , a parts maker, shows that this situation will continue until late 2019.

Tight supply of Intel processors unlikely to ease until 2H19, says Compal president
https://www.digitimes.com/news/a20180927PD204.htmlp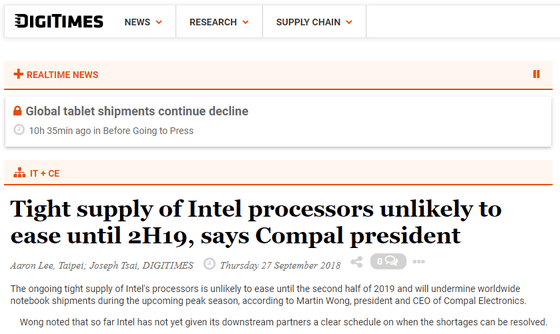 This word of President Wong is reported by Taiwan's IT news site · DIGITIMES. For the moment it is said that under the Compa · Electronics, there is no contact about the time when supply shortage is resolved. It seems that future shipment of notebook PC will be affected worldwide.

Intel does not say anything about why supply is not enough, but one of the causes is considered to be a transition delay to 10 nm process that will continue from 2015.

Moore's law blinks yellow signal, Intel's 10 nm process transition delays surely - GIGAZINE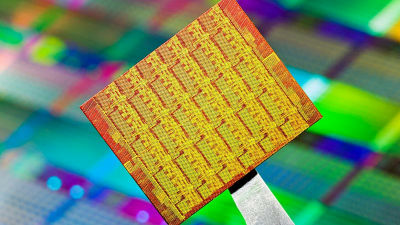 If the migration is proceeding smoothly, the latest chip should have been adopted by 10 nm process fab (manufacturing factory), but as of 2018 the 10 nm fab is not working properly. For this reason, the new CPU announced in August 2018 did not adopt the 10 nm process, and adopted the conventional 14 nm process.

Intel announces the 8th generation CPU "Whiskey Lake" & "Amber Lake" for mobile supporting gigabit Wi-Fi & 4K, adopting 14 nm process as usual due to delay in miniaturization - GIGAZINE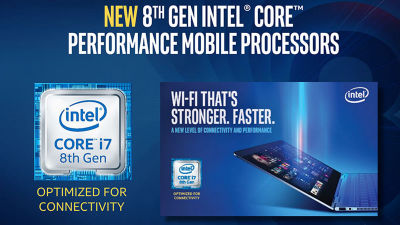 Due to the struggle of such a situation, the 14 nm fab has fallen into over-production, and from around May 2018 a price rise which is a sign of supply shortage occurred. Accelerating the situation by giving priority to the manufacture of products with high profit margin in anticipation of Intel's supply shortage, and considerable shortage has been confirmed in Japan, China, South Korea, Southeast Asia etc. in September 2018 . According to Hermitage Akihabara, which conveys information on Akihabara, buyers from abroad are visiting goods purchase in hundreds of items at Akihabara shop.

"It is quite serious" (9/30) · · · Multiple shop clerk story - Hermitage Akihabara
http://www.gdm.or.jp/voices/2018/0930/277969

In September, it is confirmed that Intel has outsourced to TMSC of 14 nm chipset production, but as a measure it is water to the rocks. It took at least a year to fundamentally solve it. In addition, President Wong said "In the latter half of 2019 it is difficult to resolve" and it seems that it will not be resolved in the second half of 2019.