How to forge 'stolen articles' using fake websites and delete contents from Google search results

by NegativeSpace

If your content is copied to someone and posted online, you can apply to remove it from Google's search results under the Digital Millennium Copyright Act (DMCA). However, it has been reported that a "fake article" that misuses this mechanism and lowers the reputation of its own company or its service is deleted using a fake Web site.

Data from the Lumen Database Highlights How Companies Use Fake Websites and Backdated Articles to Censor Google's Search Results :: Blog :: Lumen
https://www.lumendatabase.org/blog_entries/800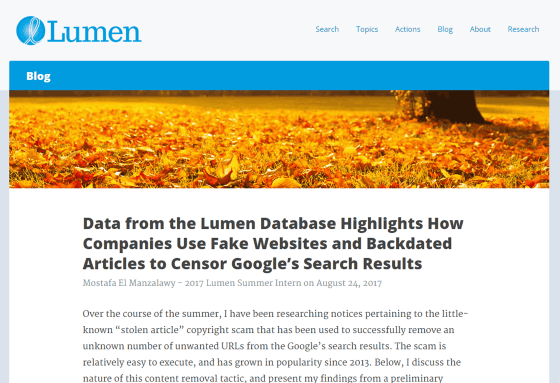 It is said that fraudulent filing for deletion of contents based on "stolen article" occurred around 2013. Individuals or companies that find articles that they do not like on the Internet often contact the "reputation management company" in many cases. Such a reputation management company creates a fake Web site and makes it appear as a "real news site" and traces the posting date of the article therein to the past, so that it is ahead of the article to be deleted I will wear it as it was published. And the reputation management company tells "journalist" and asks "Google yours is stolen", urges Google to infringe the DMCA and to remove the article. In addition, the management of infringement information on DMCA is done by a company called Lumen , and the name and contents of the person making the complaint are made public on the web, but since the reputation management company makes a complaint, a real "client" Your name will not be published.

Lumen Research's Mostafa El Manzalawy uses a Lumen database, Google's transparency report, news articles, DomainTools that can search for Whois information for a specific domain, etc., to investigate fake deletion requests actually made Did.

For example, "Fox 18 News Network LLC" is one of them, and the company claimed that the article on New York Daily News that wrote about "Teen's treatment program" Trails Carolina was stolen from its website. " The article of New York Daily News is published on November 26, 2014, but Fox 18 News Network LLC says that the article of its site was published on November 25, 2014.

Looking at the Whois information, it was August 24, 2015 that the domain registration of Fox 18 News Network LLC was last updated. The name of the new domain registrant is "Registration Private" and the place of residence is in Scottsdale, Arizona state, "The domain seems to have been purchased by a new owner on this day" "Says Manzalawy.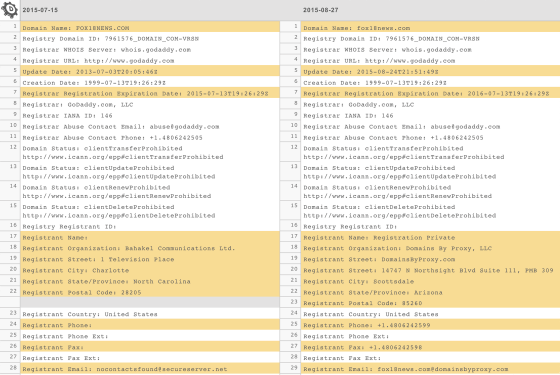 The IP address history shows that there was a change on September 1, 2015 ... ...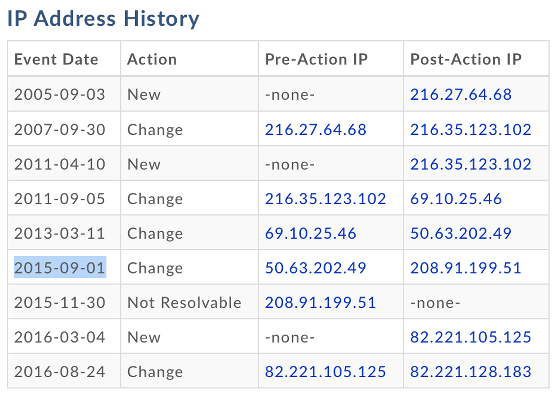 From the history of the hosting server you can see that there was a change on August 27, 2015.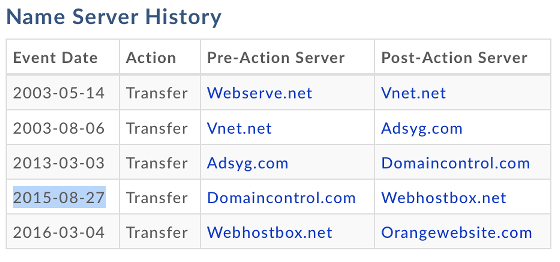 When events are arranged in chronological order, it looks like the following.

· November 26, 2014
New York Daily News write an article about the treatment program "Trails Carolina"

· August 24, 2015
Whois registration data of fox18news.com will be updated to the new owner

· August 27, 2015
fox18news.com changes hosting server

· September 1, 2015
IP address is changed

· 12th April 2016
DMCA based deletion notice will be sent to New York Daily News

And as of August 2017 Fox 18 News does not exist and there are no articles or news sites that were the grounds for DMCA's deletion notice.

The domain history of Fox 18 News stated that "Domain was acquired nine months after New York Daily News posted the article." Nevertheless, the articles of Fox 18 News appeared to have been published prior to the New York Daily News. This means that the article was "posted (backdated)" at the setting of the dates backwards than originally.

In addition, Mr. Manzalawy investigated what Fox 18 News article was like at the time DMCA's deletion notice was sent. Internet Archive: We found screenshots of the time using Wayback Machine , Webpage archive , Log in to DomainTools , Internet Activism and Citizen Protection etc. As a result, Wayback Machine showed "There is no web page archive since May 2006 until" fox18news.com "appears for the first time in March 2016 as a" news site ". There are screen shots of 2014 and 2015, but in the end the links are not connected.

The article that was recorded in WebActivism was supposed to be "released" certainly on November 25, 2014, that is, one day before the New York Daily News published the article. In the screenshot of the article of fox18news.com that the following was published on November 25, 2014 ......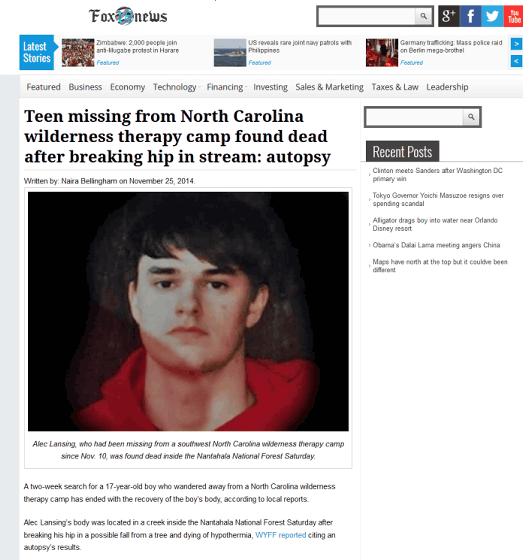 This is an article of New York Daily News announced on November 26, 2014.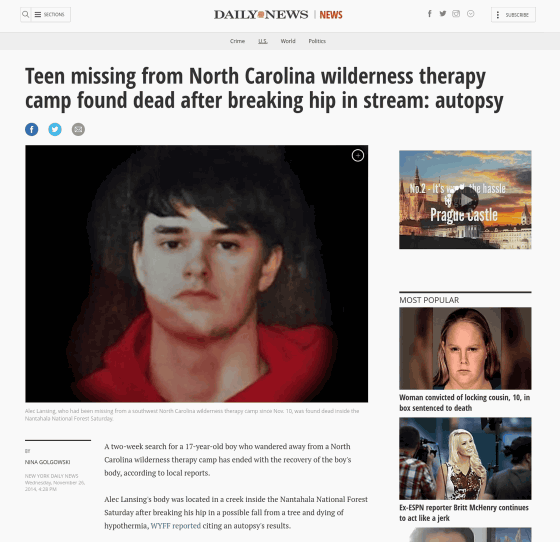 From these contents, Mr. Manzalawy says, "One year after the article of New York Daily News was released, the article of Fox 18 News was released and a backdate was given to impress that" the article was first published " I have concluded that "I was wrong."

In the survey of Lumen database, it seems that 42 deletion notices were found for the purpose of deleting a total of 52 URLs from Google search results. And Manzalawy explained that there is a pattern in this notification. The following is a visual representation of the "pattern". You can see that the words "article" "content" "copied" are frequently used.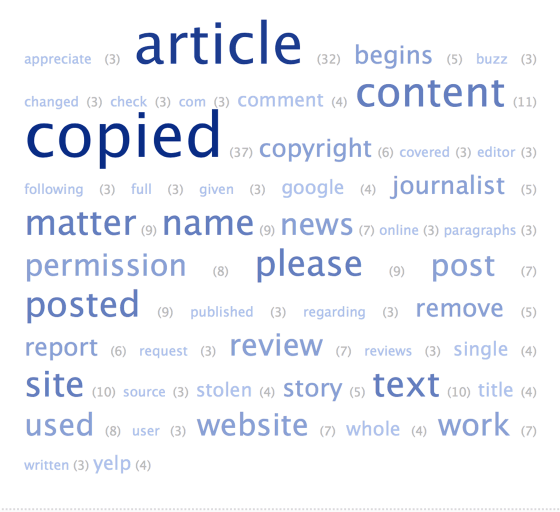 An example of the notification is as follows. Of course, different phrases may be used, but in general the following approach is taken.

"I am a journalist of 【Here's the name of the fake website】 My articles about [subject matter here] have been copied without my permission. All of the work is stolen, without permission 【Here is the real thing Posted on [Website Name]】 Please delete this article from Google search results "

Of the 42 notices Mr. Manzalawy found, 11 notices said that there was a punctuation error in the part not related to the article. In addition, applications for deletion of articles were sent from several states in the UK, Australia, India, Indonesia, and America on the surface representing random domains, but the way they are written is the same, residence in the domain registration It was also common that the land is Scottsdale, Arizona. "This is not a coincidence," Manzalawy says. Mr. Manzalawy said that one reputation manager who registered at Scottsdale undertakes deletion of content from Google search in various businesses all over the world.

Applications for deletion using fake websites are now taking place around April 2013, and two deletion applications based on DMCA approved in 2013 were made, but in 2014 it will be three, and in 2015 11 applications in 2016 and 18 applications in 2016 will be accepted.



According to Google's transparency report, 52 deletion applications have been approved by August 15, 2017, which means that deletion from Google search results based on fake website based on copyright violation It seems that 30% of the suspected applications are successful. Please note that this number does not include those whose fraud has been reported in news after deletion.

Although deletion of an article with a lie that "a stolen article" itself is a legal argument, there is no comprehensive research including its frequency and success rate. In this survey, 52 URL deletions are revealed, but Manzalawy says that it is not surprising that further investigation has found that hundreds of deletions have been found. In addition, stakeholders of WebActivism says that they have identified the three main agencies that should take responsibility for this fraud. In addition, lawsuits against multiple reputation management companies are also being done.
in Note, Posted by logq_fa