Service 'Firefox Monitor' that will announce you by check & notification if you become a victim of free data breach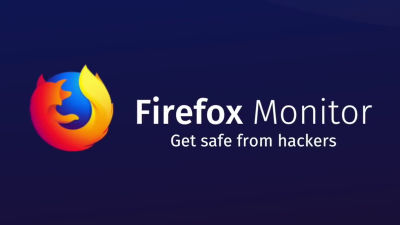 272 million e-mail addresses and passwords are leaked from Gmail, Hotmail, Yahoo! and others , Yahoo's account information for 3 billion people is leaked , and Web services that are routinely used It is a possible situation that your email address and password will leak out of you. However, it is very difficult to always keep track of when such information was stolen. So, Mozilla, which develops a web browser Firefox, launched a free service " Firefox Monitor " to notify that data breach has occurred.

Introducing Firefox Monitor, Helping People Take Control After a Data Breach - The Mozilla Blog
https://blog.mozilla.org/blog/2018/09/25/introducing-firefox-monitor-helping-people-take-control-after-a-data-breach/

In the following movie, Cindy Ziang, product manager of Firefox Monitor, explains the details.

Introducing Firefox Monitor - YouTube


The first thing that appeared in the movie is Mr. Ziang, the product manager of Firefox Monitor.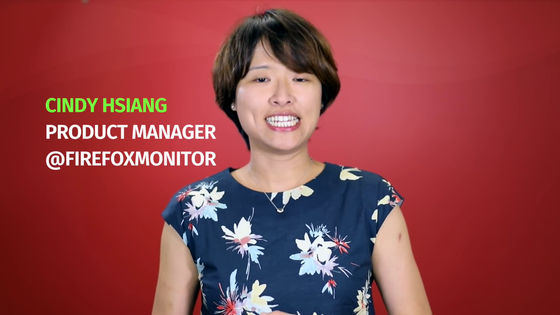 When we heard information such as data infringement which is increasing recently ......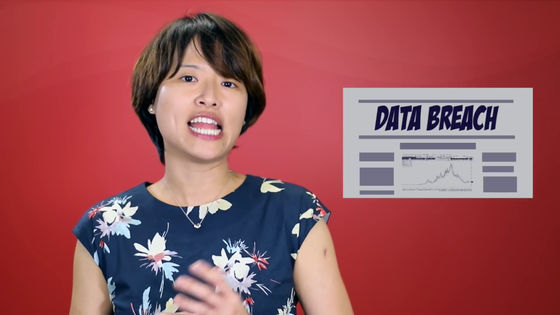 Firefox Monitor can be used to ascertain whether you are injured.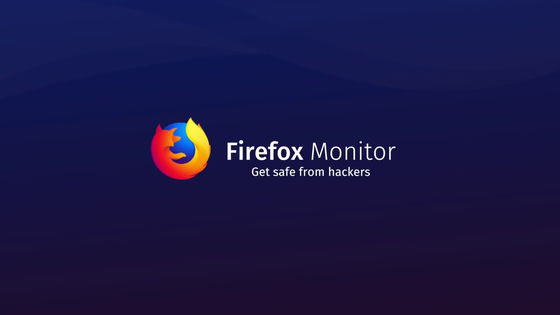 First of all, I access " monitor.firefox.com ".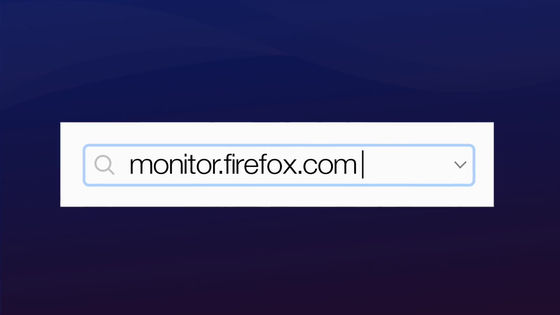 Then enter your email address on the site and click "Scan".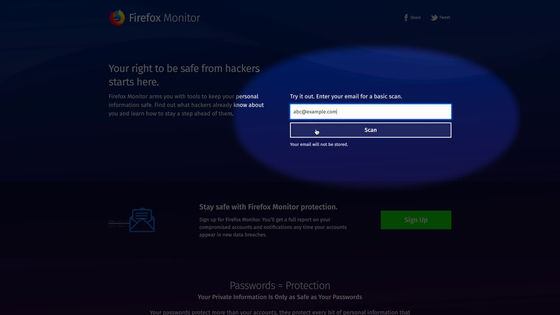 Then, items related to the e-mail address entered for past data infringement etc. are displayed. In case several candidates for data breach are displayed, take action such as changing the password of the mail address or the password of the account using the same password OK.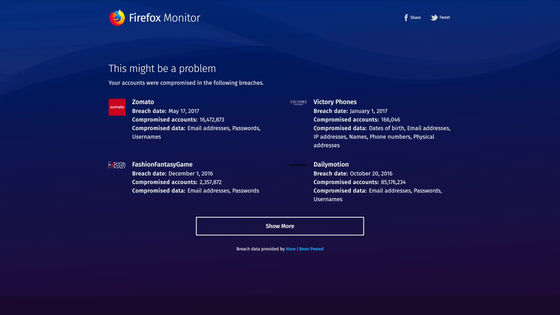 Furthermore, from "Sign Up" at the bottom of the screen ... ...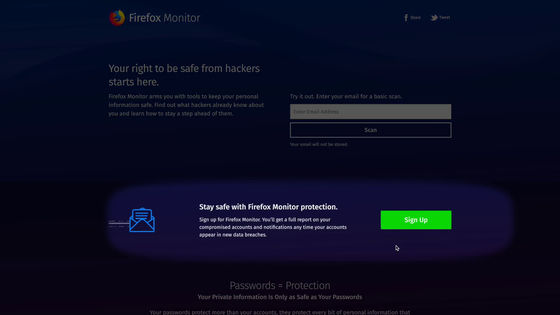 If you register your e-mail address, you can receive notification from Firefox Monitor if your e-mail address or password is leaked due to future data breach.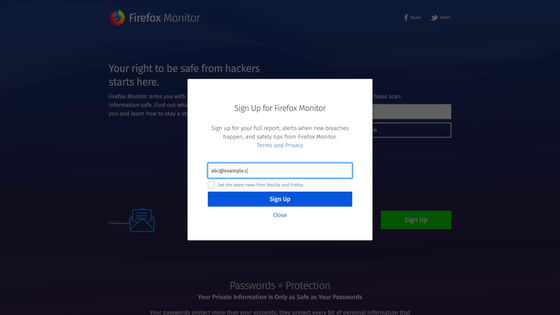 Firefox Monitor cooperates with " Have I been pwned? " To check whether it is data that suffered a data breach, and checks whether it is using the same database for data breach about.

You can access "Firefox Monitor" from the following.

Firefox Monitor
https://monitor.firefox.com/