Sony acknowledges that he does not have the copyright of Bach's songs in response to the pianist's objection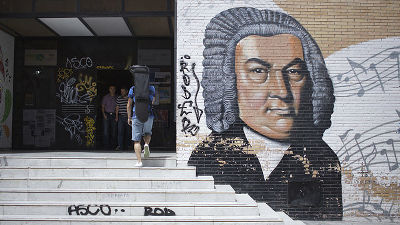 By elojeador

When a pianist posted a movie that he played himself on a piano piece written by Bach himself, an objection that Sony Music Entertainment (SME) infringes copyright is claimed, and as a result, a sound from a movie There was happening that mute was done. After that, when the pianist continued to persistently argue, the SME side has canceled the mute as originally acknowledging the absence of copyright.

Sony Finally Admits It Does not Own Bach and It Only Took a Bunch of Public Pressure | Electronic Frontier Foundation
https://www.eff.org/takedowns/sony-finally-admits-it-doesnt-own-bach-and-it-only-took-public-pressure

This one is related to the following movies posted on Facebook by pianist James Rose. The movie about 1 minute long playing Clavier's practice song Vol. 1 "Partita No. 1" written by Bach, SME challenged copyright infringement against this content.

Bach! From his 1st Partita.

Posted by James Rhodes on Tuesday, September 4, 2018

It is a legitimate act that no copyright owner protests to protect their rights, but the problem has already been made by a composer who died about 300 years ago and has already become a public domain It was in the place where SME asserted copyright for music. Of course Rose appealed that the objection was invalid and at the same time "Hey @ SonyMusicEnt, apparently you seem to have the copyright of my 47 second Bach's performance, Bach died more than 300 years ago And I recorded this playing in my living room.Not stopping becoming a motherfucker , do not have anything, you guys have nothing ! " I asked for the behavior.

Hey AttoSonyMusicEnt -....! Apparently You 'Own' 47 Seconds Of My Performance Of Bach He Died 300 Years Ago And I Made This Recording In My Living Room Stop Being Assholes You Own NOTHING Pic.Twitter.Com/t9IYWf3l70

- James Rhodes (@ JRhodesPianist) September 4, 2018

However, SME receiving Mr. Rose's rejection dismissed the complaint. Mr. Rose said "I am not angry anymore, I am refusing my complaint and I am tweeting with the image of the notification from SME about what this is all about?

I am beyond furious. @ SonyMusicGlobal have rejected my dispute. I recorded a short piece of Bach, they were they owned. I appealed. And hey have rejected my appeal. What. The FUCK? @ SonyMusicGlobal @ SonyClassicalUK Please RT - this is insane. Pic.twitter.com/42da3I9MYX

- James Rhodes (@ JRhodesPianist) September 10, 2018

On the actual screen, the word "REJECTED (rejected)" is written.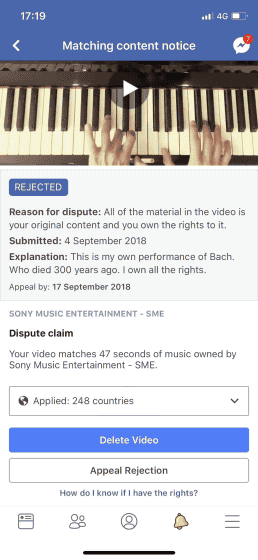 This incident called for a big response in overseas and many news reports that "SME asserts the copyrights of musicians who died 300 years ago". Following Mr. Rose 's persistent objections and the growing public attention, SME later admitted Rose' s appeal, withdrawing the copyright infringement appeal. As a result, the above Rose 's piano performance can be played with sound.

It is unknown what kind of countermeasures were taken within SME of this case, but what can be thought is that when the performance of Rose was uploaded, it was confirmed that the music that SME asserted was uploaded Notifications to notify have arrived from SME on Facebook, and responsible persons or computer algorithms have reacted mechanically. Also, it seems that mechanical response was made to Mr. Rose's counter-argument, SME who received the rise of public opinion again confirmed that it was not copyright infringement, and it rose without fail 'S content is supposed to be in the original state.

Such problems are often seen on YouTube's content management system " Content ID ", for example. A third party who is not the original copyright owner asserts the right to assert rights and craze the usage fee is rampant and some of them are copyrighted against "white noise" which should not exist such as copyright Appearance of infringement was done as well. It seems that it will take more time for the problem of the net copyright to be resolved greatly.

A copyright infringement complaint continued to a movie with only noise, why the hell? - GIGAZINE