'Witch kit for beginners' launched online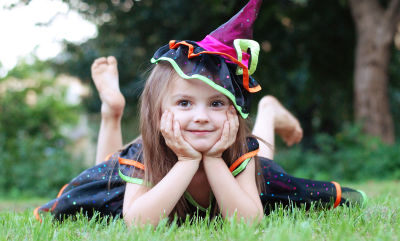 by sobima

From October 9, 2018, it turned out that "Starter Witch Kit (beginner witch kit)" was sold under the umbrella of Louis Vuitton under the brand name " Sephora " which handles make-up and perfume under the brand " PINROSE ". In recent years, the number of cases where the beauty industry sells items focusing on such "witch" "magic" is increasing, so that "a crystal that trains the vagina and increases orgasm " is sold. Sangeeta Singh-Kurtz , a cultural & lifestyle journalist, explains what is behind this background.

Beauty brands are delving deeper into mysticism to engage customers | Glossy
https://db.glossy.co/wp-content/uploads/2018/08/PinroseStarterWitchKit.jpg

Sephora's "Starter Witch Kit" by Pinrose has crystals, sage, and tarot cards - Quartzy
https://qz.com/quartzy/1372344/sephoras-starter-witch-kit-by-pinrose-has-crystals-sage-and-tarot-cards/

This is a beginner witch kit. The price of the kit is 42 dollars (about 4700 yen), besides 9 fragrances ......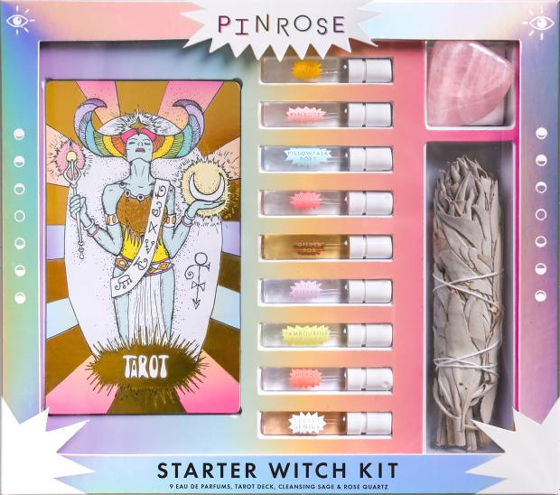 Tarot cards which are standard witch equipments, dried sage , rose quartz crystal are set.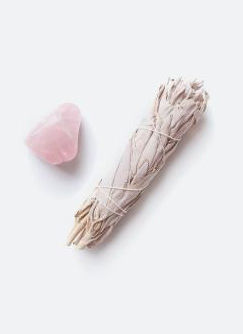 In addition, PINROSE sells " ritual box " in the past for $ 150 (about 17,000 yen), it is not the first time to deal with mysticism goods.

In recent years there is a tendency of mysticism in the fashion industry, the Tarot collection was announced in 2017 and the Nordstrom of the department store chain also collaborated with Crystal's Goldirocks and announced a limited quantity crystal set I will. In Hollywood actress Gwyneth Paltrow's lifestyle site "Goop", a crystal set named "drug bag" to be activated with mantra and Reiki is sold for $ 85 (about 9400 yen), training the vagina Egg shaped stones that strengthen orgasm is also sold for $ 66 (about 7300 yen).

As the Goop and similar sites became famous, the beauty industry and the New Age mysticism became more involved.

In January 2018, British news media The Guardian also reports that interest in mystery business is rising. Editor Ruby Warrington said in an interview "About the popularity of mysticism" reflects the shift from materialism and mass consumerism, the popularity of mysticism is the financial crisis of 2008, a material material of success I sparked when the seal "disappeared all night."

Crystals, potions and tarot cards: the mystical rise of new age businesses | Guardian Small Business Network | The Guardian
https://www.theguardian.com/small-business-network/2018/jan/18/crystals-potions-and-tarot-cards-the-mystical-rise-of-new-age-businesses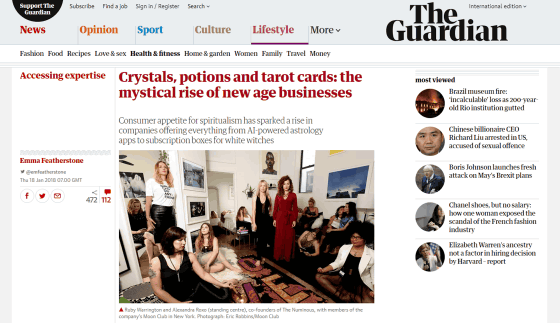 Goop has grown to a company with a market price of 250 million dollars (about 28 billion yen) in terms of the healing power of the crystal and the spiritual ability item, but the idea of ​​bringing the element "magic" to the beauty industry is Palatro It is not something of. Even looking at fiction, "Sorcery mirror" appeared in Snow White, and Fiona Princess who appeared in the movie "Shrek" was cursed as well, "Magic" and "Beauty" intertwined in fiction It is in a relationship.

In the word "witch" that was historically used discriminately, in recent years it has been used in the political movement of feminists and for young people who grew up with Harry Potter Instaguated the tag "# witch" To use is not a negative thing, it is normal. In particular, for young people who do not have a religious affiliation, there are indications that mysticism and magicism are filling up the mental lack.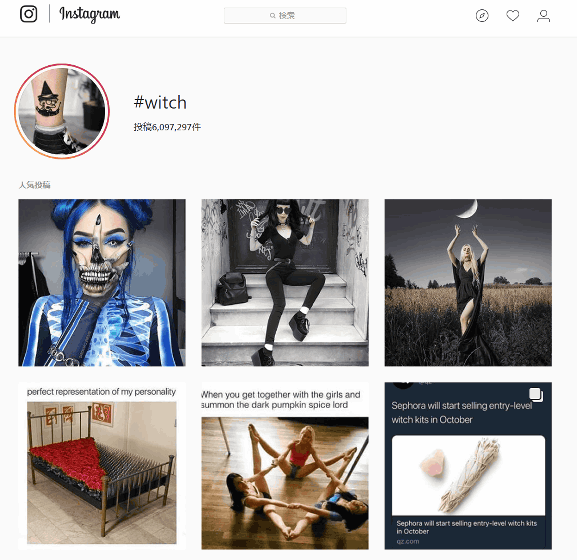 The possibility that the fashion industry's interest in mysticism may be temporary has also been suggested, but on the other hand, interests in mysticism may be sustainable in the market due to a shift in values ​​as a background There are people who can provide customer base.
in Note, Posted by logq_fa