I tried 'Hanamaru Udon Gatsuri Meat Bukkake' and 'Hot Spicy Meat' with sweet stewed beef and crispy bamboo shoots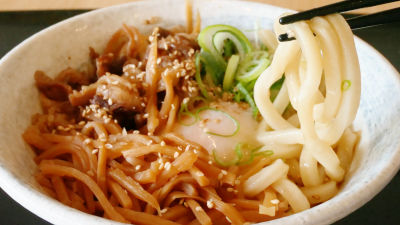 Sanuki udon chain is Umodori Udon " Gatsuri meat bukkake " and " Spicy spicy meat " which used plenty of sweet boiled beef and bamboo shoots entitled "Summer Meat Udon Festival" on 8th August, 2018 ) Has appeared for a limited time only. I ate a lot of volume of meat udon to eat, so I ate it.

"Power Summary Meat Udon Festival" "Power Summary" | Hanamaru News 2018 | is noodles umen
http://www.hanamaruudon.com/news/2018.html#news16

I arrived at the Noodle udon.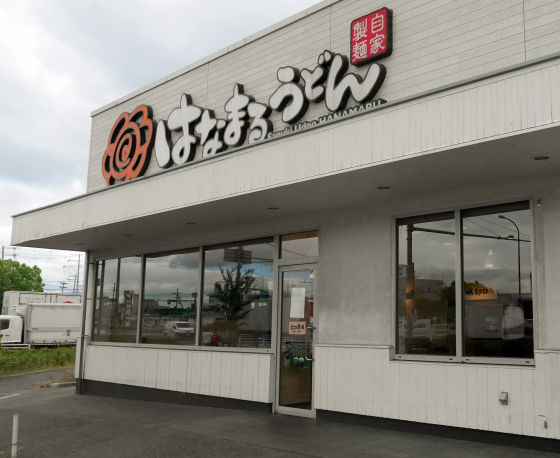 A panel of "Summer Meat Udon Festival" was installed near the store entrance.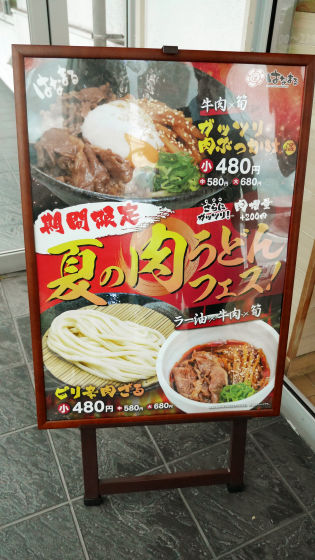 About 3 minutes after ordering, "Gatsuri meat bukkake" on the left and "Spicy spiced" on the right (small size: 480 yen each tax included) were completed. Both menus are sweetly simmered beef and bamboo shoots.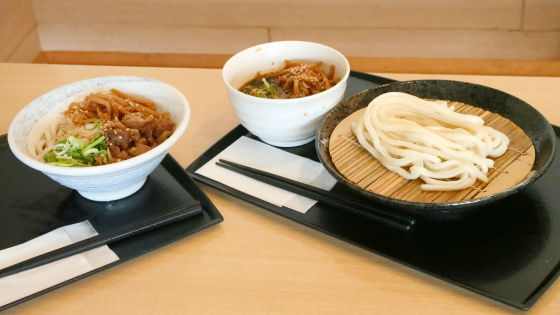 There are two types of "Gattsuri meat bukkake", warm udon and chilled noodles, but this time we chose the chilled one. Bamboo shoots and beef impregnated with special sauce. And shredded green onions are topped, with semi - eggs on the center. Also, white sesame seeds are sprinkled.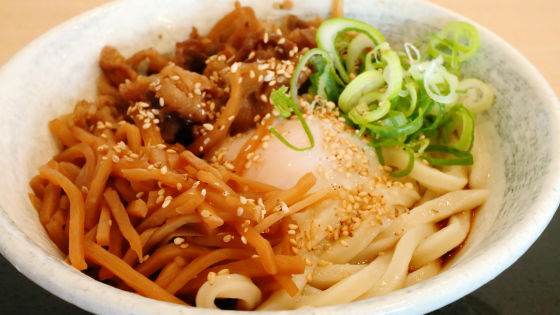 Is the ingredients seasoned with a little dark eyes to match with udon. Beef is sweet and boiled, and the flavor and texture of the white sesame sprinkled is accented.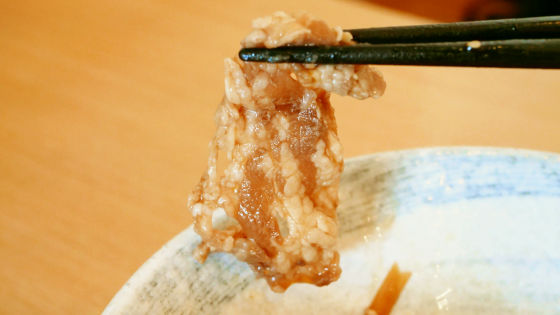 Bamboo shoots are sweet spicy special sauce and are slightly more salty than beef. Though the sauce is soaked in, it has been kept sufficiently shakijaki.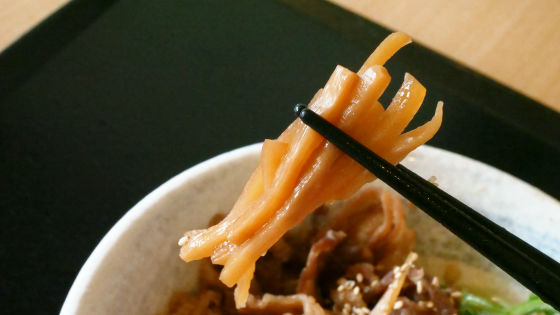 Tsuyu is also sweet and seasoned, I feel the presence of Mirin's flavor a bit more strongly than the beef and other items.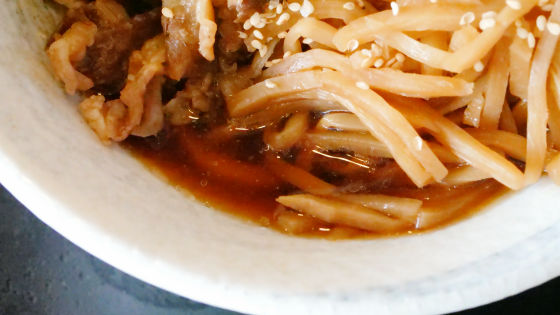 Noodles are Sanuki Udon Rashi Kosi is a very strong motif and texture. I can eat sweet and cold soup and crispy slippery. The ingredients of dark eyes are perfect for refreshing udon.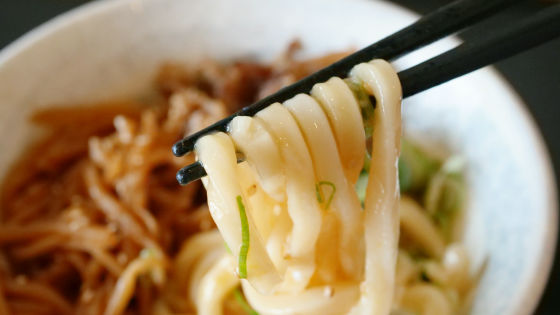 When you break a half-round egg, it will add rich and thick. When you insert it, you can change the taste of udon mildly by adding rich flavor and thickening.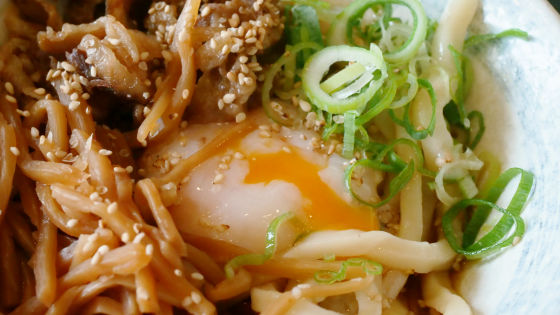 "Spicy spicy meat" is a Japanese noodle with toppings of sweet simmered beef and bamboo shoots. The ingredients are almost the same as "Gatsuri meat bukkake", but the point that "lily oil" is added to the bid is very different.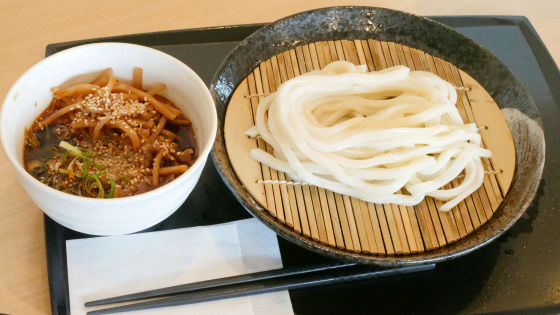 There is a sweet scent of sesame oil and pepper powder of rice oil, and a soup stock.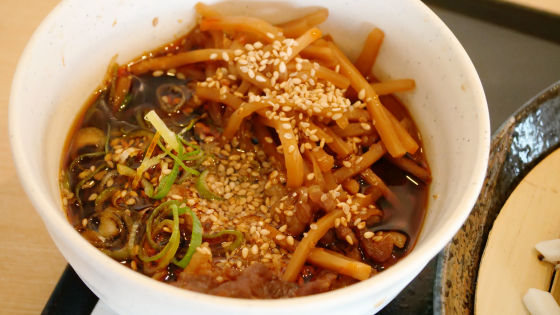 It is warm, and it feels that the beef that had been tightened softens. When you squeeze udon soup set on soup stock, the spicy oil stimulates your throat. Spicy was "I want a bite of a drink."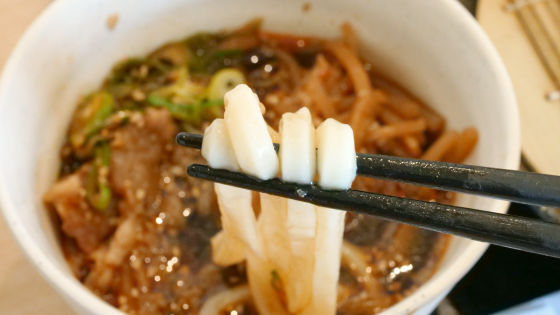 Both menus of "Gatsuri meat bukkake" and "Spicy spicy meat" are the same amount, "small" size: 480 yen including tax, "medium" size: 580 yen including tax, "large" size: 680 yen including tax, It is a limited-time menu scheduled to be offered until the beginning of September 2018 with the Japanese noodle udon.