IBM and NVIDIA build the world's fastest supercomputer "Summit", to recapture the world's top position from China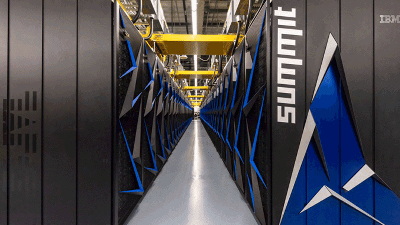 The US Department of Energy's supercomputer boasting the performance of 200 peta FLOPS on 8th June, 2018 local time "SummitWe announced. Summit has the ability to enable tremendous calculation of "200,000 trillion times per second" and it shows the possibility that the United States will be dominant again in the performance competition of the Chinese superior computer.

IBM, Nvidia Build "World's Fastest Supercomputer" for US Government | Data Center Knowledge
http://www.datacenterknowledge.com/supercomputers/ibm-nvidia-build-world-s-fastest-supercomputer-us-government

US debuts world's fastest supercomputer - BBC News
https://www.bbc.com/news/technology-44439515

U. S. Builds World's Fastest Supercomputer - Summit
https://thehackernews.com/2018/06/summit-fastest-supercomputer.html

Designed by IBM and NVIDIA, Summit is a supercomputer with a huge number of IBM Power 9 processors and NVIDIA Tensor Core GPUs installed at Oak Ridge National Laboratory (ORNL) in Tennessee. It has the size of two tennis courts and consumes up to 13 megawatts of power when processed at full power. In addition, 4000 gallons (approximately 15,000 liters) of cooling water is used to cool the Summit, and a dedicated cooling facility is newly constructed.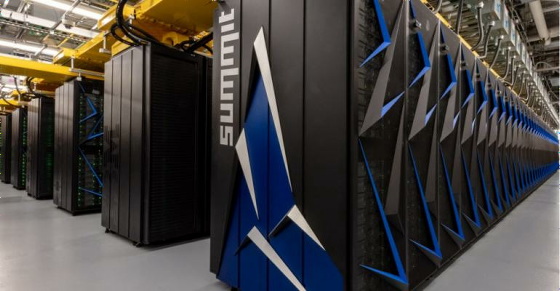 The processing capacity of Summit also extends to 200 peta FLOPS. One peta FLOPS indicates that it is possible to perform 1,000 trillion floating point calculations per second, Summit is "200 × 1000 trillion times =20 Kyoto"Floating point calculation performance is provided. It has 8 times the performance of "Titan" which had the best performance in the past so far, from the June 2016 supercomputer ranking "TOP 500China's top position inShintoism · Takamine HikariIt is more than double the performance of 93 Peta FLOPS.

Summit, which has tremendous processing power, consists of 4608 computing servers. Each server consists of two IBM Power 9 CPUs operating at 3.1 GHz and six Nvidia Tesla V100 GPUs, using the total system of 20,748 GPUs. IBM and NVIDIA chips are connected with 300 gbps NVLink which is ten times faster than PCIe. In addition, the entire system has memory (RAM) of 10 petabytes or more. It is a feature of Summit that it has a huge amount of computing power, but also has a processing capability that is more efficient than before. Summit has "processing power of 15 giga FLOPS per watt" power consumption.



According to ORNL, Summit is the first supercomputer designed for use in artificial intelligence (AI) applications such as machine learning and neural networks. "Summit's AI optimization hardware provides researchers with an excellent platform to analyze vast data sets and create intelligent software to speed discovery," said Jeff Nichols, laboratory director at ORNL I am doing it. As research contents carried out with this tremendous processing capacity, things in the fields of "cancer research", "nuclear fusion power generation", "disease and poisoning" are planned.

Numerically it is a performance competition of a supercomputer that appears to have American appearance to revive with the advent of Summit which doubled the performance of the conventional, but still the Chinese superiority is still unchanged. Among the latest Top 500 list of the world's top supercomputers published in November 2017, 143 in the US are ranked in, whereas the Chinese are in a state of greatly opening water to 202 .