Beard papa's limited-time shoe, refreshing "blueberry cheese cake" & mochiri texture "SHIRO" tried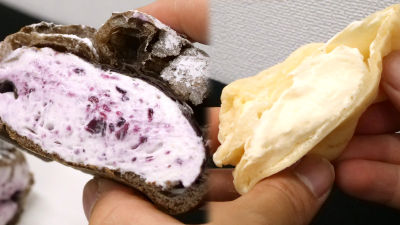 Puff cream specialty shop Beard papa for a limited time puff "Blueberry Cheesecake"When"SHIRO(Shiro) "has appeared on June 1, 2018 (Friday). I tried to eat puff cream of blueberry cheesecake taste full of fruit and dusty texture.

Seasonal Event Shoe: Blueberry Cheese Cake | Specialty Shochu Shop Beard Papa
https://www.beardpapa.jp/lineup/season.php

SHIRO | Shoulder Specialty Store Beard Papa
https://www.beardpapa.jp/lineup/shiro.php


Beard Papa is here! June has started.
Beard Papa's June limited season shoes were very popular last year
"Blueberry Cheesecake" appears ♪
Please try by your beard papa by all means.
※ Some stores may not be handled, please understand.https://t.co/gu2N4dBsQ1pic.twitter.com/T7JrUGm8Iu

- Beard Papa (@ beard_papa)June 1, 2018
Today a cheers for a week as well. We sell white puff shroom SHIRO from Beard papa. Dough texture fabrics and crisp cream are the puff of the feature! Please purchase by beard daddy near you.
Hello everyone, have a nice weekend ♪https://t.co/CX3ZrdgOhY#snack# Weekend Suitespic.twitter.com/PdkkFYSS1D

- Beard Papa (@ beard_papa)June 1, 2018

We arrived at the freshly made studio by Beard Papa.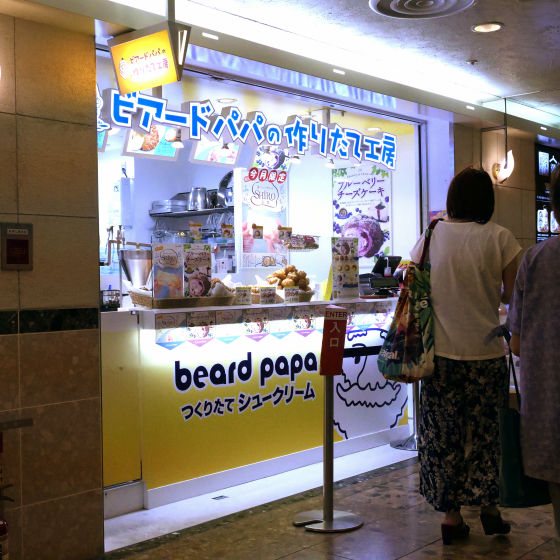 The shop has a poster informing of the appearance of a limited-time white puff shroom "SHIRO" and "blueberry cheese cake". This time we will purchase three "SHIRO" and three "Blueberry Cheesecake" each.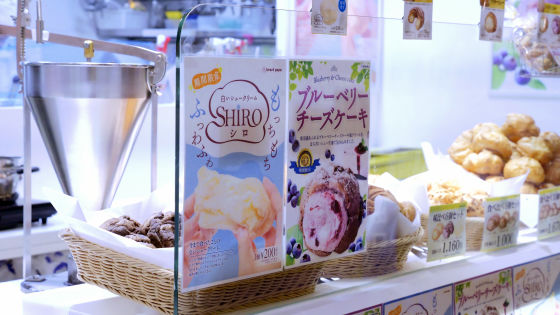 The design of the box containing the cream puff is like this.



When opening the box, the "blueberry cheesecake" sandwiched between paper of the total of 6 types of cream puffs total was packed along the long side of the box with the white "SHIRO" matching the short side.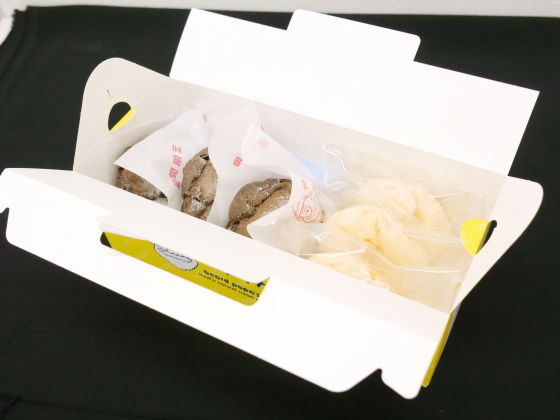 "Blueberry cheese cake" is sandwiched between "period limited" paper and "SHIRO" is in plastic bag.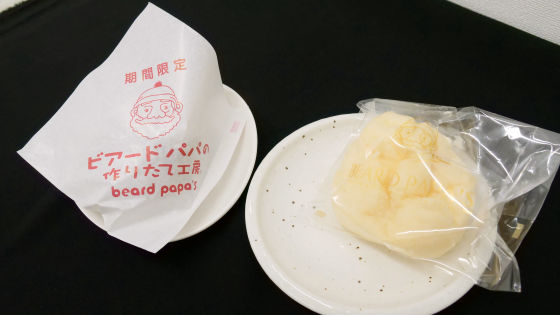 "Blueberry Cheesecake" is a black shoe fabric. "SHIRO" is made of white shoe fabric.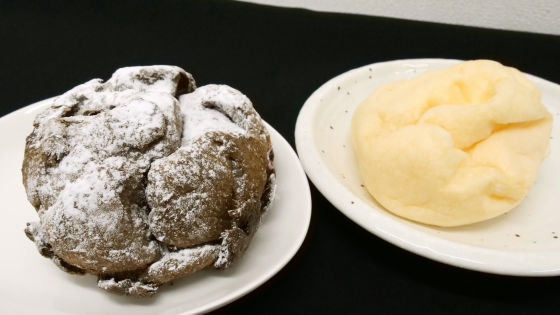 Compared with transportation type IC card (long side about 85 mm), the size of both cream puffs is around 4 cm.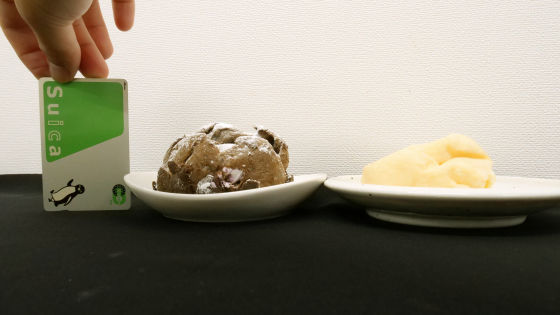 "Blueberry cheese cake" (230 yen tax included) is a cream puffed with blueberry cheesecake cream in a bittersweet black shoe fabric. White powder sugar is put on from the top.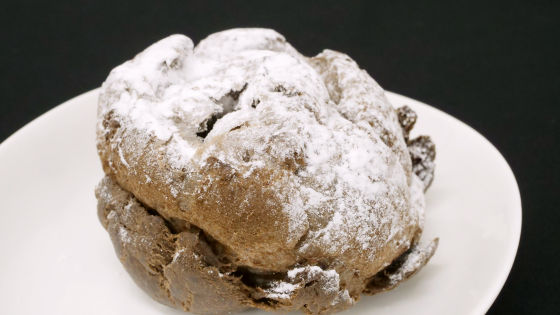 Turning it off, the section looks like this. You can see that there are plenty of cream in the dough.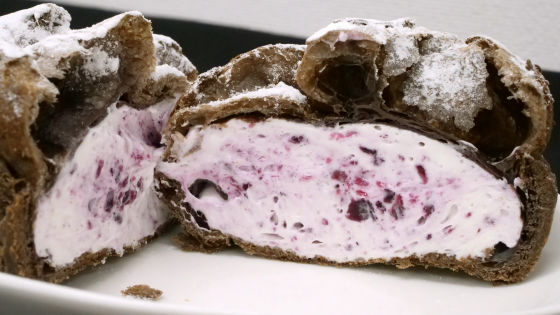 The cream is light purple, with something like a blueberry colored sauce inside.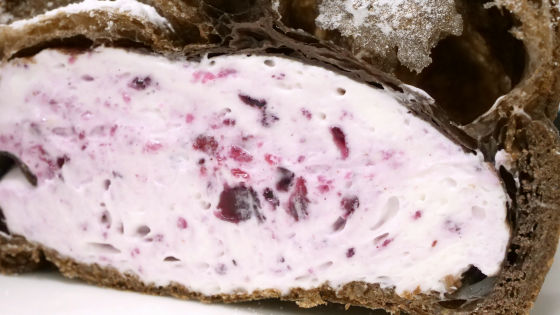 When you take it in your hands, the shoe fabric is solid. When eating, the taste combined with the fruity sweet and sour taste of blueberries and cheese spreads. Sweetness and fancy sour taste, rich just balance. Because it is a blueberry cheese cake taste, the fragrance with sourness and habit of cheese is discreet. The shoe fabric was crispy in texture and was said to have "bitterness", but it was more "smoky" than "bitter", which complemented the cream's taste.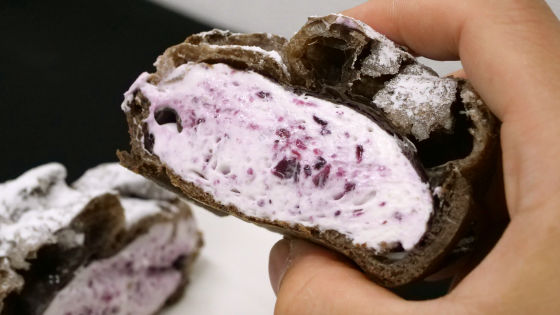 Next, "SHIRO" (200 yen including tax) is packed with cream with cream cheese in a dusty texture shoe fabric.



One year in development, the white shoe fabric that was born again with further improvements realized "elongating shoe fabric" by thoroughly refining the fabric. It is soft and puffy, the surface is rough like a shoe fabric.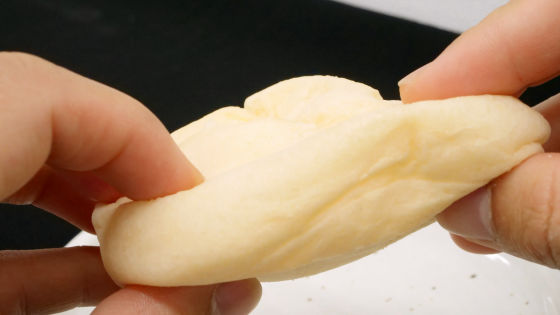 The section looks something like this. Cream filled with plenty, cheese characteristic of taste with a smooth texture and assimilation "Fromage Blanc"Beard Papa's" Original Custard "and fresh" Fresh Cream "mixed up and finished.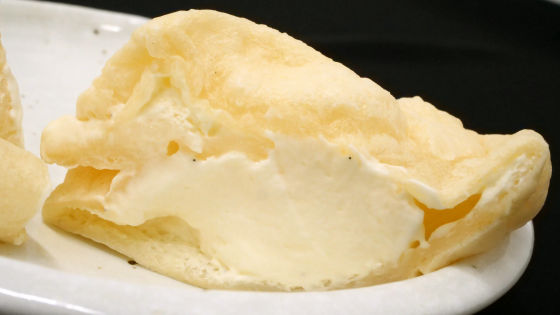 When I try to eat it, the shoe fabric is slightly salty with little mochi, it feels close to the skin of salt Daifuku. The refreshing cream has plus a slightly sour taste of cheese and a modest sweetness and creaminess. I felt that a slightly salty tasteful fabric favored the existence of custard.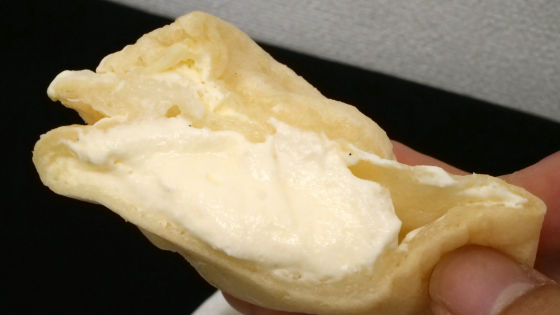 Each puff cream is offered until the 30th of June 2018, and the blueberry cheesecake is until August 31st, 2018.

In addition, SHIRO is a character of Sanrio "Gifts"The collaboration product is scheduled to appear from July 1, 2018.