I tried "Kameda's Persimmon Seed Teriyaki Burger Flavor" reproducing the taste of Mos burger in persimmon seeds


Mos Burger was the first hamburger shop in Japan in 1973 to "Teriyaki Burger"Was released. Such a taste of KamedaPersimmon seeds. "Kameda's persimmon seeds Teriyaki burger flavor"Has appeared on May 14, 2018 (Monday). I tried eating persimmon seeds that made the mayor of mayonnaise effective for the taste of Teriyaki sauce.

First collaboration product with Mos Burger "Kameda persimmon seeds Teriyaki burger flavor" limited time sale
(PDF file)https://www.kamedaseika.co.jp/admin/images/news/upload/2257.pdf

Kameda persimmon seed Mos Burger supervised Teriyaki barrage flavor | Kameda persimmon seed special site | Kameda Seishiku Co., Ltd.
https://www.e-kakinotane.com/moscollabo/

This is "Kameda's Persimmon Teriyaki Burger Flavor" (6 bags: 302 yen including tax).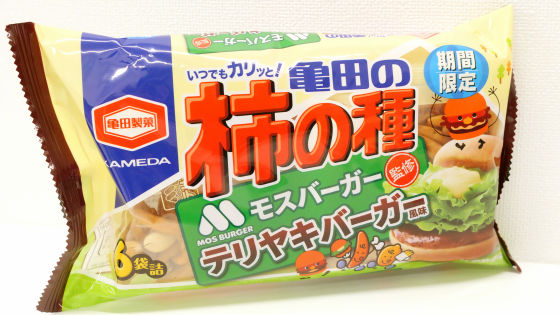 The package is a "limited time" letter. Besides, Moss burger character "Mrs."Is drawn and it conveys the collaboration between Mos Burger and Kameda.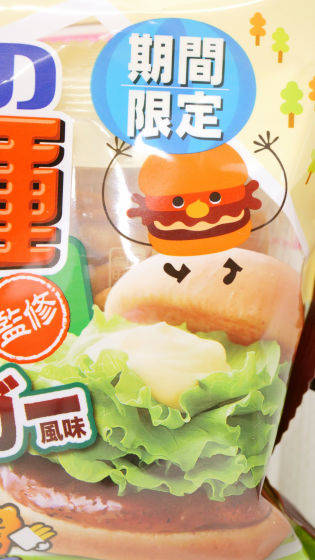 On the back, there is an explanation about Mos Burger's Teriyaki Burger. The taste of Teriyakisu sauce that is well-balanced between umami and sweetness and the richness of mayonnaise are characteristics of taste.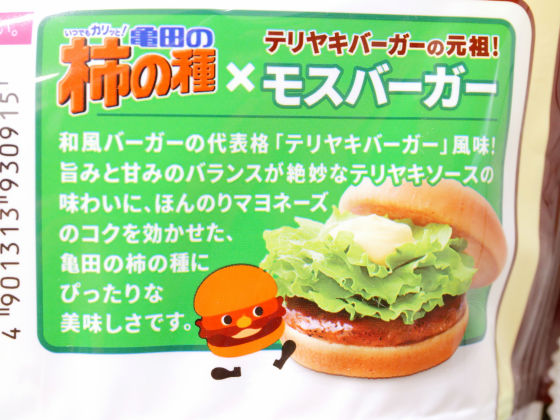 Since the total amount of 6 bags total is 182 g, the content amount per bag is about 30 g. The notation of raw materials, "(including a soy-apple) mayonnaise" to be aware of the patty of mayonnaise and teriyaki source that is included in the Teriyakibaga "(including the milk component) mayonnaise flavored seasoning," "fermented seasoning liquid" to another " Meat extract seasoning (including sesame) "is stated.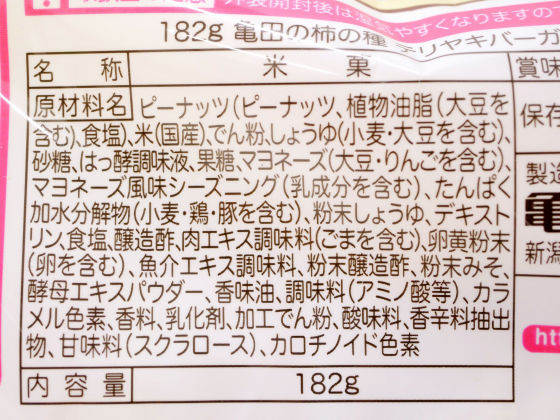 The energy per bag is 143 kcal.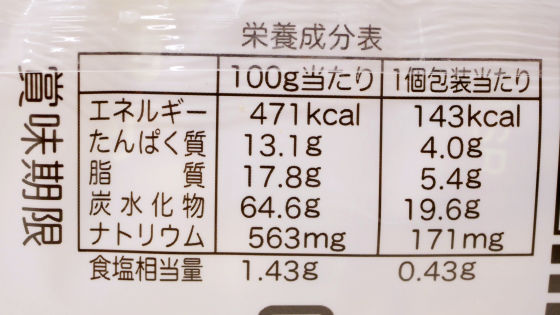 One bag of individual packaging is like this.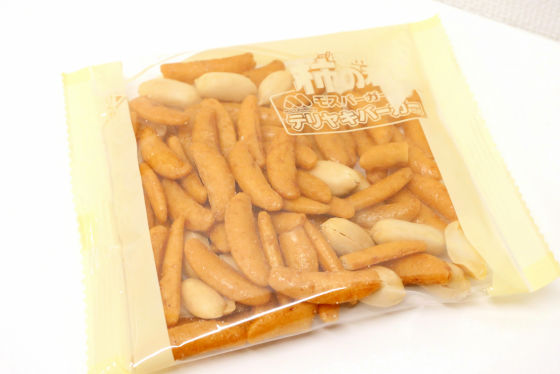 When you move it to a dish and dish, it drips with the fragrance of Teriyakisu sauce and mayonnaise scent mixed with soy sauce and sweet scent.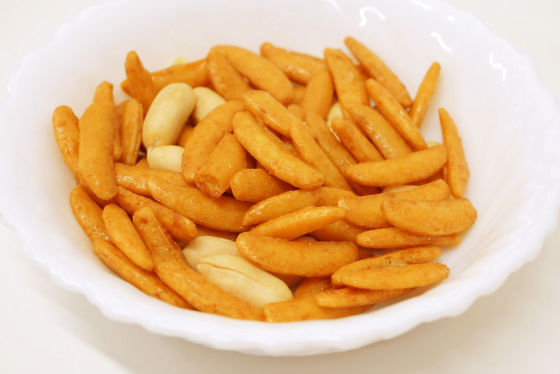 The color, shape, and size have an impression that is not different from the normal persimmon seed. If it is 1 grain, it looks like a somewhat sweet persimmon seed with a chewy feel like normal polypori and rice cracker.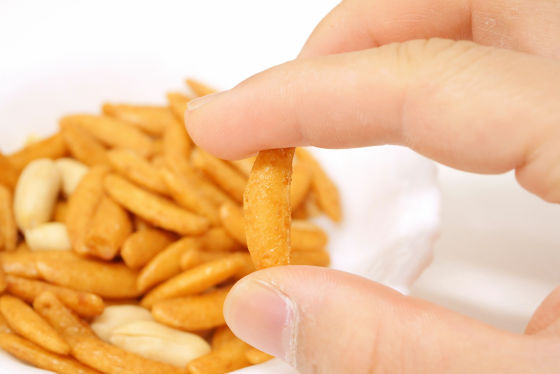 Since it did not understand the taste clearly when it was 1 grain, I try to eat 10 grains at once, I feel the fragrance and sweet and salty taste of Teriyakisu sauce as well as the feeling of a burrigary. Before eating, mayonnaise and Teriyaki sauce smelled, but mayonnaise has no acidity and plus only rich.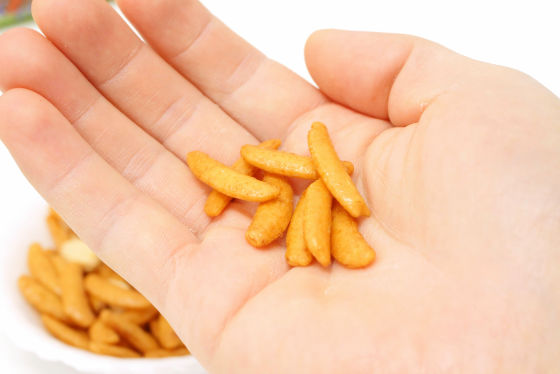 Peanuts are freshly salty as a crispy, the same impression as contained in normal persimmon seeds.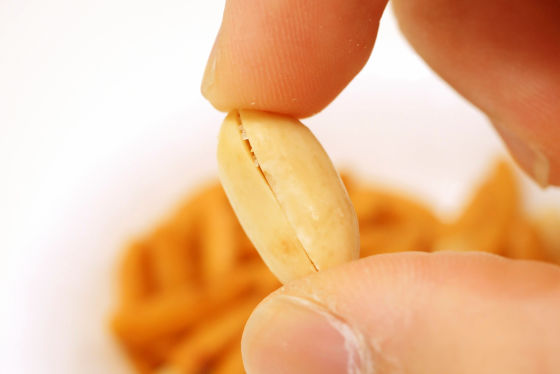 I felt "Does not it change to a normal normal persimmon seed while setting it as Teriyaki Burger flavor?", So I prepared a normal persimmon seed.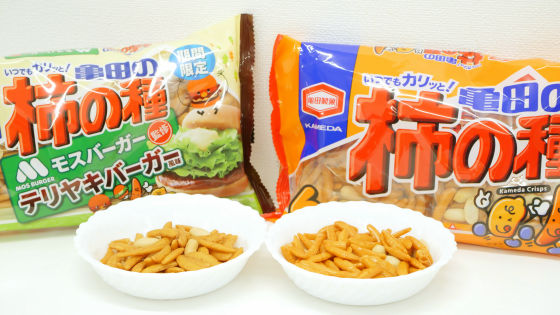 Compared to the comparison, "Kameda persimmon seeds Teriyaki barrage flavor" (left) was more discreet than the "normal Kameda persimmon" (right) and the surface was rough and the color was close to soy sauce.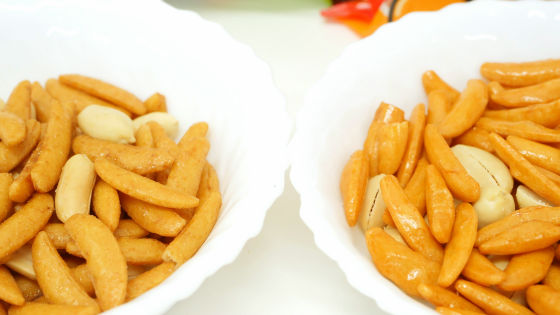 Because normal salty and spicy taste is effective for normal people, after eating "Kameda persimmon seeds Teriyaki barrage flavor", "Kameda's persimmon seed is salty with this salty at this level Is it a sweet? " In contrast, you can see that the Teriyaki burger flavor is very sweet and salty compared to normal. "Kameda persimmon seed lineupLooking at "chocolateExcept for ordinary coatings, I felt that there were many flavors that emphasized "saltiness" and "bitterness" so it seemed that the seeds of sweet and salted season seemed to have been not so much .... "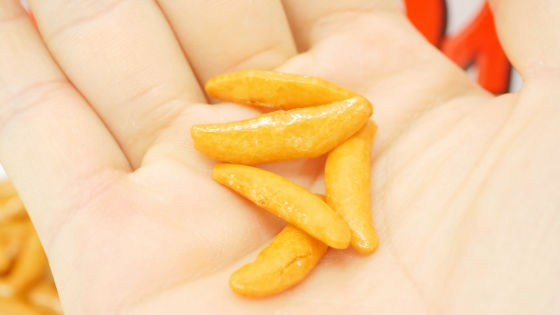 In addition, peanut does not feel the difference between Teriyaki burger flavor and normal. I feel generic that I can support both tastes.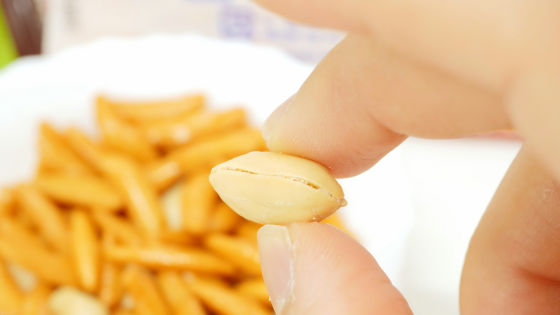 Incidentally, there are 2 types of packages, 6 types of bagged type (left side) and "50 g: 108 yen including tax" of eating size are prepared. People who are eating size can purchase at convenience stores etc. throughout the country. In addition, "Kameda persimmon seeds Teriyaki burger flavor" has become a limited period until the end of June 2018.