Presence of emerging online map service that aims to expand its unique selling point as a weapon in the situation of "Strong Google Maps 1"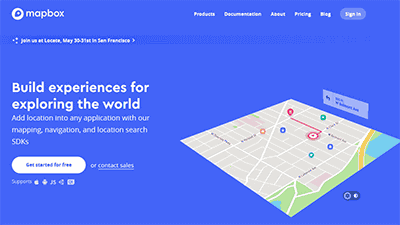 In online maps available on smartphones and PCs, there are few people who doubt that most people are using "Google Maps" or Apple's "maps", but in reality there are many others Services are fighting for the expansion of power. We started service in 2010MapboxIs one such emerging force and is trying to expand the offering of map service which is highly customizable mainly for enterprises.

The Right Direction: How Mapbox Is Winning Over Developers To Challenge Google's Mapping Dominance
https://www.forbes.com/sites/bizcarson/2018/05/08/mapbox-maps-developers/#18c3cdee164d

Mapbox is an online map service launched by Eric Gandersen. Highly customizable, not on Google Maps and Apple's maps, has been evaluated, including Tesla, Uber,Foursquare,EvernoteIt is adopted in companies and services such as.

Maps | Mapbox
https://www.mapbox.com/maps/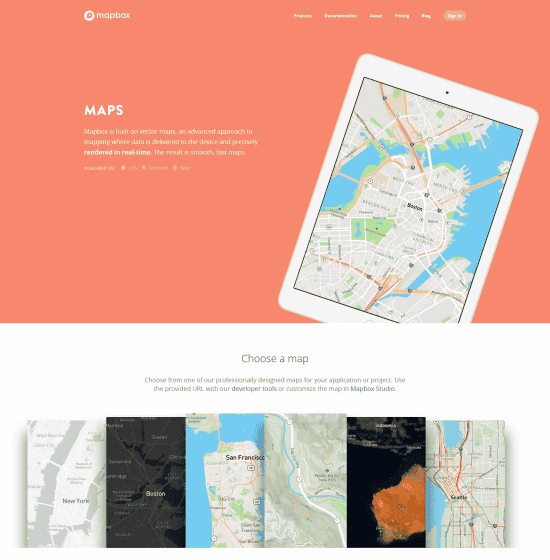 With Mapbox, you can provide on the map customized information by adding the information you want and information you want to provide to customers and others. It can be used as a tool to integrate maps and information to create new value, such as a map covering only their own stores, original navigation functions, and "data visualization" plotting numerous data on maps is.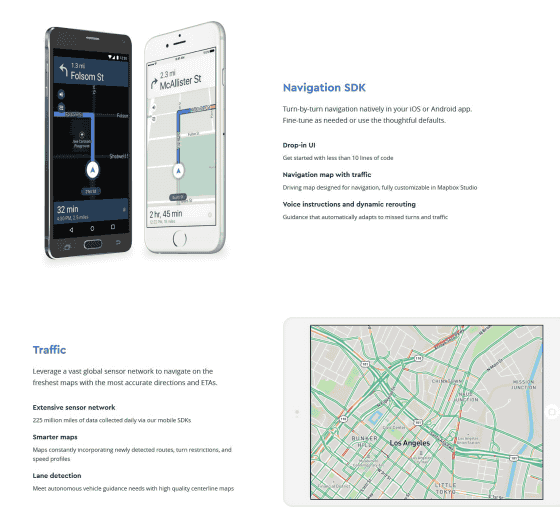 Mr. Gundersen who launched Mapbox, in 2009, was appointed from the US Department of State and was assigned to work in Afghan capital city Kabul (Kabul). Mr. Gandersen said that he was aware of the existence of an election campaign found during the same presidential election in Afghanistan when he was investigating with 18 staff members.

It is said that Google Street View was the fact that the situation in Kabul city was not recorded at all. At that time already cities around the world were taken by Google Street View Car everywhere and it was possible to see the state of the city far away from anywhere in the world but I realized that Kabul does not apply to that Mr. Gandersen recalls, "It was as if it was a world before Wikipedia existed." Recognizing that, Mr. Gandersen and the staff made their own map of Kabul using the Mapbox platform which started development in 2008.

Nine years later in 2018, Mapbox's service has grown to be used by 350 million users each month. In addition to the above-mentioned Tesla and Evernote, Mapbox is used in Snapchat, weather channel, Strava of fitness SNS, etc., and there are states where many people have touched the service of Mapbox somewhere without being aware of it It is getting.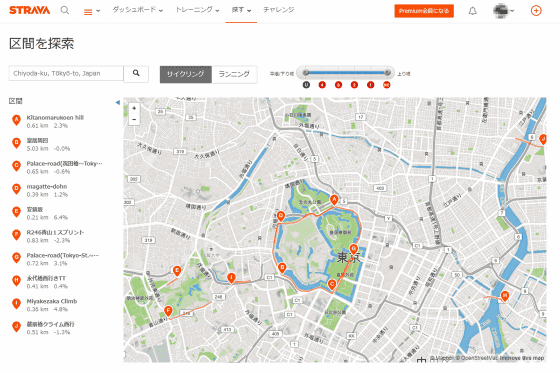 At Mapbox, funds of 230 million dollars (about 25 billion yen) have been gathered from investors so far, and the value as of October 2017 is estimated to be about 700 million dollars (about 77 billion yen) It was. The sales of Mapbox is a usage fee from companies and services as mentioned above, and it is predicted that sales in 2018 will be 100 million dollars (about 11 billion yen), but somehow profit is zero It is anticipated. The biggest reason is that only 3% of users actually pay for it.

Mapbox is working to raise profit margins and it is trying to grow in the service of the automatic driving car and in the augmented reality (AR) field, which means that it competes with Google. Certainly Mapbox has customizability that is not found in Google Maps, but there are doubts as to whether that selling point can go beyond the merits and appeal offered by Google Maps.

Mapbox has almost limited the target of service to developers so far. Mapbox is so-called "a kind like an Lego that engineers can assemble various things", users publish the maps they made in their own way and pay a predetermined usage fee to Mapbox according to the number of views. Foursquare, which became the first large-scale customer in Mapbox in 2012, seems to have switched by evaluating the merits of Mapbox, which is lower in price and more customizable than Google Maps.

You can start using the service for free, but in the case of a company that utilizes Mapbox on a reasonable scale, the annual usage fee is around $ 40,000 (about 4,400,000 yen), several million dollars (hundreds of millions of yen ) It can expand to scale. Tesla, one of our customers, has a contract with Mapbox for an amount of 5 million dollars (about 550 million yen) per year.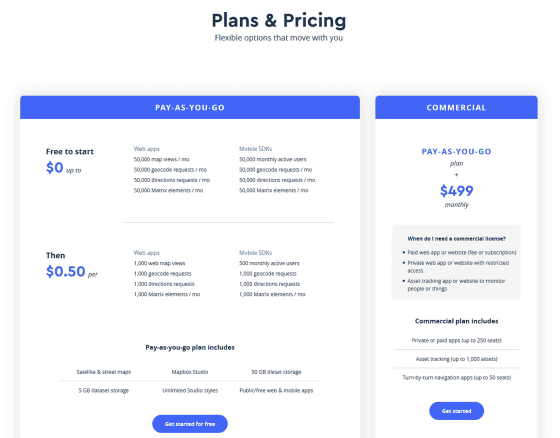 The advantage of having a wide range of customers is that there is almost no need to own map data for survey vehicles and satellites that are costly in their company. Mr. Young Hearn, CTO (Chief Technology Officer) at Mapbox, says, "The map is not something like air or water, but we need to build it by ourselves." When an individual user opens a map of Mapbox, the user's smartphone or PC sends three pieces of information "latitude" "longitude" "time" anonymously to the server of Mapbox. The billions of data sent in this way is said to be used for Mapbox 's real - time map creation.

As of May 2018, 1.1 million engineers worldwide registered with Mapbox and utilized services. One of them, Jodie Kerman who is involved in the development project of the automatic driving car with the dispatch service "Lyft" uses Mapbox to show passengers how the automatic driving car perceives the surrounding situation doing. Mr. Kerman says, "It's an important achievement to develop the tools that engineers like," "It is not easy to satisfy engineers," he says about the high quality of Mapbox.

In the future, the point that Mapbox aims for is that it is in the place to establish a system that can obtain money from more users (= companies). Although this can not be said easy, Mr. Gandersen points out that "If we can succeed, our service will be used everywhere."