How is the screenshot used in the game official photographed?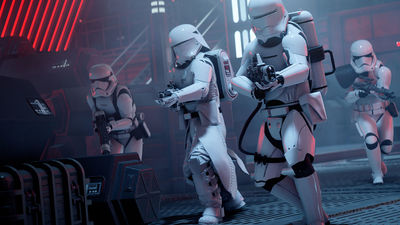 Screenshots used on the official website and packages of games, as well as official SNS, etc. are high-quality things that I can not imagine that they can shoot something of the same quality even though the user actually plays . The artist who shoots the screenshot of the game used by such official talks about the difficulty of shooting game screenshots for official reasons.

How An Official Video Game Screenshot Is Made
https://kotaku.com/how-an-official-video-game-screenshot-is-made-1825763337

Berduu (aka, PetriLevälahti), as a professional screenshot artist a number ofHigh quality screenshotIt is a person who has taken a picture. Berduu is a screenshot artistDuncan Harris's FlipnoteInspired by, he has been working as a screen shot artist since 2014. Berduu of the time when he became a screenshot artist lived in Finland and he seems to have been working as a free graphic designer and writer. About Berduu's first moment of seeing Harris's work, "I really opened my eyes, I did not know that such a subculture existed, I immediately got crazy."

In recent years, photograph mode has been installed in the game in advance and you can shoot screenshots freely, but when Berduu and Harris started screenshot artists, that kind of feature was not installed. As a result, tools were developed at that time to hack game engines to capture attractive screenshots. Berduu also started withMatti HietanenIt seems that he used tools such as Frostbite's camera hacking released by.BattlefieldAbout the time I began taking screenshots of the game in and so on, "I spent the day and night to shoot cool screenshots with my friends and private server.You can move the sun, adjust the fog, It was really fun to set up various poses by moving the skeleton of the player and various effects.Although the shot screenshot did not express the contents of the game at all, We enjoyed the process and details adjustment, "Berduu thinks.

Soon after the start of the activity Berduu's screenshot became a topic such as on SNS, it was picked up in the game media, and it caught the eye of EA of a major game publisher. Ultimately, Berduu's activities are studio in charge of developing battlefield within EADICEAnd Berduu will undertake a free work from the official "to shoot screenshots that Battlefield officials use for promotion". About this, Berduu says, "I really did not care about money, it was cool to be able to shoot official screenshots!"




As a work that Berduu decided to contract from DICE, "Battlefield 4"Battlefield hard line"Battlefield 1Including filming of official screenshots of Alpha / Beta version. Afterwards, Berduu will get a job as a media editor at DICE's Stockholm office at the end of 2016.

Berduu's desk in Stockholm's office has two monitors, both of which are used to capture and create screenshots of the game. It is said that one monitor performs the latest build of the game and the other displays a Frostbite engine editor called "FrostEd". The images displayed on the two monitors are linked, and if you move the position of the camera with FrostEd, the change will be reflected in real time on the game screen displayed on the other monitor.

"In most cases, I am working on shooting screenshots with incomplete levels and characters," as Berduu says, photographs the completed shapes on the incomplete game screen, sometimes the art director etc. He sometimes consults. Berduu says, "Usually my work ends with a handful of ideas, and the ideas are polished by art directors and other important job posters." Screenshot in DICE You can see that work as an artist was done in collaboration with the development team.




Of course, it seems that images of screenshots imitated by Berduu are sometimes settled in Don Pissha, but it seems that most of the time, feedback and corrections from one of the concept artists will be reflected. Sometimes you need motion blur, you can increase the amount of lens flare and make various adjustments to make it easier to distinguish images in different sizes and formats.

In addition, in most cases, the number of pixels has little relation with the quality of the image, so if you know exactly what kind of screen shot can be taken with what kind of camera settings such as composition, light and shadow, 1080p) images are enough for most cases seems to be.

It is also clear that DICE officially used screenshot shooting tools are far from the tools that Berduu used to date so far, "We are controlling the topography and props, scenes In addition to having the function to save, almost the same options as the camera mode of Hattiwatti are prepared. "

Once the completed screenshot has been approved, it can be used not only on official press releases and websites, but also for in-game art galleries and menu screens.




Berduu says, "Even for the community of Battlefield alone, there were 4 or 5 people who got screenshots and movies for official purposes and received jobs free for official purposes I am aware that "DICE's media team is actively incorporating art work by fans.

As a fan artBattlefield 4 trailer movieHoodoo_Operator who created a job in the GTA series Rockstar Games, and likewiseBattlefield 4 trailer movieTheFloppyRagdoll who created the job is getting a job at DICE.

Besides, Berduu is shooting screenshots of games other than work at DICE, and a lot of works can be seen from the following page.

Berduu | Flickr
https://www.flickr.com/photos/berduu/