What is an "art therapist" that releases mad stress through painting?


Rather than "learning how to draw a picture", it is not "to learn how to draw a picture" but to "solve conflicts and problems within myself by painting"Art therapy(Art therapy)There is what is called. In Japan it does not exist as a public qualification, but in Europe and the US qualification exists Existing art therapy is what kind of thing, while success in marketing work succumbed to stress, the work resigned, afterwards Penelope · Orfanodaki who became an art therapist says.

At This Art Therapist's Wellness Retreats, Overworked Professionals Are Finding Stress Relief - Artsy
https://www.artsy.net/article/artsy-editorial-art-therapists-wellness-retreats-overworked-professionals-finding-stress-relief

Although the definition of art therapy is diverse, it is regarded as one of "psychotherapy with art as a medium" to British Art Therapy Association. It is a "therapy" that draws pictures and works but does not aim for lessons of art but helps personal conflict and problem solving through creation, created by artists Edward Adamson in the UK, psychosis It started spreading in the European region in the middle of the 20th century with the beginning of what was done to the patient. In the United States, since the 1960 's, it was mainly done for children with disabilities and soldiers who returned from the Vietnam War.

Since art therapy is a relatively new academic field, there is no official qualification in Japan, but Europe and the United States have official qualifications. In the United States, licenses may be issued by the state, and registration can be done with the Arts Therapy Qualification Review Committee. In addition to having to pass the examination for registration, the art therapy qualification review committee acquires a degree in fields such as art therapy and counseling, and the practical experience is questioned.

Mr. Penelope Olfanodaki who had a successful career of 20 years as a company marketing officer, from excessive stressBurnoutIt was driven to a situation where I had no choice but to quit my job. At the same time Mr. Orphanodaki will decide to study again at school because Mr. Orphanodaki's husband has moved from Switzerland to Singapore due to circumstances of work. At this time, Mr. Orfanodaki studied at school is "art therapy". Mr. Orfanodaki was completely unfamiliar to Mr. Olfano Daki of the time, but Mr. Orfanodaki got a master's degree with art therapy.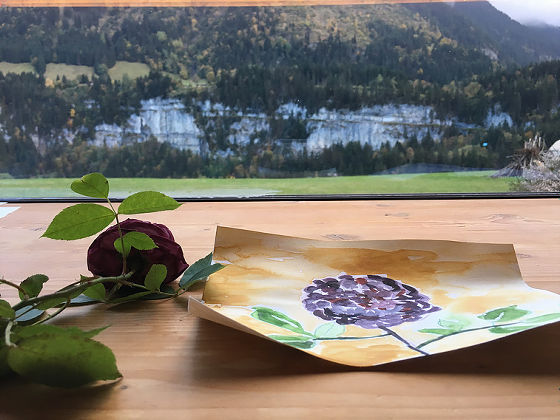 Mr. Orphanodaki who thought that art therapy would be for himself at first, gradually started to show passion about dealing with art therapy as a profession and in about ten years later in Switzerland "Artful Retreats"We have succeeded in the business of saying" We are going to do it. " Mr. Orufanaki seems to be much more rewarding than when working as an oversea marketer.

Wellness | Art Therapy | Retreats
http://www.artfulretreats.com/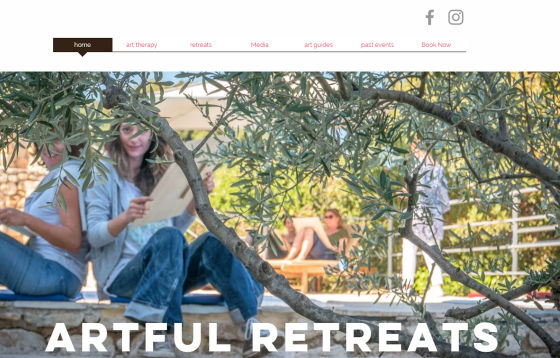 Mr. Orphanodaki started business four years ago. I thought that art therapy would be a solution to those who worked too much like myself and were exposed to extreme stress, and I thought that they established a company with two people who were classmates at the graduate school in Singapore about. Artful Retreats has a short course from 4th to 6th, and they all take thorough vacation in Singapore and Switzerland based on the principle of art therapy. Participants in each course will be accompanied by licensed art therapists who will be helped to release them from daily stress and anxiety through practical training.

Although this "principle" is not clarified in detail, the website says, "Based on psychotherapy, from theories such as psychological education, mindfulness, treatment based on mentalization, joint focus therapy, cognitive analysis therapy I am being stimulated. "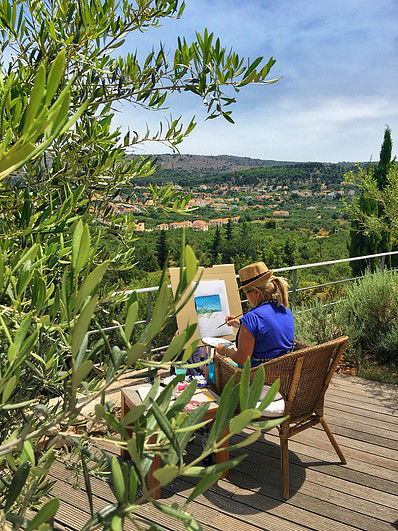 The day of the course participants of Artful Retreats usually starts with morning yoga. Practice will start after breakfast is taken. The art therapist directs the material and direction to the group of participants, and participants draw pictures of common subjects such as pencils, paint and clay as warm-up. After that it is given an abstract theme more than expressing through art such as "I am completely incomplete". However, participants are instructed not to learn about classical expression methods, nor to use words, symbols or concrete images. "It is not to paint correctly" "It is neither right nor wrong in what we do," said Mr. Orphanodaki.

Art creation is often done outdoors, not indoors. Walking in an idyllic landscape, swimming in the pool, and eating, we will start making pieces.



Sometimes I visit a studio of an artist who lives in the area, and he sometimes hears stories about how they are making and how they are motivated. We will make improvised works on climax, discuss about it and share works different from group members.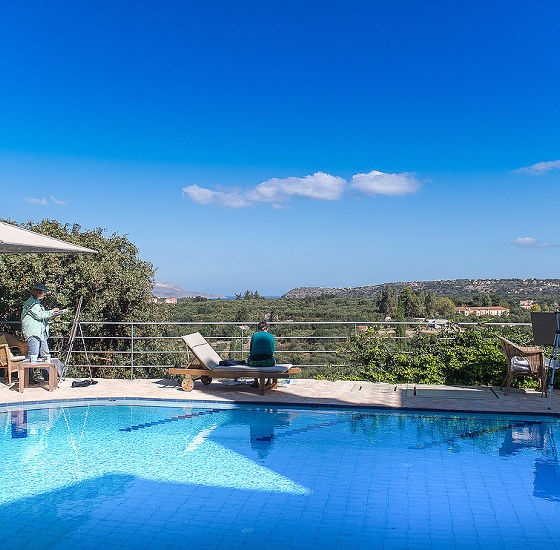 According to Orfanodaki, the course of Artful Retreats is based on the principle of art therapy, with an emphasis on "discussion after work creation" with the process of "making a work". It is said that Artful Retreats who work intensively in a short period of time will be different from those experienced in courses such as "Keep the art therapy once a week for six months", but the participants will be happy with themselves It became possible to look back on about, some of them continued to create art and sometimes attached to a local art therapist.

Participants in Artful Retreats are from various age groups from late teens to 70's, mainly from European participants, but sometimes some people come to join Artful Retreats from South Africa and South Korea. Of course there are people such as amateur painters and artists, but people who have been exposed to stress without any experience of art, people who suffered from trauma such as abuse, and so on are also involved. When the crisis came during the treatment, Mr. Orfanodaki could also do sessions with participants on a one-on-one basis.

"This is not a course to learn how to paint", he says that it is meaningful to understand that "I am not alone" to conduct sessions in groups.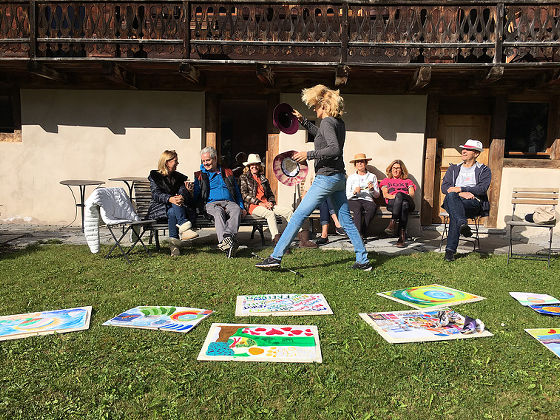 In fact, when a woman who lost her child and had trauma participated, she let her liberate and she was able to talk to her other experiences. After she finished the course of Artful Retreats, she seems to continue painting every week to handle emotions.

The course of Artful Retreats is $ 930 for the 4-day course in Switzerland (about 100,000 yen), and the courses with luxurious private rooms on Crete is $ 1,800 (about 200,000 yen).
in Art, Posted by logq_fa