Facebook announces the addition of "Facebook Dating" dating function "Clear History" function that can delete collected personal information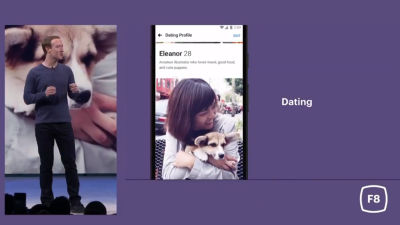 Facebook CEO Mark Zuckerburg said on December 1, 2018, Facebook's developer conference "F8", a dating function that you can meet non-friends "Facebook DatingWe announced that we will add. Also before the conference, Mr. Zuckerberg said on his Facebook post, "Delete user information collected in Facebook in the past"Clear HistoryWe also announced the addition of a function.

Facebook dating feature sends Match shares plunging
https://www.cnbc.com/2018/05/01/facebook-is-launching-a-dating-app.html

Mark Zuckerberg - Today at our F8 conference I'm going to discuss ...
https://www.facebook.com/zuck/posts/10104899855107881

Mark Zuckerberg announces Facebook Dating | Ars Technica
https://arstechnica.com/information-technology/2018/05/mark-zuckerberg-announces-facebook-dating/

Mr. Zuckerberg says "Facebook Dating is not just a service to match users, it is aimed at building long-term partnerships," Facebook Dating is considered simply compatible It seems that it is aimed at making it a service to obtain a more reliable partner like marital relationship, rather than matching people. Also, "Facebook Dating" does not mean that all accounts are activated all at once, it means that it will be a selective function that only people who want to use can use it.

If you enable Facebook Dating, the user will be setting a new "profile for dating". The profile for the date you set will not be shown to people who are already friends on Facebook, but will be made public to users who have enabled Facebook Dating for friends other than friends.



It seems that Facebook Dating searches for a partner based on a dating profile, but personal information other than Facebook's dating is also expected to be used for detailed analysis. Also, there is a possibility that this service will be provided free of charge, and since this announcement, there has been a big impact such as the stock price of companies operating the online dating service in the United States falling.

Also, before the conference was held, Mr. Zuckerberg announced that it would add "Clear History" function in his Facebook post. Mr. Zuckerberg explains that Clear History is a function that can delete user's access information collected when, for example, when pressing the Facebook "Like" button in online shop sites.

By using this function, users can know on which website information is collected on Facebook, not to let all sites collect information, select only specific websites and delete them You can also do it.

The service start time of Facebook Dating, Clear History function is unknown at the time of article creation.