A blunder who clears "Punch Out !!" in a blindfold in just 20 minutes


The boxing game for arcade and Nintendo released by Nintendo in the 1980s is "Punch out! !"is. The NES version sold for the public changed Mike Tyson who was then boxing heavyweight champion to the final opponent and the title has also been changed to "Mike Tyson · Punch Out !!". Mike Tyson · Punch Out! ! , A surprising record of playing with blindfolding and clearing in only 20 minutes has been released in the movie, and he is calling out a topic.

Punch-Out blindfolded: World record speedrun - Polygon
https://www.polygon.com/2018/4/22/17268010/mike-tysons-punch-out-blindfolded-speedrun-record

Keep blindfolded Mike Tyson / Punch Out! ! It was only 20 minutes and 36 seconds to clear the record that I tried to clear the record of multiple gamesSpeed ​​runI am challengingmPapMr. You can see the situation in the movie below.

Mike Tyson's Punch-Out !! Blindfolded Speedrun World Record in 20: 36 - YouTube


The game started immediately. After confirming the opponent in the first round ... ...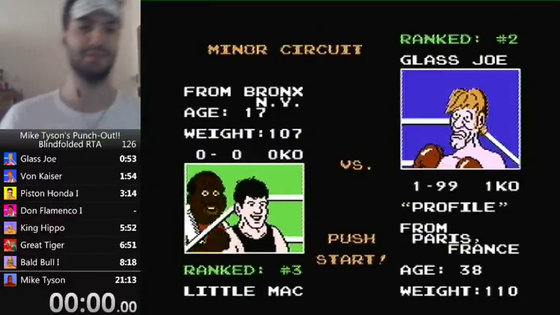 I will blindfold soon.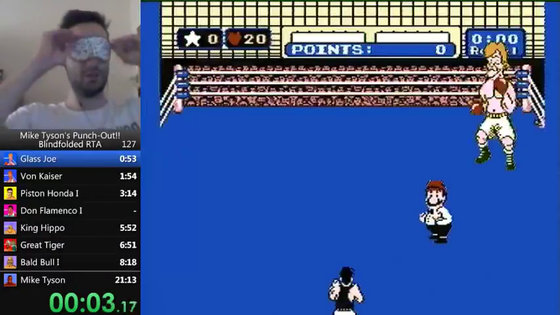 Then, start a round.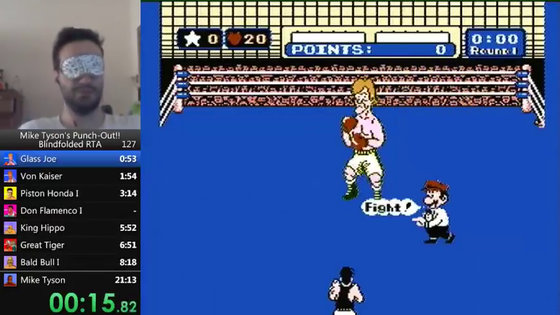 In the first game, we put a jab on the left with a blurry feeling ......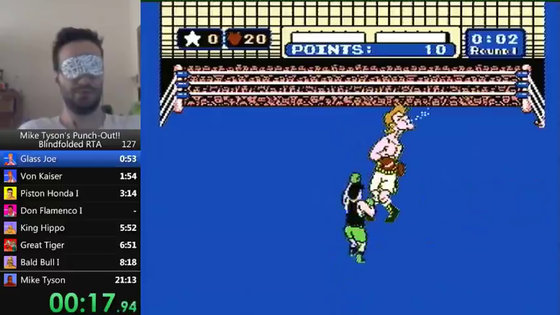 KO victory in no time.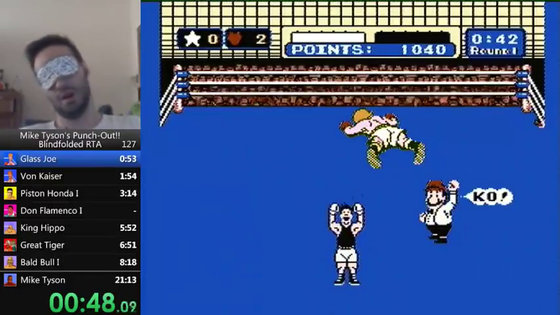 I temporarily remove the mask to confirm the next opponent ... ...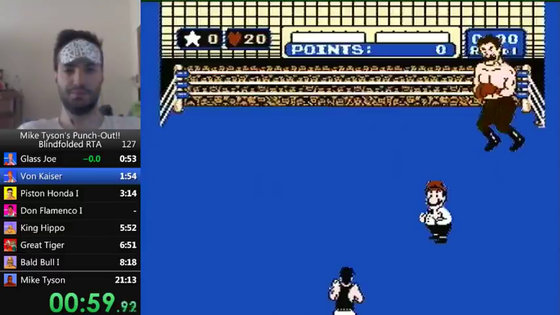 Before the competition starts, wear blindfolds firmly.



I will also try to punch in the second round ... ...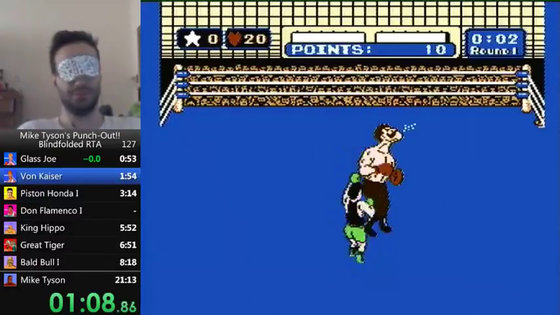 From here onwards, it will increase how you try to avoid the other's punch with full swing.



But the brilliant upper was decided, and again KO victory.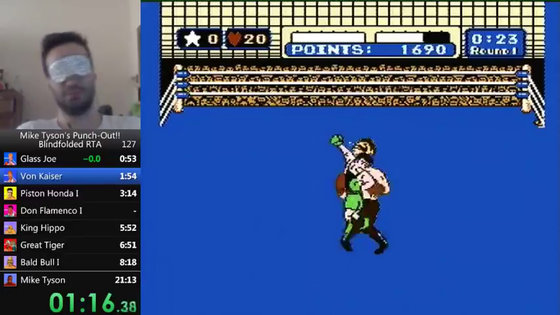 Mpap who reached the match against the last Mike · Tyson after defeating the stalwarts who are in such a state with blindfolded condition. Tyson does not hit the attack easily as he guards the face and body properly.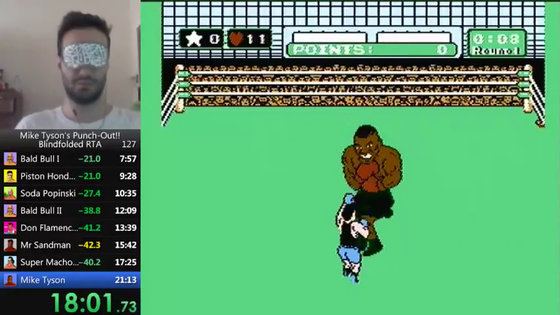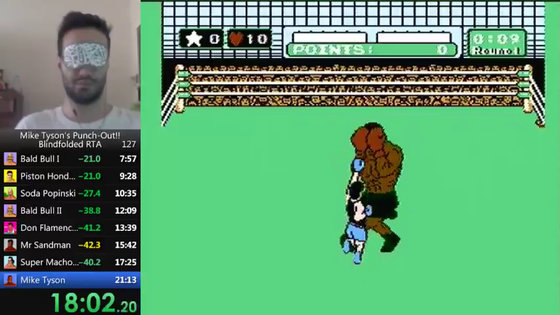 In addition, Tyson turns to counterattack with a brilliant upper.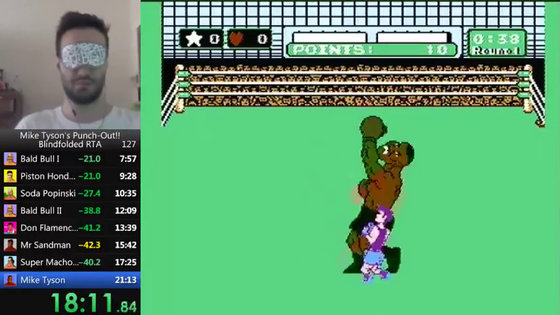 MPap who gives damage little by little while dodge attacks of opponent.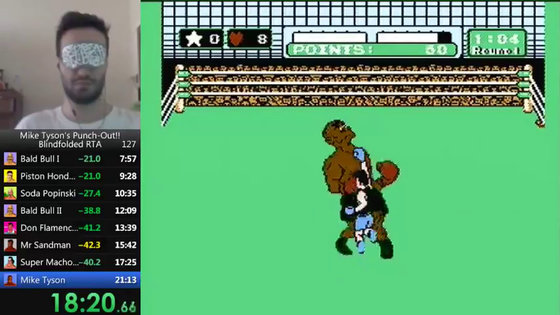 However, for the first time since the start of the challenge it has entered the second round.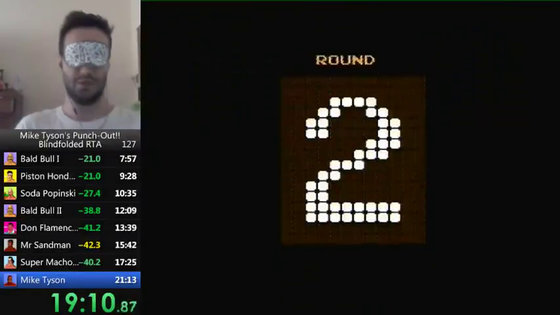 Strike down multiple times ... ....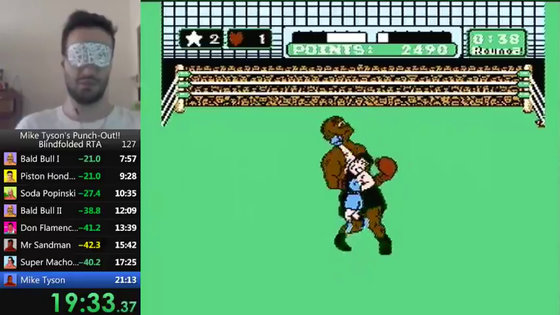 It is a superb TKO win. Clear time is 20 minutes and 36 seconds.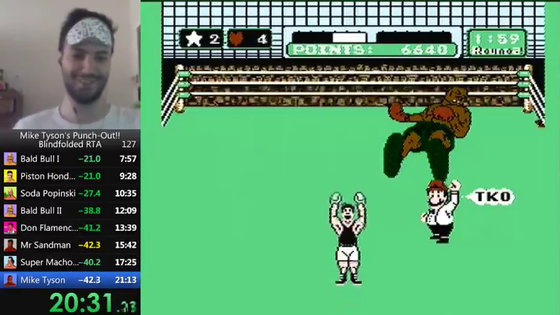 This record keeps records of speed runsspeedrun.comIt is certified as "the world's fastest record in the blindfold state" on above.

Mike Tyson's Punch-Out !! - Leaderboard - speedrun.com