Facebook could make smart speaker "Portal" appear in 2018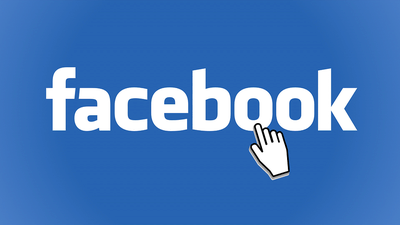 Amazon EchoYaGoogle Home,Apple HomePodThere seems to be a movement to enter Facebook in the "smart speaker" industry such as. DIGITIMES dealing with digital related news around China reports that Facebook will introduce the first two smart speakers on the market in July 2018 to the market.

Facebook to launch two smart speakers in July 2018
https://www.digitimes.com/news/a20180214PD207.html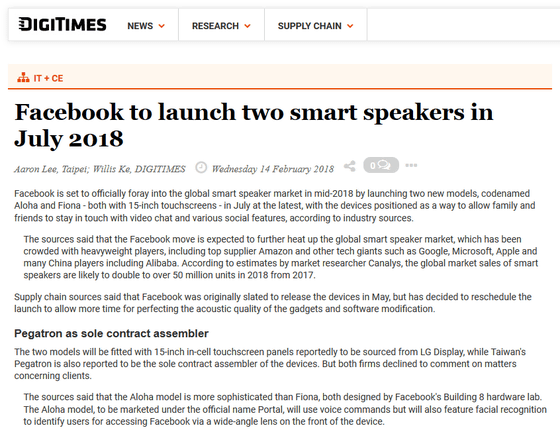 According to DIGITIMES, there are two models of smart speakers Facebook is developing, codenamed "Aloha"And the upper model called" lower model "Fiona"It is planned to be a model composition of. When marketing Aloha is "PortalIt is also reported that it is scheduled to be named.

The design of the main body is done by a secret hardware development group "Building 8" in the Facebook headquarters located in the USA, and it is said that the assembly will be entrusted to Pegatron in Taiwan at once. Of particular note is that both models have a 15 inch large display, which seems to be a discrimination point from other companies' products. The 15-inch display is supplied from LG and is expected to support touch operation.

As mentioned earlier, Facebook's smart speaker is composed of two models, but according to the report, Aloha of the higher model corresponds to the voice command. In addition to supporting face authentication with cameras with wide-angle lenses, you will be able to log in to Facebook,Facebook seeks to offer its own music streaming service, And it seems that we are already making consultations with record companies. It is an observation that Portal appears on the market with a selling point that it corresponds to this streaming service.

Facebook is expected to advance the construction of its own ecosystem using "Portal" and so on, and smart speakers revealed this time are also seen as a pivotal step.