Royal host "Meat & Green" tasting delicious meat and vegetable umami in thick fat beef fillet & super food Taste review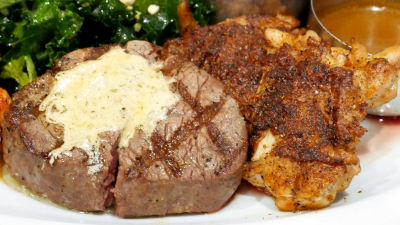 From Wednesday, 14th February 2018, Australian beef "fins" at the Royal host and also known as the king of vegetablesSuper food"Meat & amp; Green" of meat and vegetable theme fair using 'Kale' starts. Before the fair starts,Delicious "Kale" salad"Meat & Green Gathering · Platter"Beef fillet Jambalaya - spicy shrimp included ~"Starting on February 7, 2018 (Wednesday)" Strawberry DESSERT Fair "to appear in"Strawberry Brulee ParfaitI've been tasting at the tasting party.

Australian fillet meat & topic superfood "Kale" appeared New Meat & Green fair "Meat & Green" held Started on Wednesday, February 14 with a royal host nationwide
(PDF file)https://www.royal-holdings.co.jp/release/cf609aa79f687284368e20cf50f78545.pdf

Royal host sells "Strawberry DESSERT" 3 items from February 7th | 2018 | News Release & Topics List | Royal Holdings Co., Ltd.
https://www.royal-holdings.co.jp/release/backnumber/2018/3655.php

Arrived at the Royal host.



At the beginning of the tasting ceremony, I was able to see the state of cutting beef fillet after greetings by Mr. Sasaki, president and CEO. In other companies in the same industry there are places where frozen meat is cut out after cutting, while in the Royal host meat is servedA tildeWe cut from the state of cooking. It was difficult to turn with this scheme.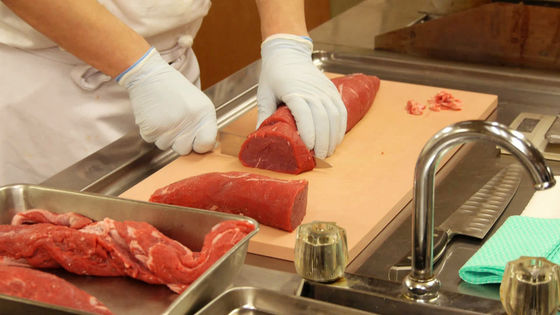 When I return to the seat, I start tasting immediately. The first is "delicious" keel "salad" (626 yen including tax). Picky in kale, slices of steamed chicken, slice of red onion, pomegranate, peanut topped from the top.



When I try to eat, I feel almost unusual hardness and astringent of Kale, and it is easy to eat. A dressing that includes peanut oil with honey, soy sauce, sesame oil, etc. is offered in the form of "baked" rather than "vegetable" on vegetables. It is said that Kale will be broken by this one work, which makes it easier to eat. Pakuchi which is felt slightly added a refreshing fragrance to the salad, and it was also a little ethnic atmosphere by combining with the dressing.



Steamed chicken has a soft texture and gives sharpness to the difference between texture with keel and baked tea.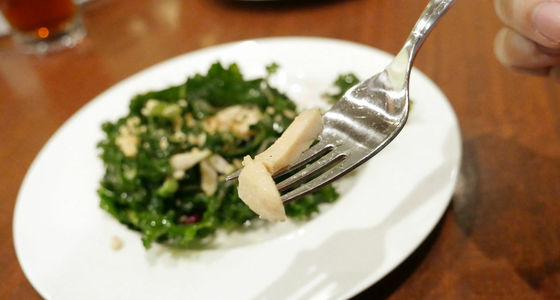 Then "Meat & Green Gathering Platter" (3002 yen including tax).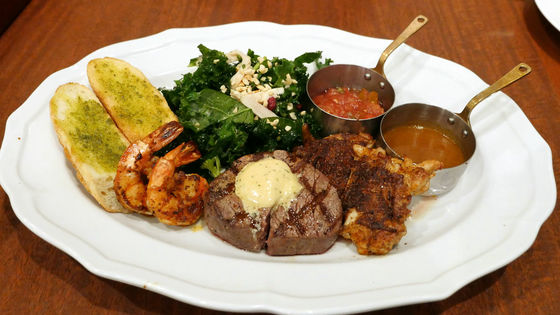 Compared to the size of the instrument and the iPhone SE, it is about 2.5 times bigger and quite huge. It seems to be supposed to share and eat.



In addition to 120 g Australian fillet steak, Cajun grill chicken on the dish ......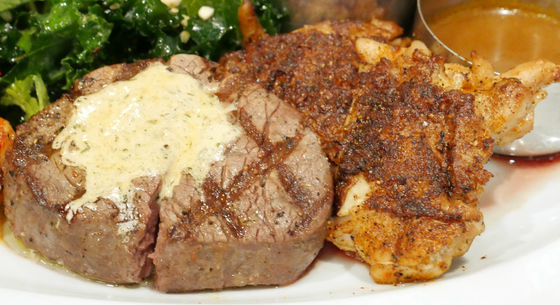 Two spicy shrimps.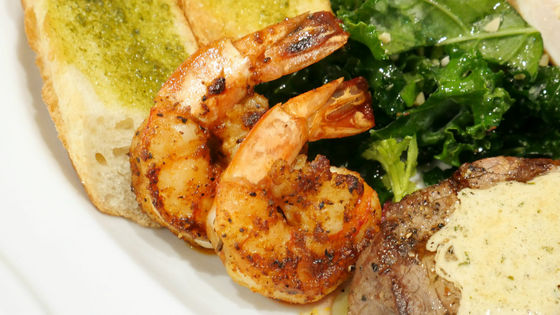 Garlic toast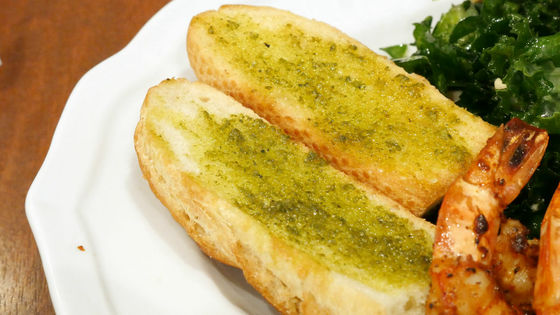 Kale salad. This is the same thing as "delicious" keel "salad", and the quantity is the same.



Two kinds of sources are prepared, "Fresh Salsa" and "Domiglas Butter Sauce".



First of all, put on a fillet steak with "Domiglas butter sauce" ......



I will eat a bite. Very thick and chewy, but the meat quality is soft. Australian meat "There is an image that it does not go away from the mouth even if it burns", but the fillet of the part near Chateaubriand is used, it is a mysterious thing to unravel in the mouth all of a sudden You can taste the texture. In addition, domestic butter sauce was a good match of flavor of wine and flavor of butter, it was a Western style finish called "The Steak".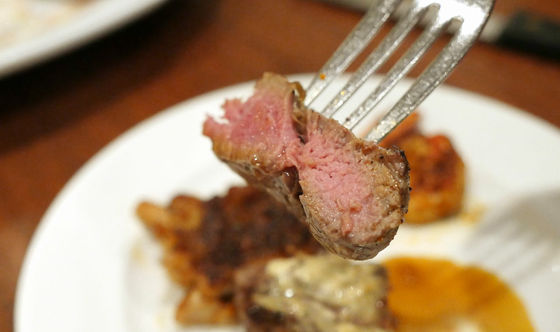 Put fresh salsa on Cajun grill chicken ......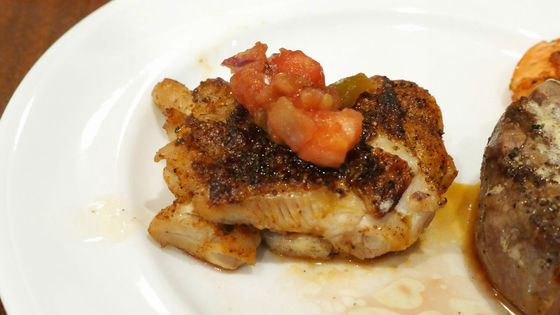 When I put it in the mouth, soft and slightly chewy chicken, I thought that it was a grilled chicken with spice at first, eat in the mouth gradually as you advance and eat. Especially salsa is quite spicy, but it is an exquisite line that it is not enough to break the taste balance.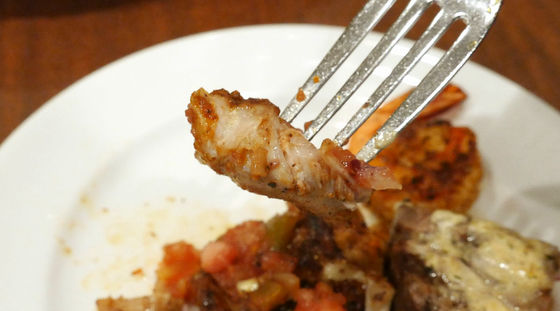 I also eat spicy shrimp with fresh salsa. Spicy hotness is the same as Cajun grill chicken, you can taste the same dry spice as Cajun grill chicken in the shrimp prep patty texture.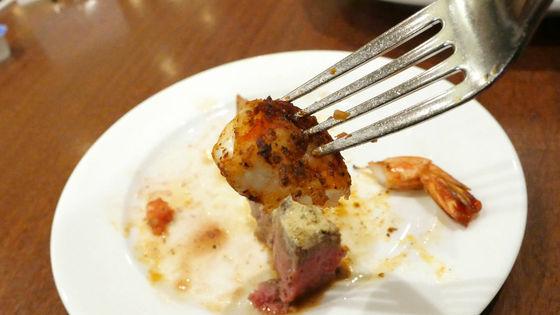 When eating garlic toast, the bread is slightly stiff, it is crispy and the flavor of garlic stimulates appetite.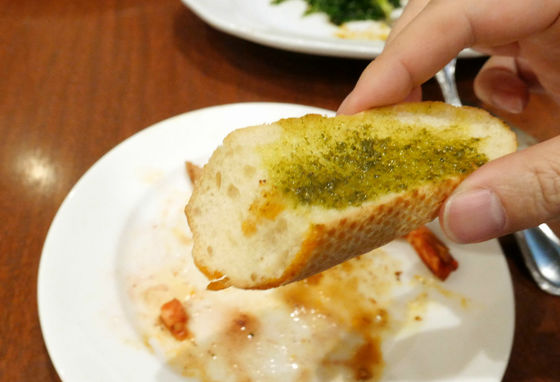 Next is "Jambalaya of beef fillet - with spicy shrimp" (1706 yen including tax). In addition to Jambalaya in the vessel ......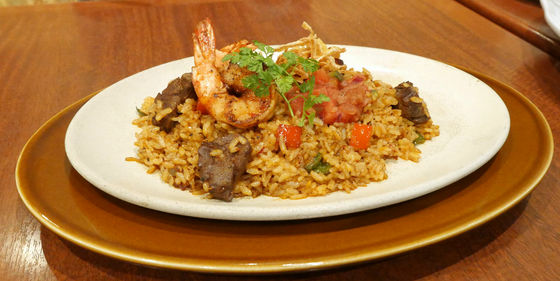 Italian parsley with spicy shrimp, fresh salsa and onion fried. Spicy shrimp is the same as that of "Meat & Green Gathering Platter".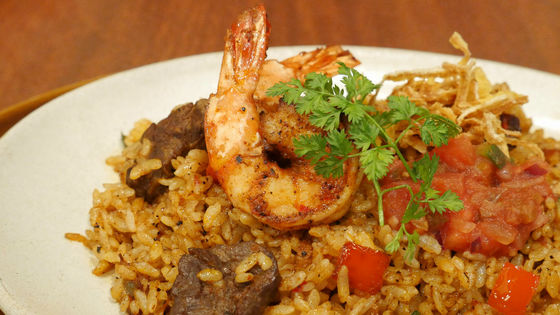 And also fillet meat is on.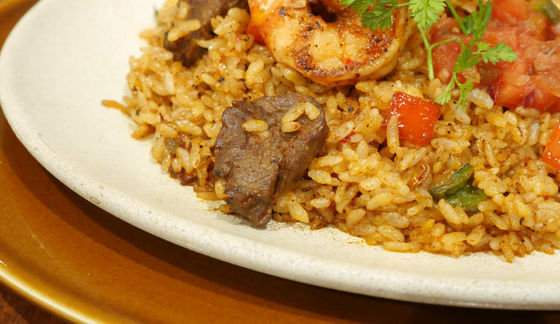 First I will eat Jambalaya and fillet. Jambalaya is a bit spicy and dry. This fins are called side straps, which are more crisp than the steaks used in "Meat & Green Gathering Platter". When I try to eat it surely felt crisp firmly, impression that there is eating.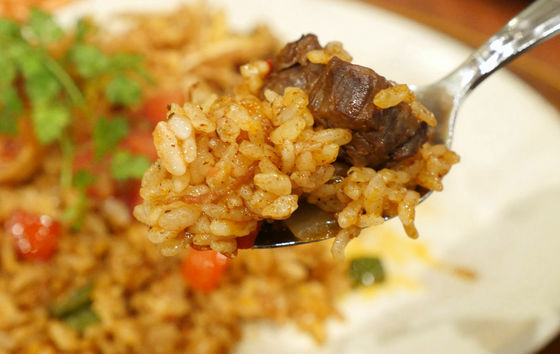 When I tried to eat with fresh salsa and onion flies, I could enjoy the crispy texture of onion flies and the pungent taste of tomatoes of fresh salsa mixed with the pungent taste of jambalaya and enjoyed a different atmosphere taste.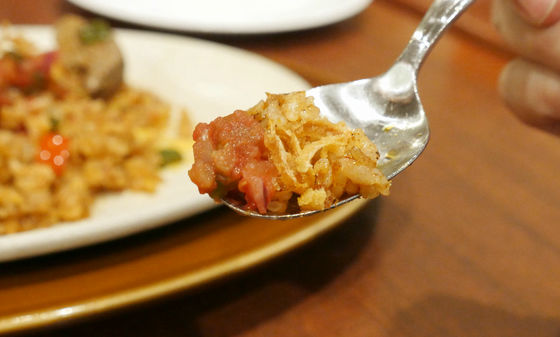 At the end, "Strawberry Brulee Parfait" (842 yen including tax) came from "Strawberry DESSERT" Fair. The vessel is quite lengthwise.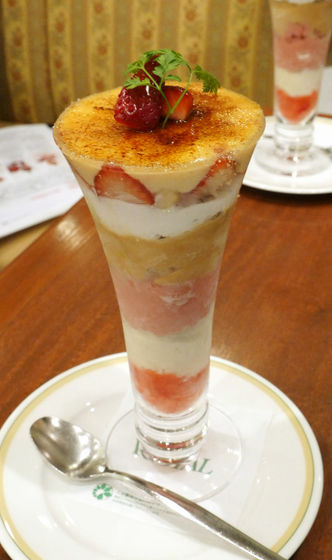 Compared with the iPhone 8 Plus, it was the same height as the contents of the parfait.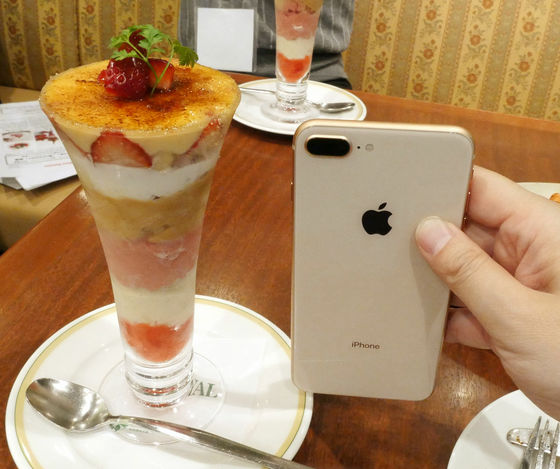 Parfait has strawberries and Italian parsley on top of the baked cream brulee.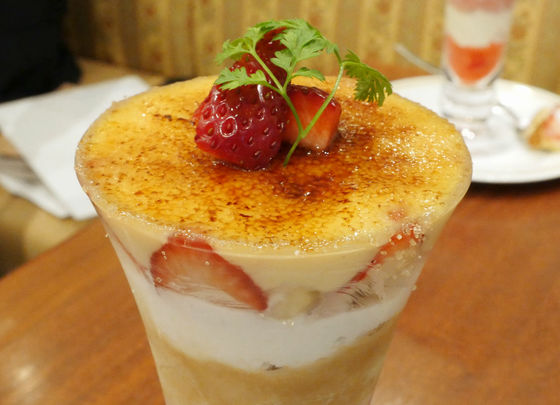 The parfait has a six layer structure of cream brulee, cream cream, caramel ice, strawberry sorbet, vanilla ice, strawberry sherbet from the top.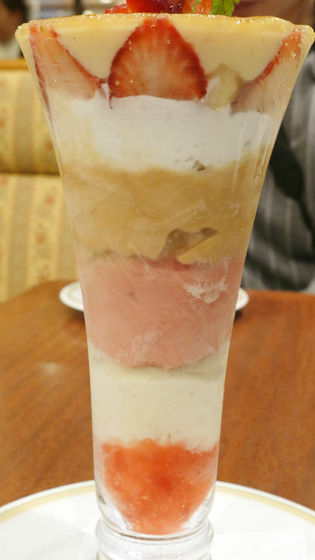 On the surface of the cream brulee is caramel with a crisp texture. There are pecan nuts, bananas and graham biscuits in the cream brulee layer of gentle sweetness and you can enjoy various tastes and textures.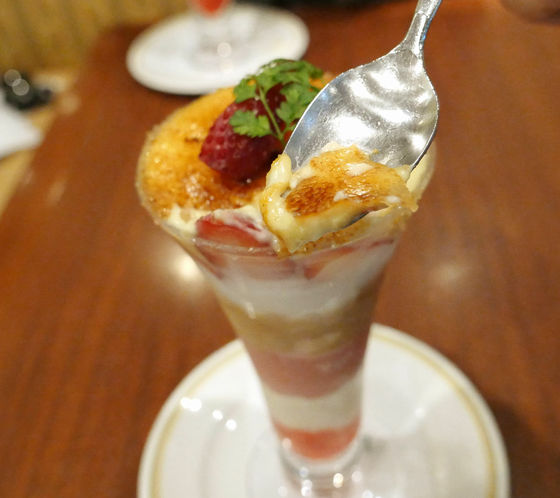 I enjoyed various flavors, freshly crispy, caramel ice cream, strawberry sorbet, vanilla ice cream, and sherbet of the last strawberry, and it was able to eat it in no time.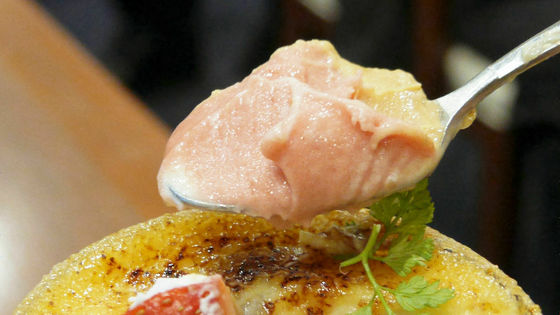 In the "Meat & amp; Green" fair, in addition to "Meat & Green Gathering Platter", "Jambalaya of beef fillet - with spicy shrimp" - "Delicious" Kale "salad", "Australian Hide Steak - Warm Kale & Broccoli Soup "and" Beef fillet and salad with special sauce and sauce and sauce with grated yuzu ponzu "are prepared.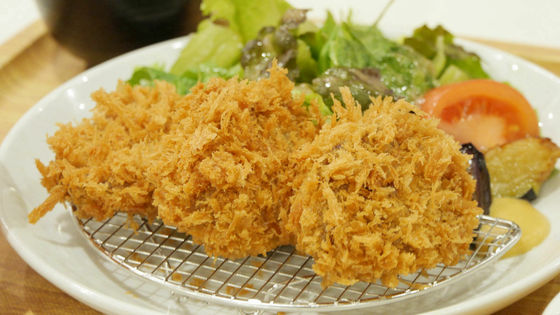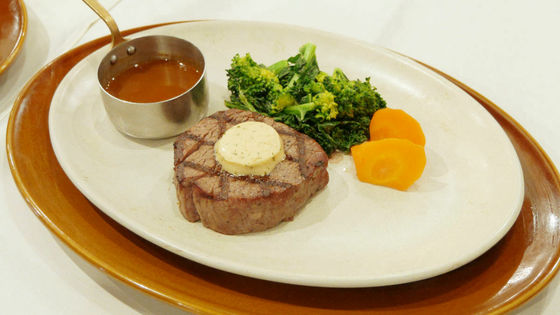 "Meat & amp; Green" fair is a limited-time menu from February 14, 2018 (Wednesday) to the beginning of April 2018. It is an honest comment that every menu has been devised and it is hard to put on a part. In addition, "Strawberry DESSERT" including strawberry Brulee parfait is planned to be carried out from Wednesday, February 7, 2018 until the beginning of May 2018.