"Poppetpick Cafe in SWEETS PARADISE" All menu menu conversation report, "Take-shobo waffle" and green one "A-one side fucking Midori pasta" Impact large menu selection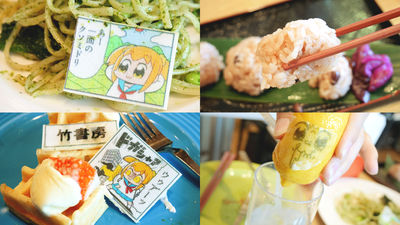 Okawa BubuOriginal 4-frame cartoon "Popte tipic"TV anime has been broadcast since January 2018. Aside from surreal content, the TV animation which was scheduled to start broadcasting from October 2017 was postponed for three months with "misunderstanding of King Records", and further innovation of repeating animation for 15 minutes in 30 minutes frame To the past style,People gathering too much for free face distribution in late January 2018 will be canceledIt is becoming a hot topic. That "Potitepic" collaborated with Sweet Paradise "Poppetpic Cafe in SWEETS PARADISEIt is said that it will be held and actually went.

"Poppetpick Cafe in SWEETS PARADISE" Detailed announcement! !
http://www.sweets-paradise.jp/news/2018/02/cafe-in-sweets-paradise.html

I came to Suites Paradise.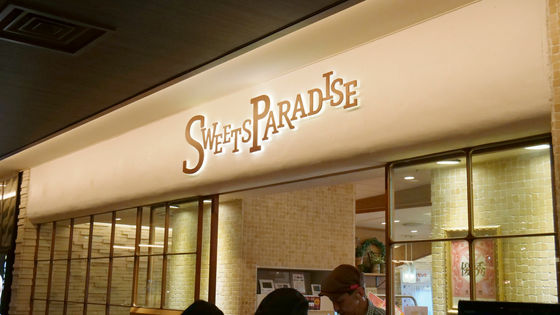 In the menu table inside the shop, POPKO and PiPi beauty which is the hero of "popte picpic" were drawn.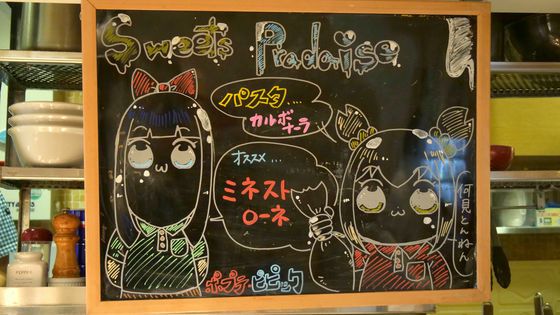 In the store, animation of "popte picpic" flowed on a large monitor, and a panel of notes using the original frame was exhibited.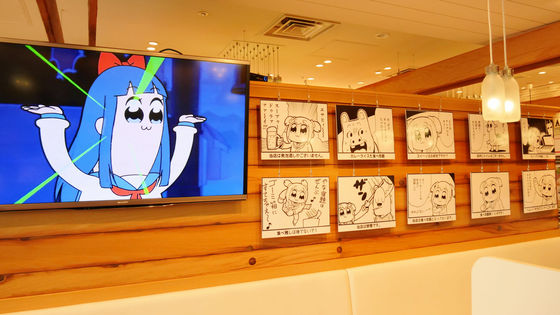 Besides, panels of color illustration were lined up on the wall. You can see some panels of designs you've seen somewhere.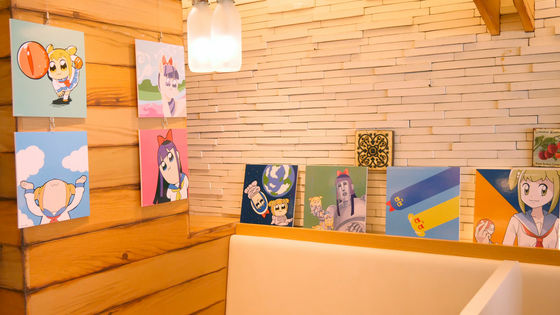 Rugs were spread on two tables with good views with a view in the corner of the shop.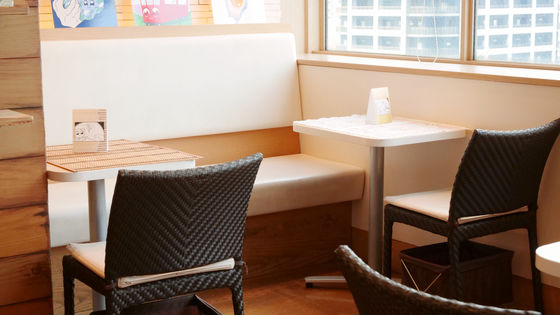 The table with a beautiful cross is becoming "a seat of the believer" ......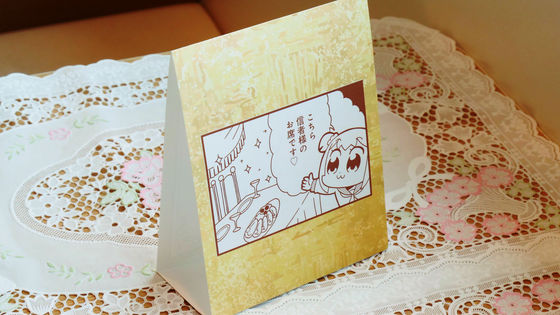 The table on which plain Japanese style luncheon mat was laid was "Anti-sama and Takebobo employee's seat".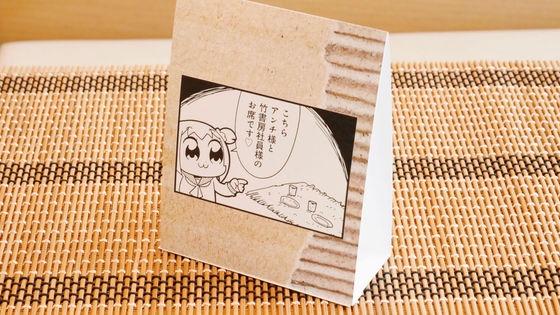 Also, a huge Takebun Bookball balloon stood in a corner of the shop.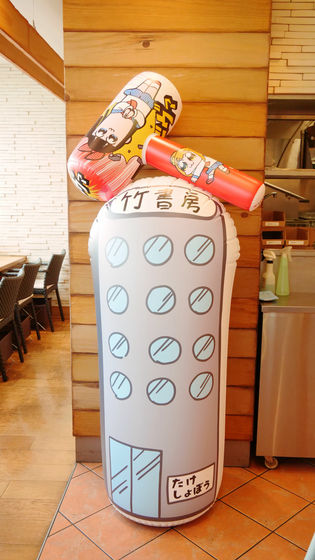 You can hit a hammer and hit a blow on the bamboo shop balloon.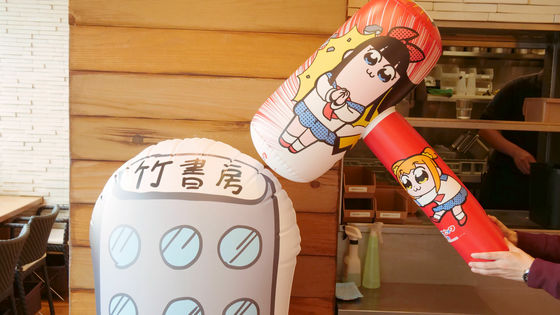 The sweets paradise is basically a buffet style, but this collaboration menu was a style to order in advance, so you brought me a seat without having to go get it. The first "A-side fucking green pasta" is a green-green dish as its name suggests, only soybeans, spinach and broccoli are used.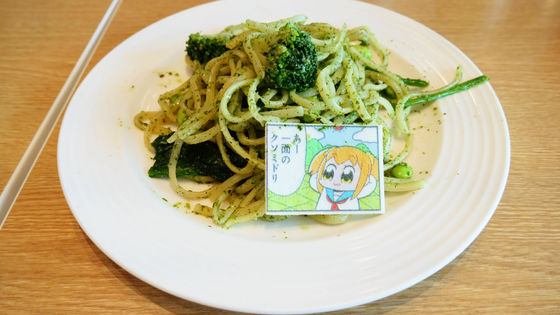 Wafer of the original frame was placed.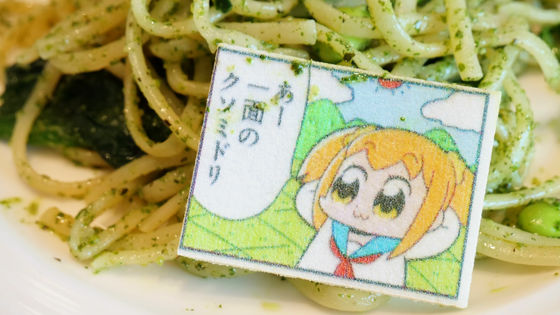 When I try to eat it, the fragrance of basil, the fragrance of beans, spinach and broccoli together, really smell like prairie. There was an opinion from accompanying editorial staff that "Pasta is rigid and there was an impression that we are eating more grassland".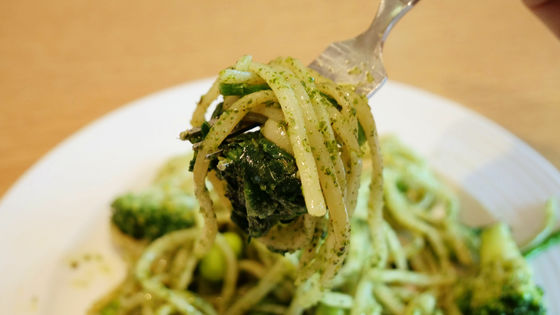 "Red rice cultivated with the red newsletter" had three rice balls of red rice and pickled pickles.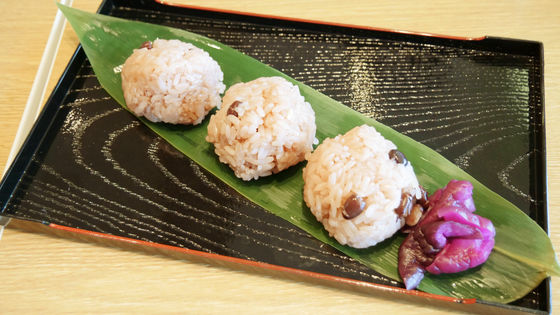 "Cultivated by the Red Breeders" is essentiallyOther cartoonsBecause of Parody's original wafers, wafers of the original workmanship were not on. With a mouthfeel texture, the taste is ordinary red rice.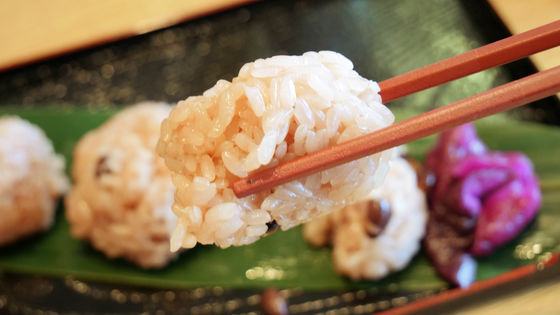 "Popepei Manama" is a porridge with a paper apron.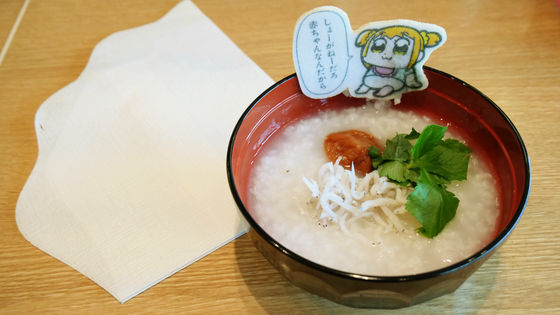 Popliko announces that it is "Because it is neither a baby nor a baby."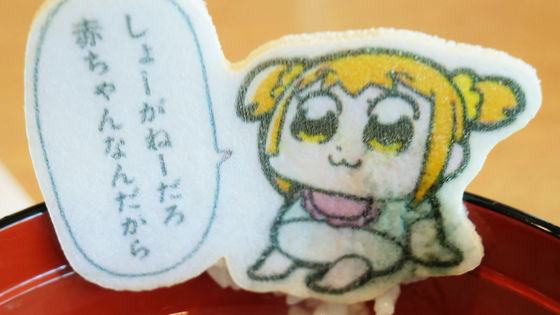 There was no seasoning in particular, it was an ordinary porridge. There was also an opinion from the editorial staff who tasted together, "When you sip rice porridge while looking at the wafer of poached child, you feel like eating really baby food."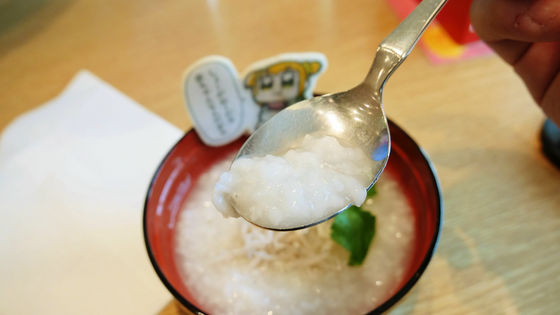 Macaroon with the word "supremacy" is on "hegemon parfait".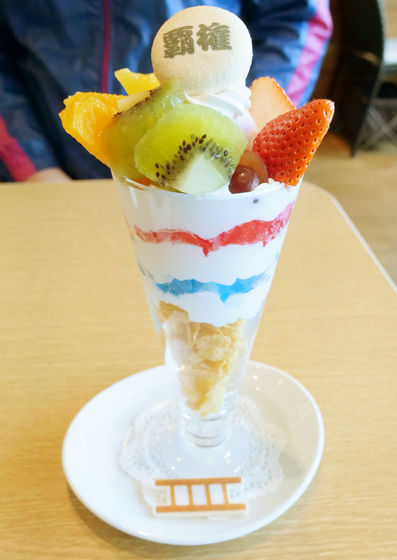 The parfait is full of fruits such as strawberries and kiwis and has considerable volume, compared with iPhone X of long side 143.6 mm, I can understand its size well.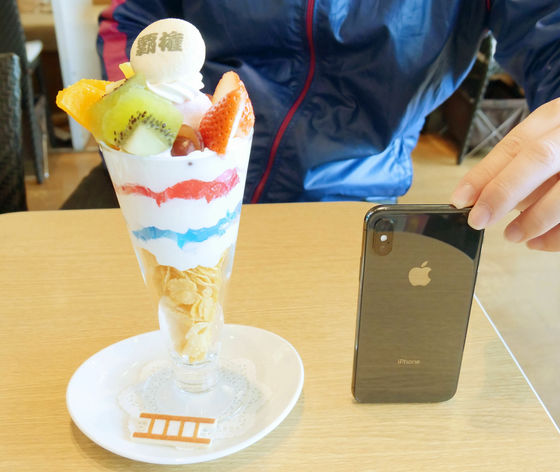 Beautiful jelly of red and blue was caught between cream of parfait.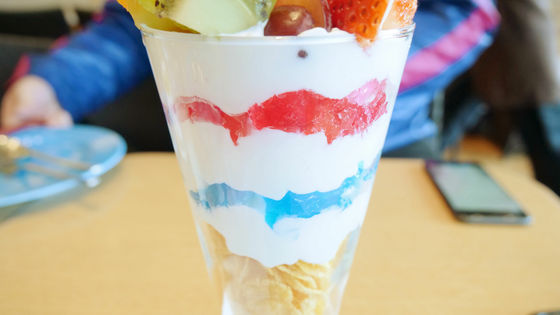 Also in the bottom of the vessel is a ladder wafer. The original story that the ladder to hegemony was removed has been reproduced.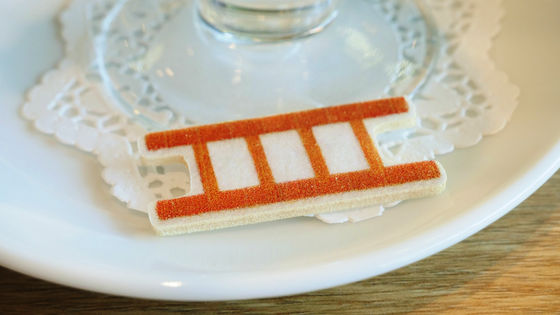 I could taste the texture of sweet and smooth fresh cream and jelly of Purupuru. Fruits such as kiwi and strawberries were also popular and the satisfaction was high, it was a parfait for the word supremacy.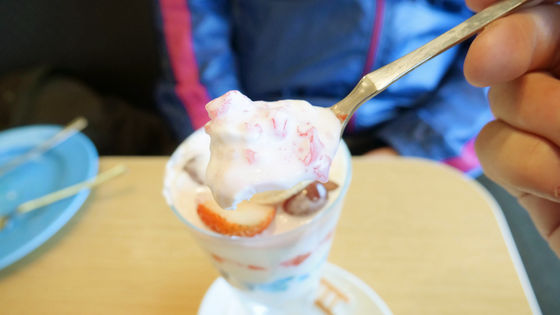 I'm serializing "Potepepip"Comic Life WINIt is operated by Takeshobo. It is "Takeshobo waffle" which made the head office of Takeshobo waffle. It was written in the menu "There is a possibility that it will collapse at the time of transportation", but this time it seems that it was safe.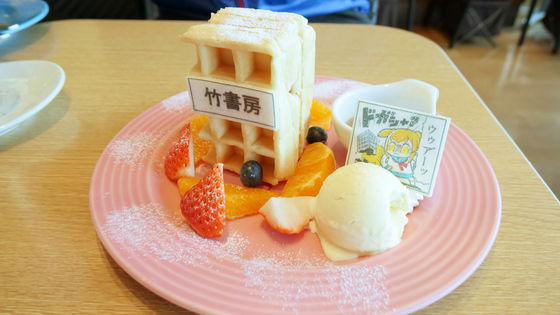 In the work of "popte picpic", Takeshobo, who is being handled tremendously by being hit by a poppo and being called "designated gangsters", has a signboard on waffle and rises in the fruit . Besides that, there was a wafer that drew a poppy that destroyed the Takeboshi building with Degasia.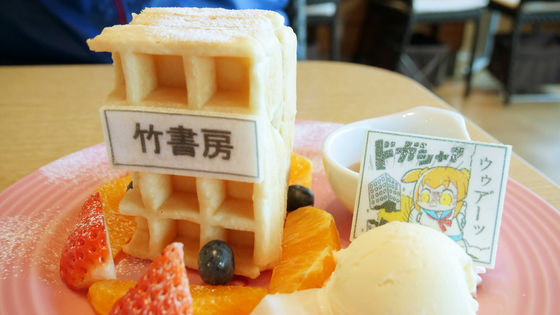 Comparing iPhone X and Takeshobo building side by side.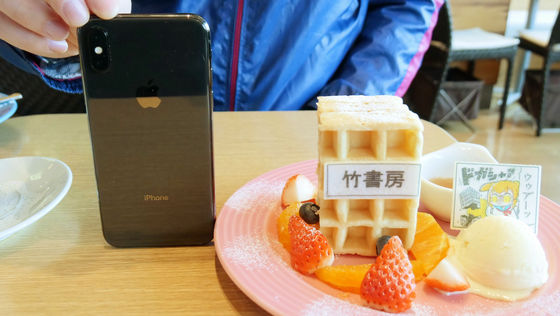 Because maple syrup was attached, I will call it from the top of Takeshobo building.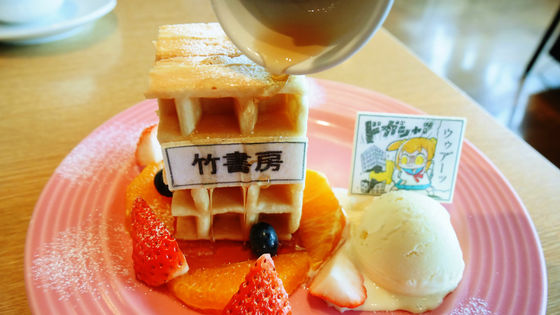 The waffle of the Takeboshi building is fluffy, and the sourness of strawberry and blueberry becomes an accent in the sweetness of maple syrup and ice.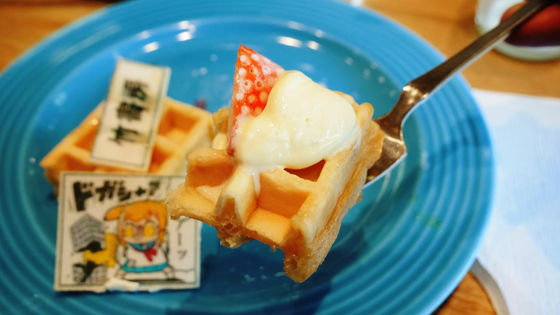 There was a drink in the collaboration menu. "Go Go Go drink" "Elementary school level drink" "Lemon juice which becomes such face" is.



Gogogo drinks were accompanied by wafers with the originals coma drawn. When I drank it was the taste of energy drink.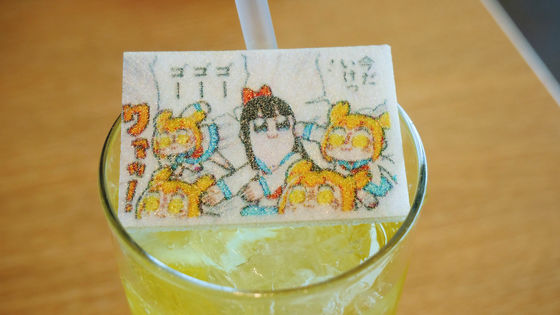 Peppy 's sour - acided face was pasted on lemon of "lemon juice like this". Lemon 's face is that either POPKO or PPI beauty is pasted randomly.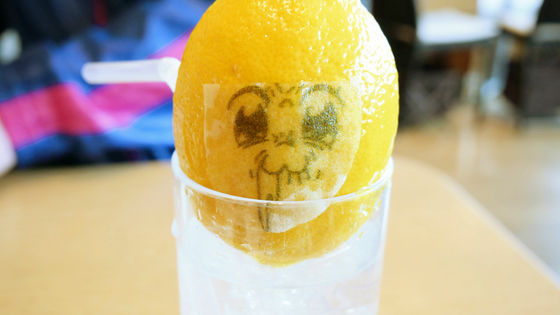 When I squeezed lemon exquisitely and drank it was a very sour lemon squash, and some of the editorial staff who accompanied me also said that "after drinking really it is such a face after drinking because it is too sour."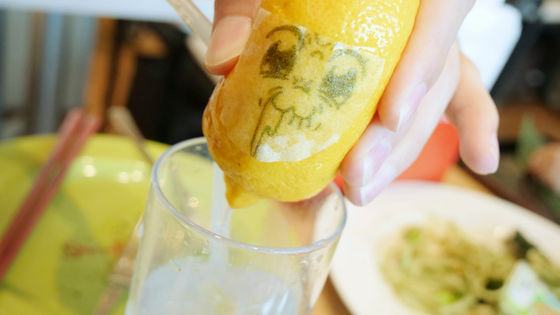 "Primary school student level drink" was strawed with original stick paper. I drank what it meant to mean elementary school students' level and what was inside was just milk.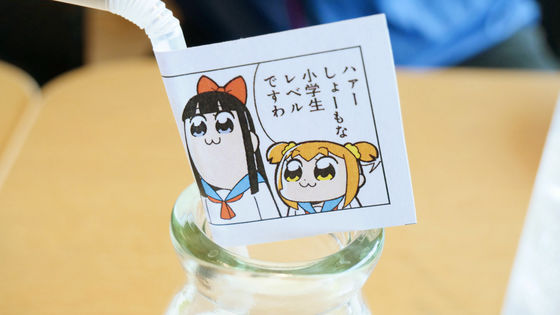 "Staystity" was a lemon and mint herbal tea. Because you have a bit of bitterness, you can rest your tongue when you eat sweets when you drink.



"Do you understand the meaning? Cafe latte" was a pie chart drawn on latte art. It is not sweet like "staystation", so it is good to drink between sweets.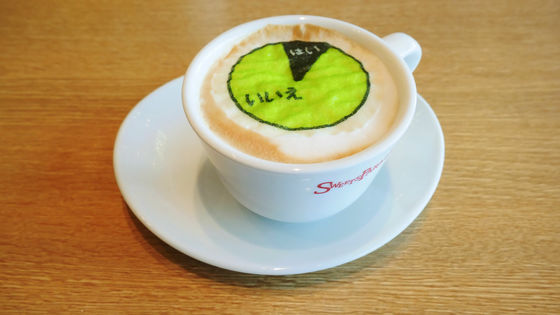 "Chachacha tea" is a sweet matcha tea milk, the bitter taste of Matcha is a mellow taste due to the sweetness of milk.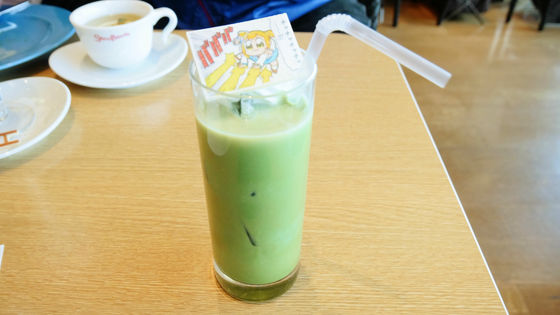 The accompanying frameShoot Chachachacha and bulletAlthough it is poppy, why this wafer of wafers was OK I did not know whether the wafer of original film was prepared for "red rice cultivated with the red message".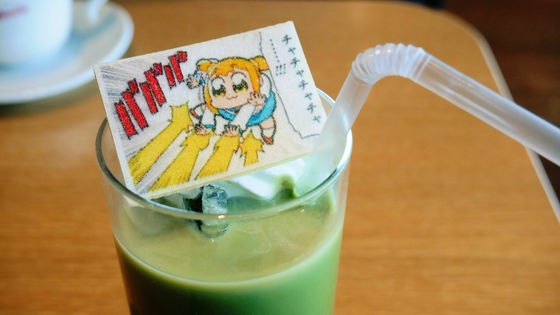 If you order additional drinks, you will receive a postcard. There are six types of post cards in all.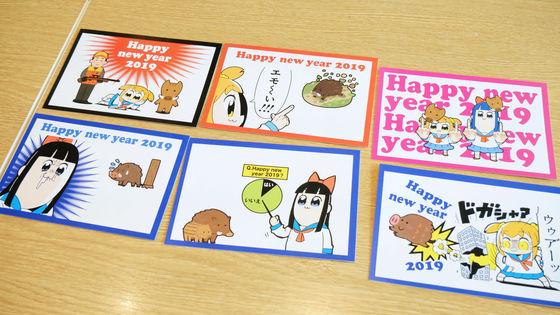 This postcard is a New Year's card that can be used in 2019, and the side to write the address was designed like a New Year's card. It is also said that a New Year's card lottery will be held.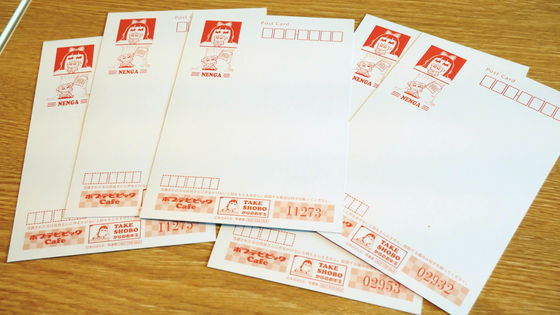 Holding stores and the holding period of "Poppetpick Cafe in SWEETS PARADISE" are as follows.

· Suites Paradise SoLaDo Harajuku store... Friday, February 2, 2018 - Thursday, March 15, Thursday
· Suites Paradise Tennoji store... Friday, February 2, 2018 - Wednesday, February 28,
· Sweet Paradise Machida Modi Store... Friday, February 2, 2018 - Thursday, March 15, Thursday
· Suites Paradise Hiroshima Parco... Friday, February 2, 2018 - February 25 (Sun)
· Suites Paradise Nagoya Parco store... Friday, March 9, 2018 - Sunday, April 8,
· Suites Paradise Fukuoka Parco Store... From Saturday, March 3, 2018 to Saturday, March 3,

In addition, a set of 1 collaboration food, drink 1 item and sweet viking including tax 2380 yen (1710 yen including elementary school students tax included), 1 set of collaboration sweets and one set of drinks and sweets Viking including tax 2180 yen (including elementary school students including tax 1510 yen), and additional order is possible with collaboration menu 500 yen including tax.