"COGE GEASS Lelouch of the Rebellion" and Maid Cafe Combined "Cafe Gias" tomorrow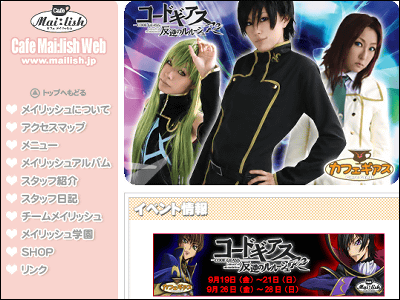 Popular anime that will celebrate the final round with 2 more episodesCode Geass: Lelouch of the Rebellion"Maid cafe coalesced" Cafe Gias "is said to open from tomorrow.

During the period all the clerk welcomes me with the costume of the code Geass character, and menus and drinks that each character is imaged also appear.

Details are as follows.
Cafe Mai: lish Web

According to this page, the collaboration between the anime "Code Geass: Lelouch of the Rebellion" and a long-established maid cafe in Akihabara "Cafe Mai: lish (Cafe Meishishi)" will be held from September 19th (Friday) to 21th (Sunday) and 9th It is said that "Cafe Gias" will be held for 6 days from Friday 26th (Fri) to 28th (Sun).

During the period the staff will welcome you with the character's costume all day, and menu and drinks of character image will be prepared. Also, it seems that the limited menu will come with collaboration rami cards by Code Geass characters and Mailish staff.

In addition, as a linked project with the official mobile fan site "GEASS ★ net", there is a special gift for a free listening image as well as a present of "Cafe GEASS Limited Chibi Geass Image" will be performed as well.

When you stop by Akihabara, it may be interesting to visit the memorial.