Even if the bit coin drops by 50%, China can enjoy the bubble, while on the other hand the action of the Chinese government will end the bubble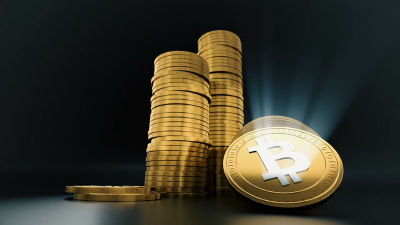 The bit coin of the virtual currency whose transaction price jumped 14 times by 2017 alone is now mining (excavation of currencies) in the majority in China. The background is that the cost of mining is suppressed thanks to China's very cheap electricity charges, and the Chinese minor (excavator) has enjoyed the benefits of the bit coin bubble the most in the world It is also said. According to one theory, it is a bit coin of China in "wet millet" state that even if the price of bit coin falls to half of the peak time still profit will come out, but finally the government embarks on regulation It is also developing.

Bitcoin Can Drop 50% and China Miners Will Still Make Money - Bloomberg
https://www.bloomberg.com/news/articles/2018-01-10/bitcoin-can-drop-50-and-china-s-miners-will-still-make-money

According to Bloomberg News, Energy Finance (BNEF) coverage, China's bit coin miners benefit greatly from price hikes and are making great profits. In order to uncover a bit coin, it is necessary to analyze a huge amount of processing by spending a large amount of electric power and turning a high-performance computer, but in the present China, the electricity charge is very low level There is a structure that the profit increases as you use electricity because it is in.

As of January 10, 2018 bit coin price is $ 13,900 per BTC (about 1.55 million yen), but according to BNEF analyst Sophie Lu, even if you estimate the highest electricity price , The breakeven point of bit coin mining will be 6925 dollars (about 770,000 yen). In addition, the regular electricity charge in China is at most 0.13 dollars per kWh (about 14.50 yen), but because the electricity industry is in a state of excess supply capacity, the unit price is reduced by 0.03 dollars (about 3 yen 40 It is possible to even lower it to Qian). The breakeven point in this case drops to 3869 dollars (about 430,000 yen).

According to BNEF, electricity demand related to bit coin mining will be approximately annually by the end of 201720.5 TWh(In Terahwat time). This is the world's largest mining company actually mine mining,BHP BillitonIt is consuming in the year38 TWhIt corresponds to the level exceeding half of the electric power of. It is noteworthy that China accounts for the power consumption in bit coin mining. Consumer electricity is bit coin minor in China15.4 TWhAlso, the worldwide bit coin power demand75%It is also reaching. From here also, you can see that the main battleground for bit coin mining is completely in China.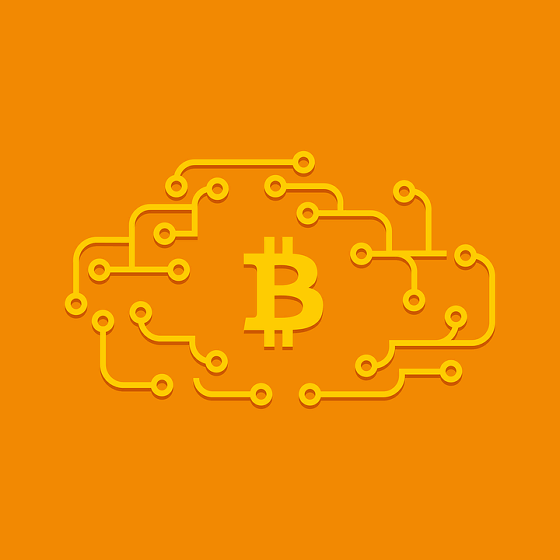 The price of bit coins has reached 1 BTC = 2,200,000 yen at major Japanese exchanges on December 17, 2017, but there is also a situation where the price will fall below the 1.4 million yen level in the next week after plunging. Even at that level, it is also surprising that China's bit coin minor is still making a big profit, but not muchVolatility(The degree of price fluctuation) from the height of the bubble to rush into reckless state, also called "bit coin rhythm" has become.

Bit coin: price price fluctuation adequate level hard to determine - Mainichi Newspaper
https://mainichi.jp/articles/20171226/k00/00m/020/069000c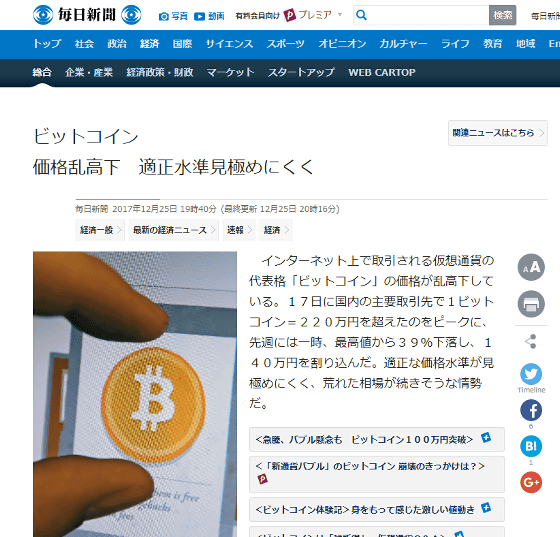 Indeed China's bit coin minor has enjoyed the "Spring of the World", but at last the Chinese authorities have come to a stop to stop this. According to the Wall Street Journal, on January 10, 2018, the government's countermeasure headquarters monitoring the risks of Internet finance has stopped bit coin mining activities I ordered the local authorities to "supervise". Notice does not have a deadline and only "ordered censoring" is ordered, but officials in the western Xinjiang Uighur Autonomous Region where the mining activities are active are told that they will take this notice and carry out the "request of the country" Thing.

Bit coin, the end to the 'mining' in China Abort orders - WSJ
http://jp.wsj.com/articles/SB12417666850591433362304583630302583260698

In addition, it was reported that on January 4 prior to this there was a plan to restrict electricity supply to bit coin miners.

China: Restricting power supply to some bit coin miners - Participants - Bloomberg
https://www.bloomberg.co.jp/news/articles/2018-01-04/P20D7B6JIJUO01

In addition, Mr. Warren Buffett, who was called "the god of investment" around this point, announced a negative view that the virtual currency "will have a tragic end". For some time Mr. Buffett has shown a negative view on the system of the virtual currency, and in 2014 it criticizes that the remittance system of bit coin "is a mirage that actually does not exist".

Buffett says cryptocurrencies will almost certainly end badly
https://www.cnbc.com/2018/01/10/buffett-says-cyrptocurrencies-will-almost-certainly-end-badly.html

The virtual currency "bit coin" has been adopted as an independent currency that does not receive control of anyone, but it has finally reached a major turning point for too much overheating. Regulations have been strengthened in China, but stakeholders can do without adversityGo ahead with regulations and aim for resumption of exchange managementSuch as the situation showing resistance. Nonetheless, it seems that attention will be drawn to what kind of influence the bit coin world in China that received the blow that can lock down the "mining prohibition" head and the world of the world after that.

The big influence when Chinese quit the mining of bit coin | Yoriamu Japan
https://ethereum-japan.net/bitcoin/what-if-chinese-miners-stop-its-bitcoin-mining/#5