How to travel back and forth from London to various places in Europe cheaply at the top European LCC "easyJet"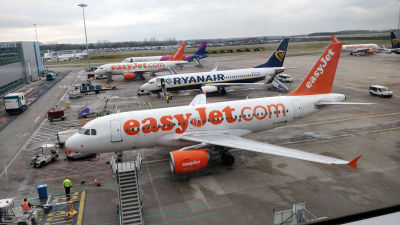 British LCC "easyjet (easyjet)"Has become one of Europe's leading LCCs by realizing ticket prices that overwhelm existing airlines by promoting thorough service efficiency. Beginning 821 routes, 31 countries around the UK and Luton airport, and traveling cheaply between London and Munich using easyJet which is an essential LCC essential for traveling around Europe cheaply Saw.

Home | easyJet.com
https://www.easyjet.com/

◆ Booking cheap tickets between London and Munich with easyJet
It is possible to reserve tickets from the official website of easyJet but because it is not compatible with Japanese, specifying an itinerary, airport etc is a bit tricky, mistakes are inherent. In order to correctly design the plan to be scheduled without mistake, this time the ticket comparison site compatible with Japanese "skyscanner"I decided to obtain an easyJet ticket. I found a target ticket at skyscanner. Round ticket for London - Munich is a low price of about 14,000 yen.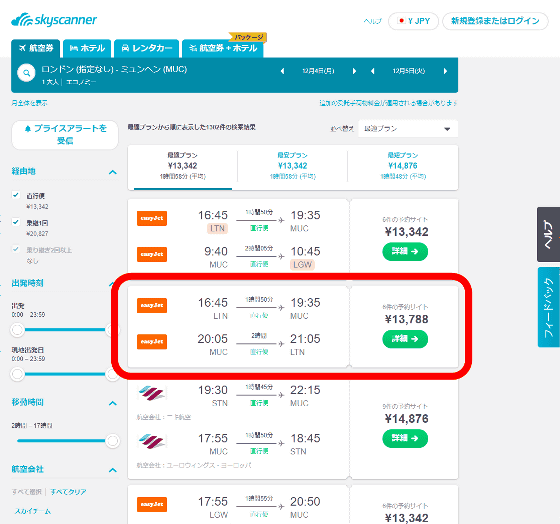 As you can see from the details, of course, the cheapest operating company is the official "easyJet". Because easyJet is an unrivaled cheap airline as LCC connecting the countries of Europe from the UK, if you give priority to price, it will be more often easy easy choice. Click "Next".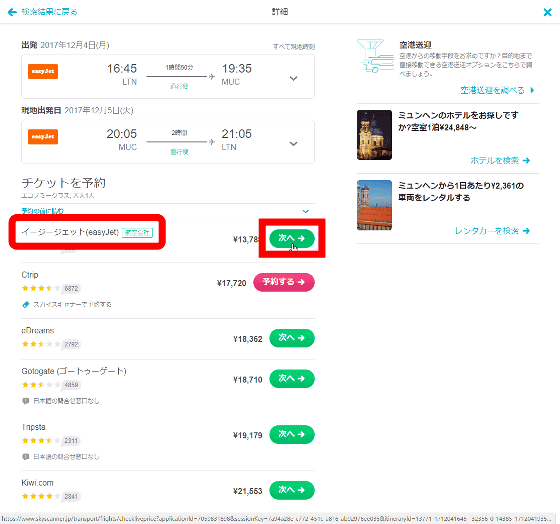 The page automatically shifted to the easyJet official site, the itinerary you specified earlier was selected. I am sorry for the function of skyscanner. After that, we will make reservation work on easyJet official website.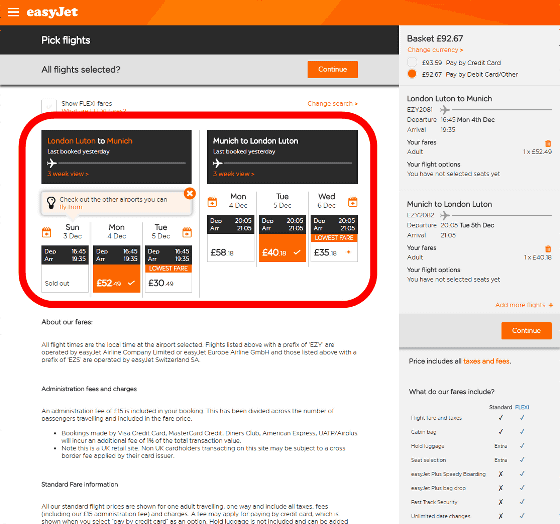 To make payment as a credit card, select "£ (price) Pay by Credit Card" in the right pane and click "Continue".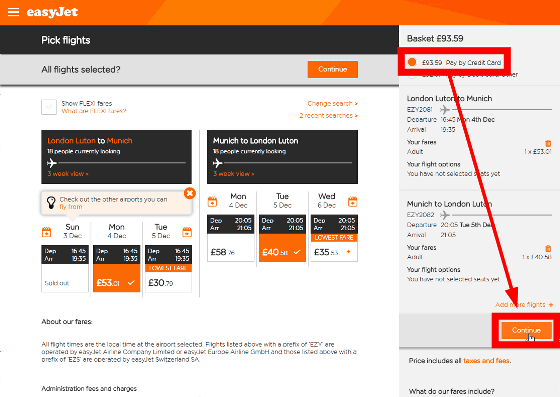 The seat assignment page will appear. For most LCCs, not limited to easyJet, seat selection is a paid option.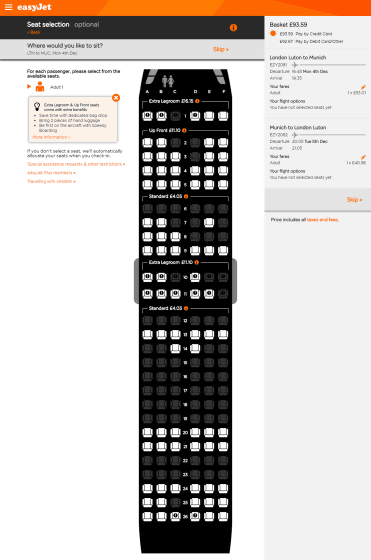 It is just over an hour between London and Munich. If you want to save even a little, there is plenty of choice not to designate a seat. If you do not designate the seat, click "Skip" OK.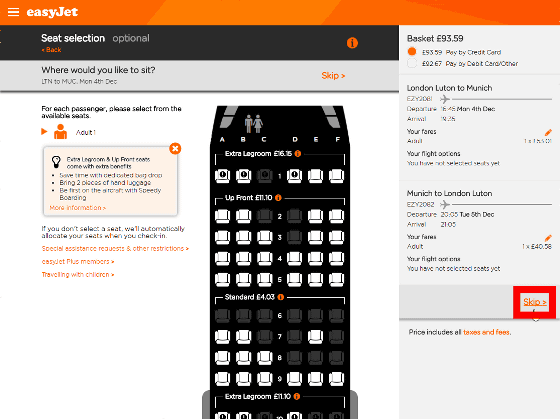 Click "Skip" even on return.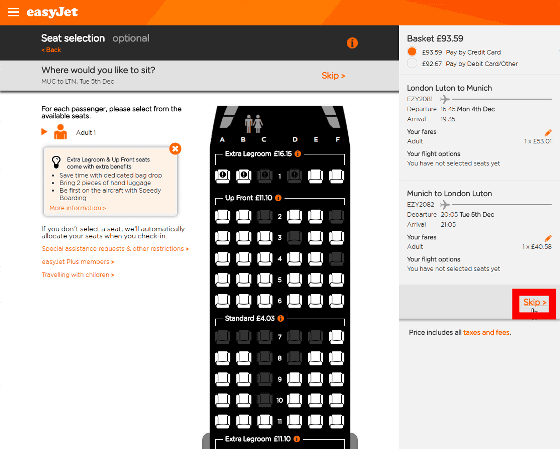 Next is the option page of deposited baggage. 1 piece of baggage is free at easyJet, but for every flight, it was 19.3 pounds (about 2900 yen) up to 15 kg, and 21.45 pounds (about 3300 yen) up to 23 kg for each flight. This price is "advance reservation price" at the time of ticket reservation and before boarding, and when you deposit luggage in the hurry on the day, caution is required because it becomes a special price which is about twice as expensive. Of course, if baggage alone is OK, no option addition is necessary.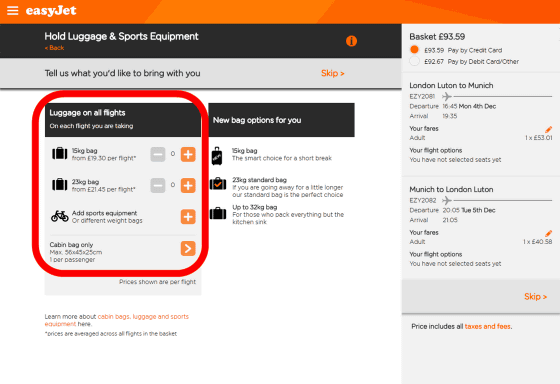 In addition, in the case of designating as a round-trip ticket, it was impossible to add a deposited baggage option only for the return route. By the way, purchasing separate tickets for outbound and return tickets resulted in higher ticket prices themselves, resulting in a difference in paying options for deposited items as a result. In this way, we added a charged option for deposited baggage up to 15 kg for both outbound and return. The price is 38.61 pounds (about 5800 yen).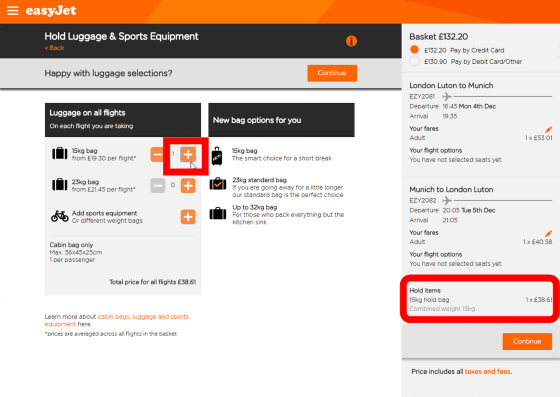 Click "Continue".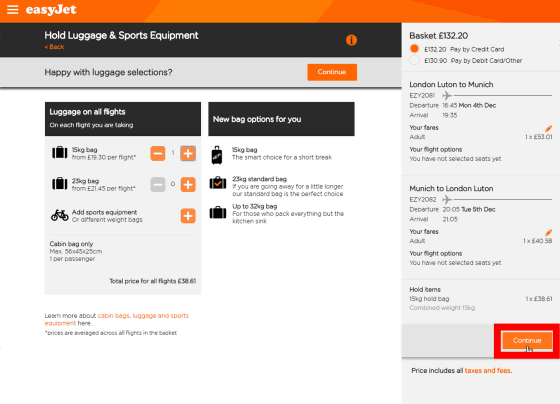 Next, the option page on "travel insurance". There are two kinds for business and tourism, the Zurich was designated as the insurance company.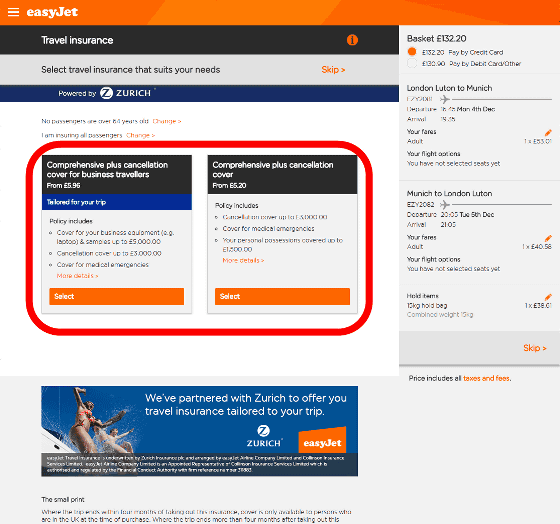 By checking the business plan, you can expect up to 3000 pounds (about 460,000 yen) at the time of cancellation, 250 pounds (about 38,000 yen) at the time of operation delay, £ 20,000 for death insurance (about 3 million yen), 1 accident insurance Contents such as ten thousand pounds (about 1.5 million yen). It is a reliable option when there are circumstances like "I have to return to London by scheduled flight due to my return flight."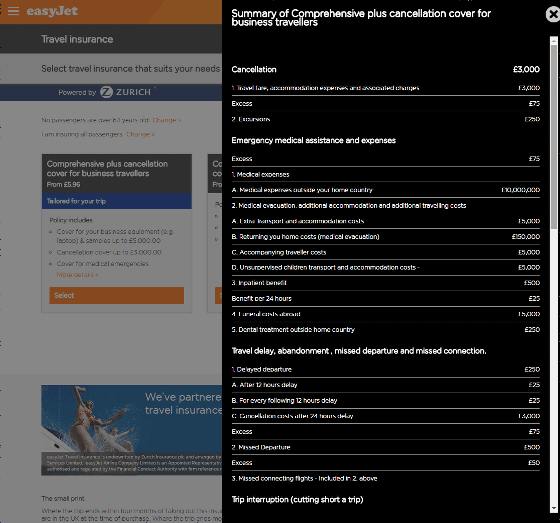 I decided to join travel insurance this time because it is cheaper than the round-trip seat designated fee. Click "Select".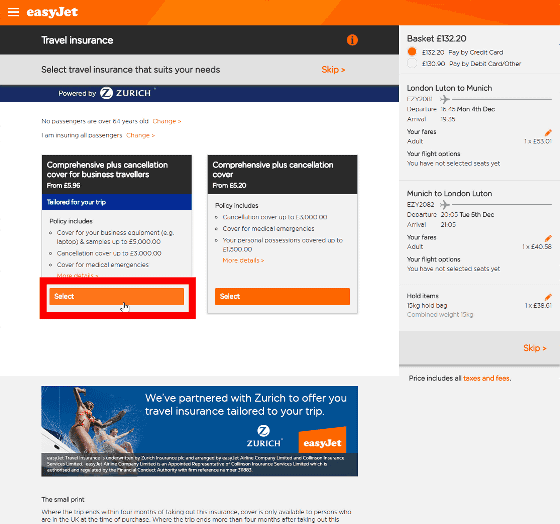 Click "Continue".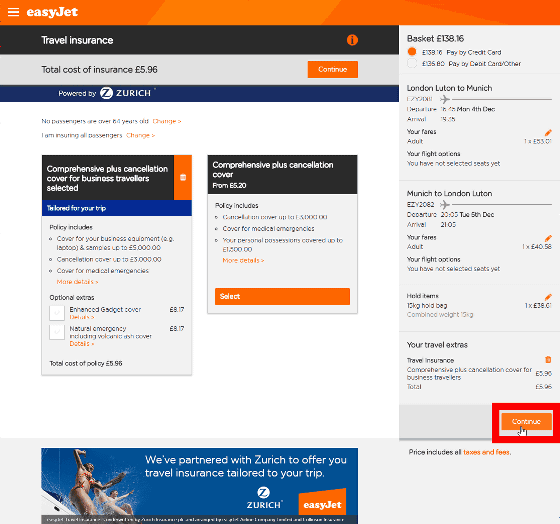 Next is the option of the accommodation place. The hotel provider seems to be offered at a discount price at Booking.com. If you do not need a hotel, click "Skip".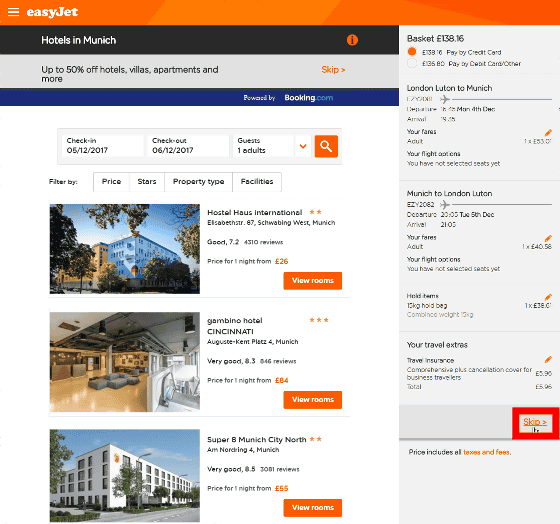 Furthermore, the rental car options page on the site. Click "Skip" if you do not need it.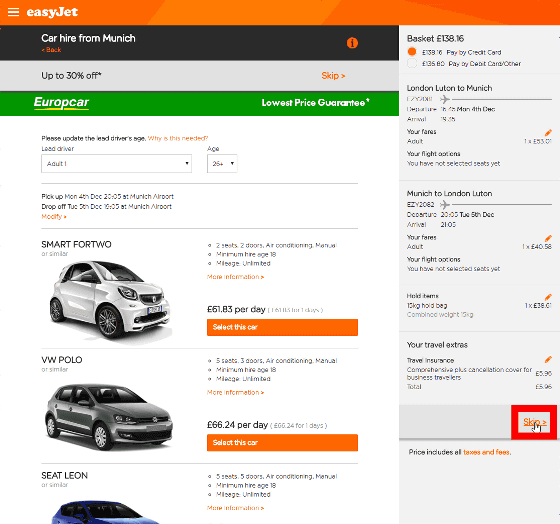 After specifying the options, we will proceed to sign in to the account.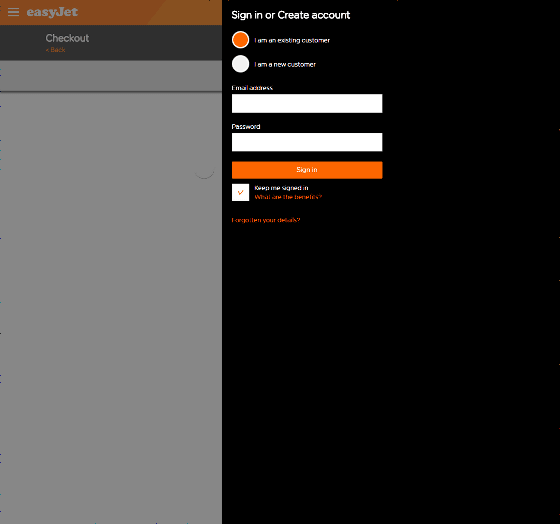 If you already have an easyJet account you can sign in. To create a new account, enter "E-mail address" and click "Continue and create account".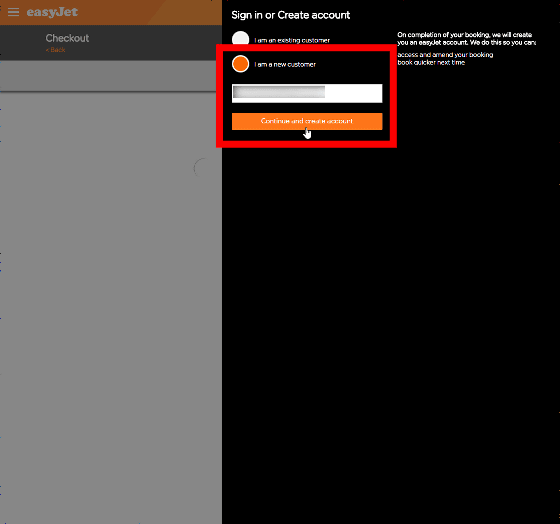 Enter the password, address, phone number, etc., and click "Continue".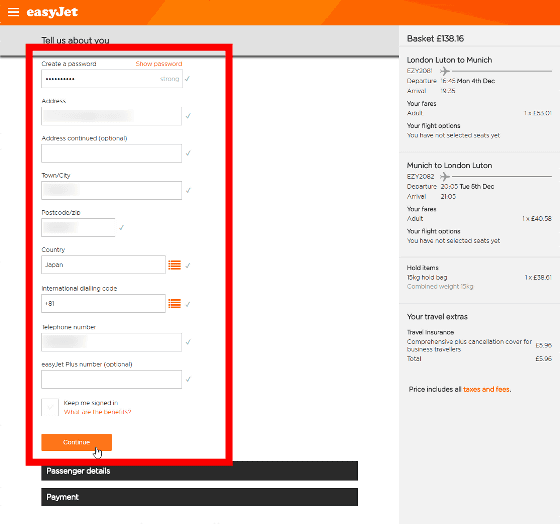 Select the purpose of the trip, enter the name / age classification, and click "Continue".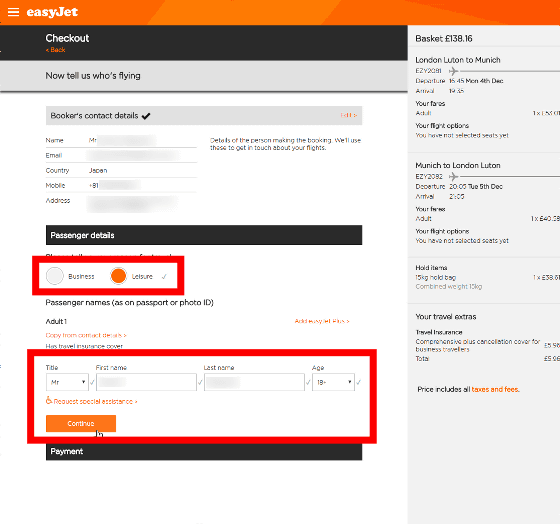 Specify the payment method. For example, to use VISA credit card, click "VISA" icon.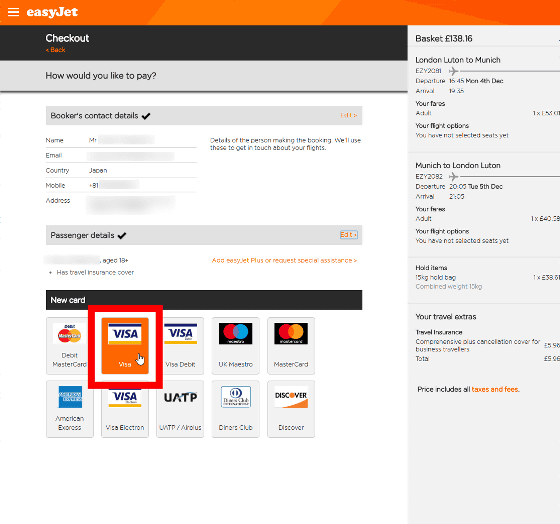 Enter credit card information and click "Pay now".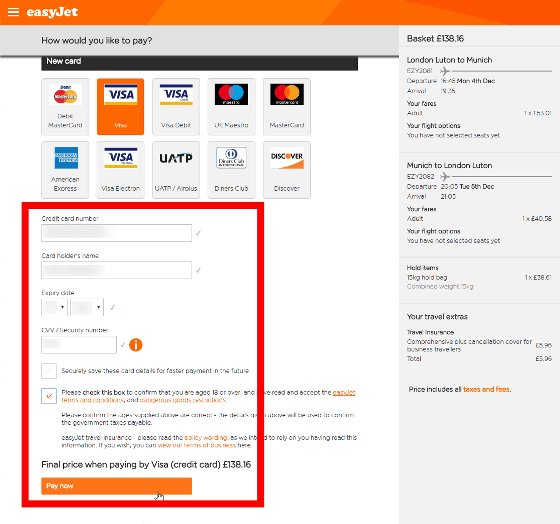 If you see "Your booking ET (number) is confirmed" on the screen, purchase of the ticket is completed.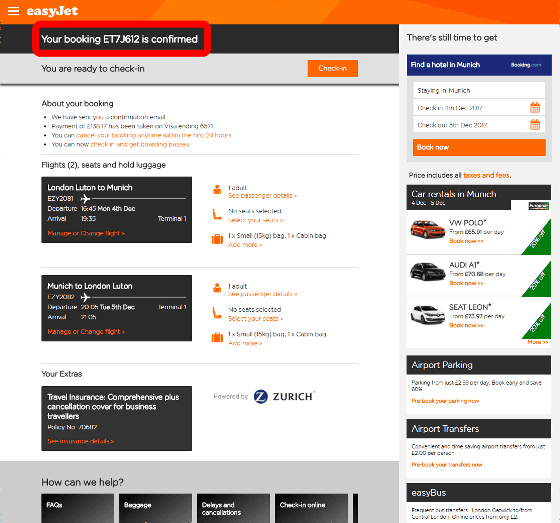 After a while, an e-ticket was sent to the registered e-mail address.




Travel insurance email also arrived.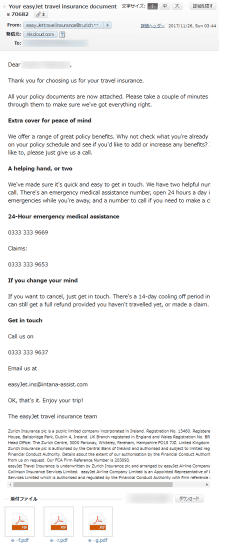 easyJet has to do online check-in work two hours before the flight time. Please note that you may not be able to board if you forget check-in work just by purchasing a ticket. To check in,easyJet's official websiteAccess.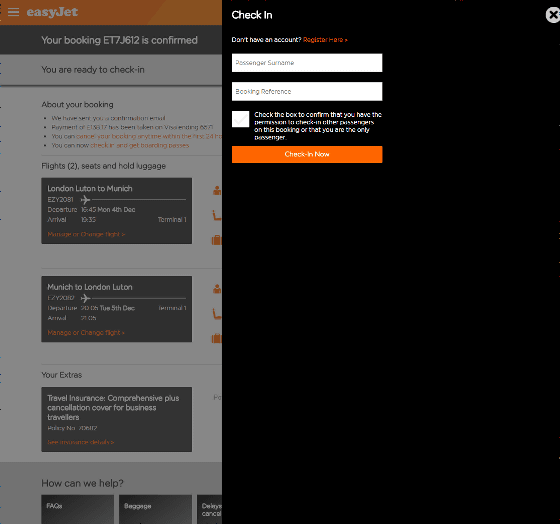 Enter "family name" and "reservation code" and click "Check in Now".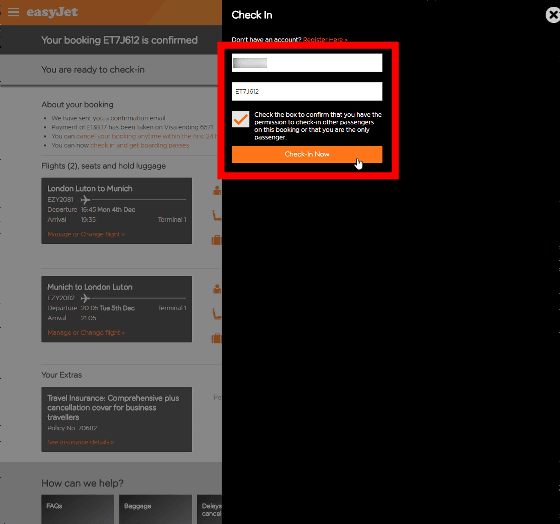 A reserved e-ticket was displayed.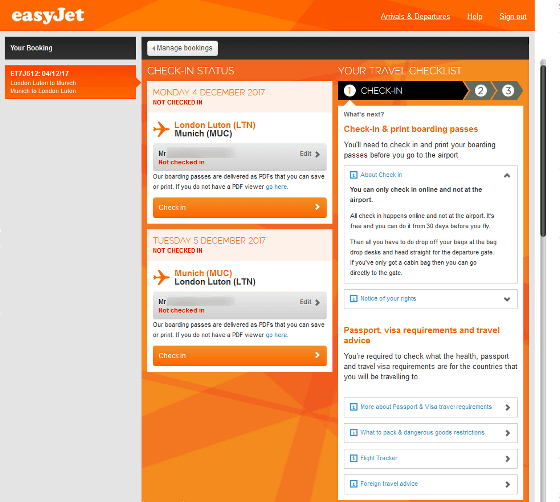 Click "Check in" on the ticket for check-in work.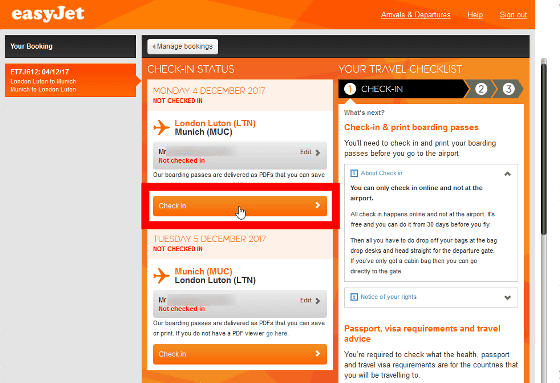 The hotel and taxi options will be displayed, but click "Continue to check in".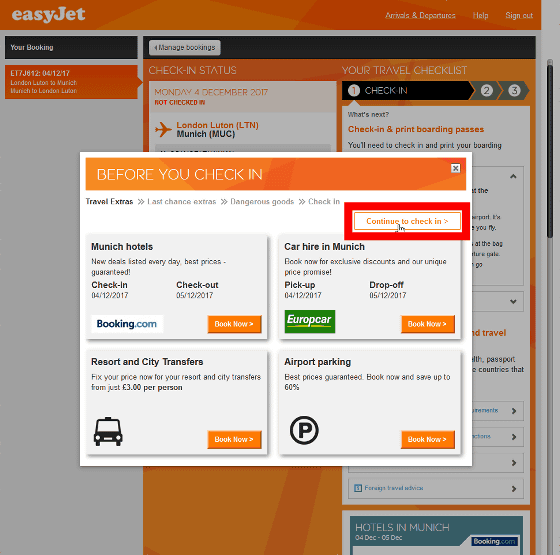 Options such as seat assignment and checked baggage are displayed, but click "Continue to check in".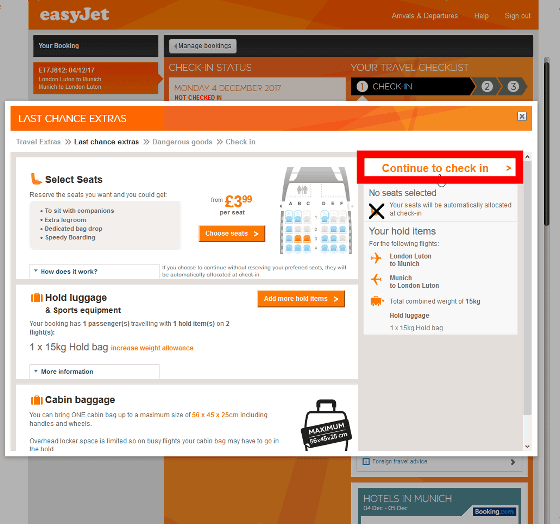 Confirm the notes and click "Accept and continue".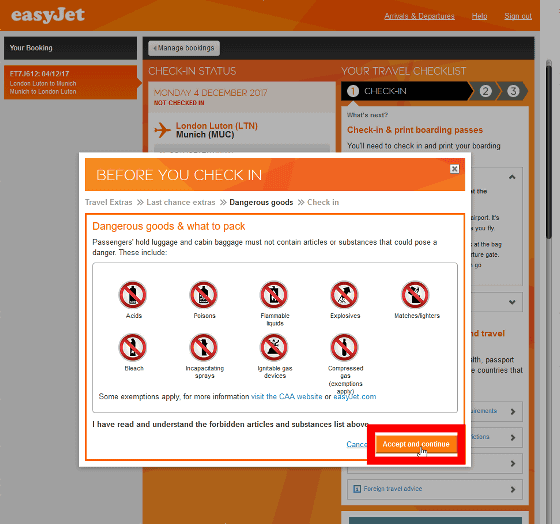 To check in round trip tickets in one stroke, click "Yes, all flights".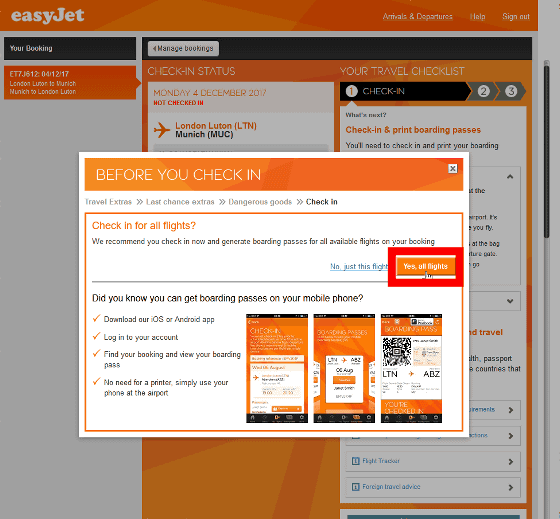 Check in "CHECK-IN" in the right pane, the check-in work is completed. In addition, to display your boarding pass, click "Print all boading passes" to save the file.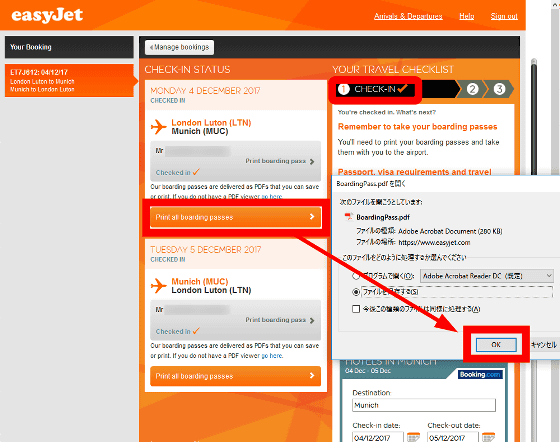 Your boarding pass was displayed in PDF format. You will print out this boarding pass or save it on your smartphone and present it at the airport and board your plane.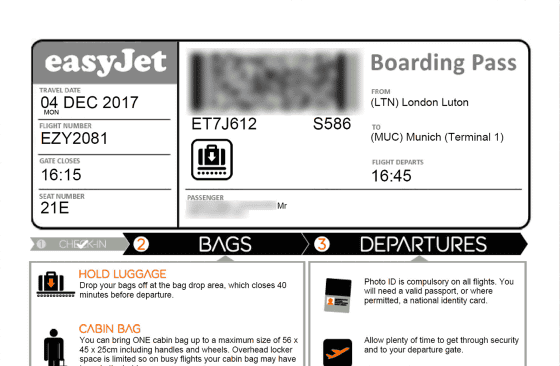 ◆ arrange a shuttle bus to Luton Airport with easyBus
This round ticket for London - Munich round - trip ticket has designated "Luton airport" for both going and returning. So we had to reserve shuttle bus from London city to Luton Airport.

Luton airport is home of easyJet, so please make an appointment for shuttle bus for easyJet users with easyJet group company "easyBus"Is going. EasyBus sells not only easybus exclusive minibus but also major shuttle bus tickets such as national espress at reasonable prices, so easyJet users know and there is no loss.

London Airport Transfers to Gatwick, Stansted & amp; Luton | easyBus
http://www.easybus.com/en/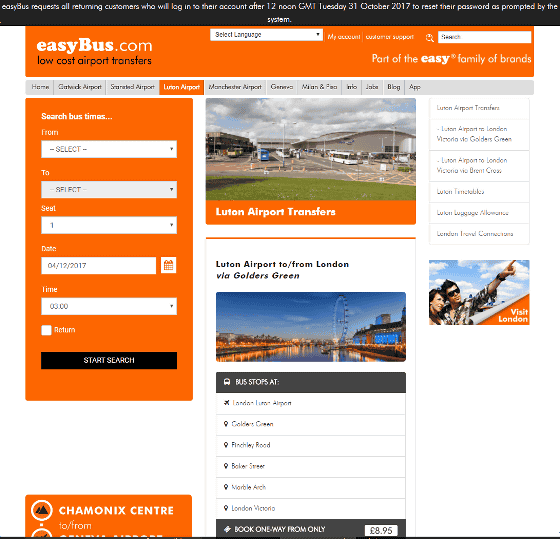 Select the departure / arrival of the bus from "From".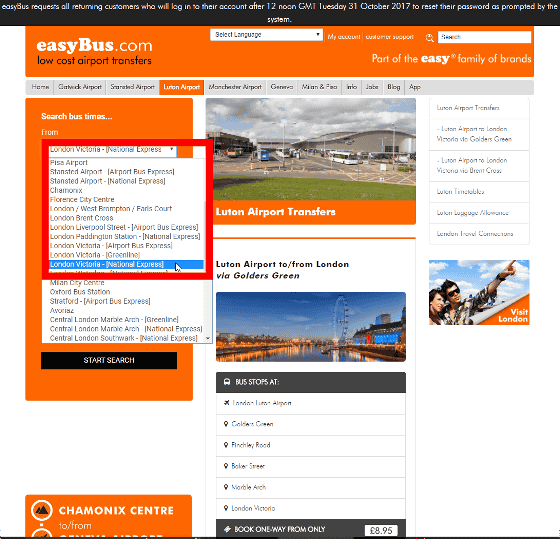 Next, designate "Luton Airport" as the destination.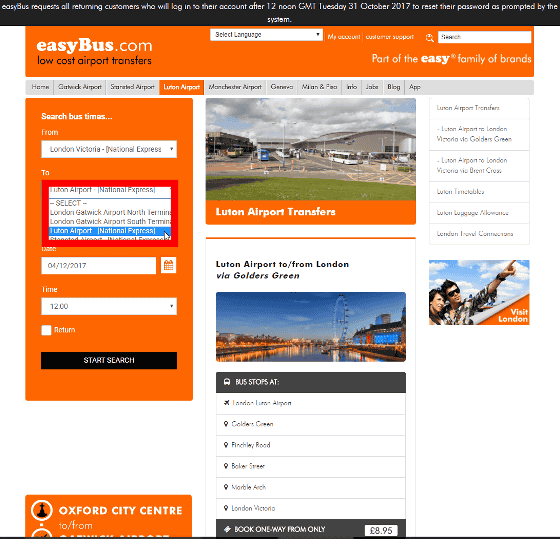 Specify approximate ride date and time ......



Click "START SEARCH".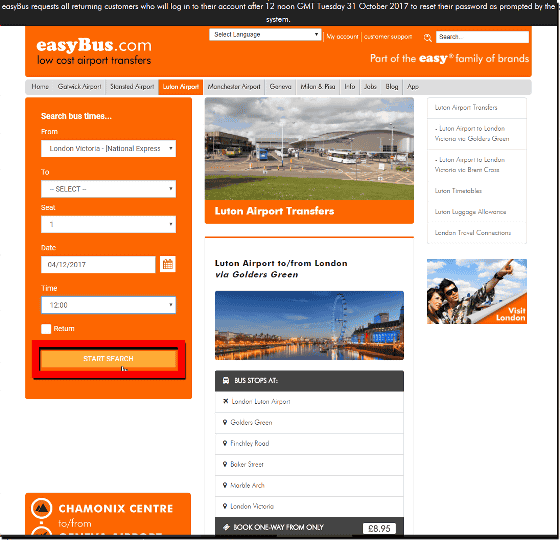 Since the national espress flight departing at 12 o'clock has become "7.99 pounds (about 1200 yen)" cheaper than the fixed price, please select this and click "ADD TO BASKET".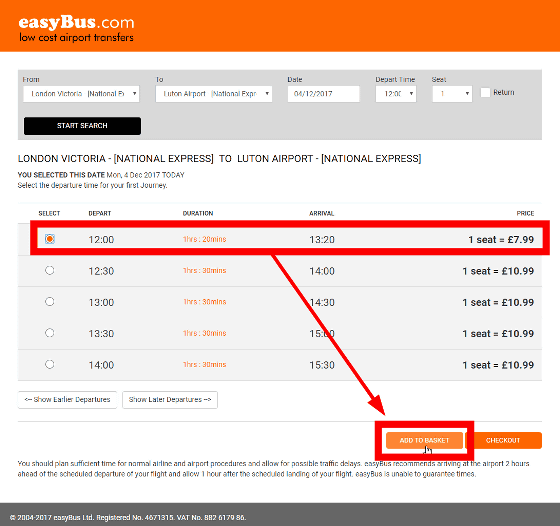 Click "CHEKOUT".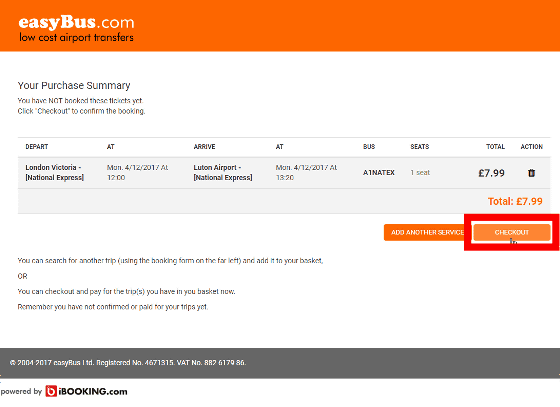 If you have an easyBus account, you can log in. To create a new account, enter the name, e-mail address, address, telephone number on the form "NEW CUSTOMER?" And click "NEXT".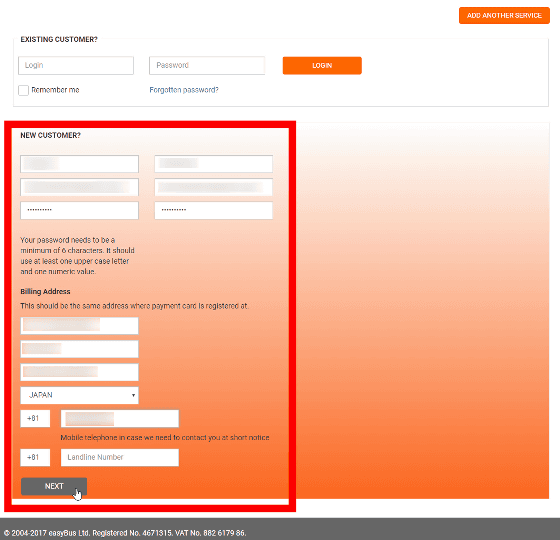 Check it and click "PROCEED TO PAY".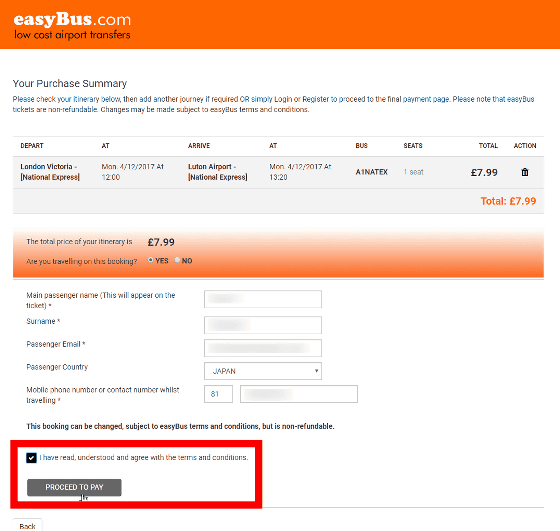 Since the credit card input screen starts, after entering the credit card information, click "Pay Now".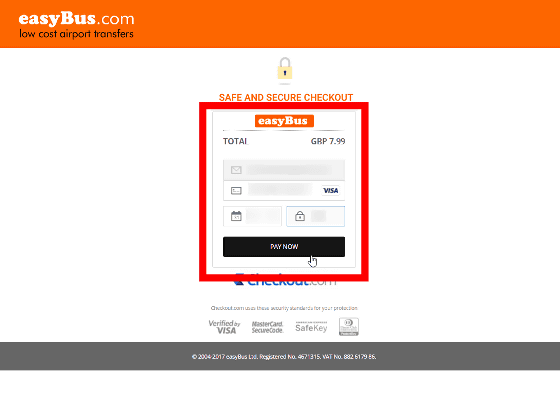 After waiting for a while ... ....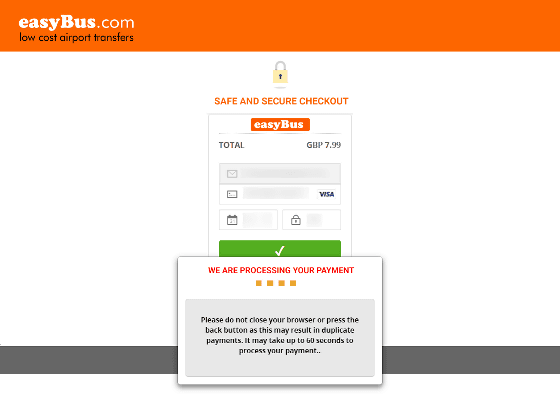 booking is done. Click "PRINT TICKET" ......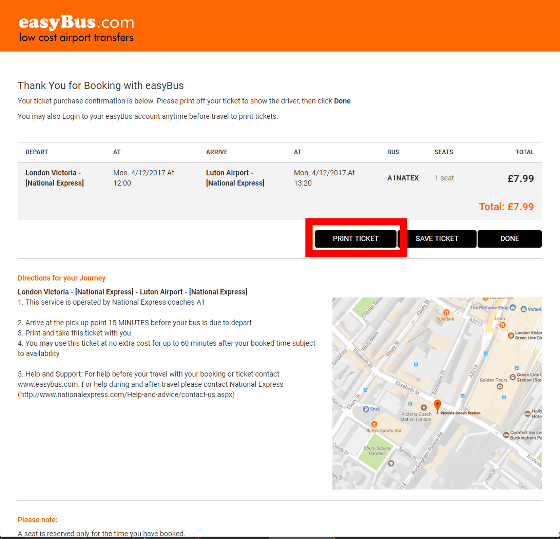 Bus tickets will be displayed in PDF format. Print this ticket or save it on your smartphone and show it when you board the bus.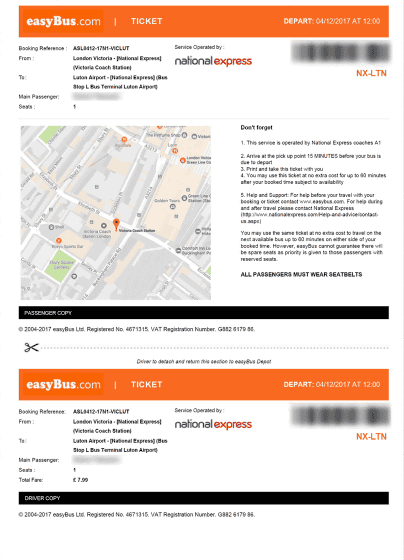 In addition, a reservation completion mail with a bus ticket attached also to the registered mail address was received.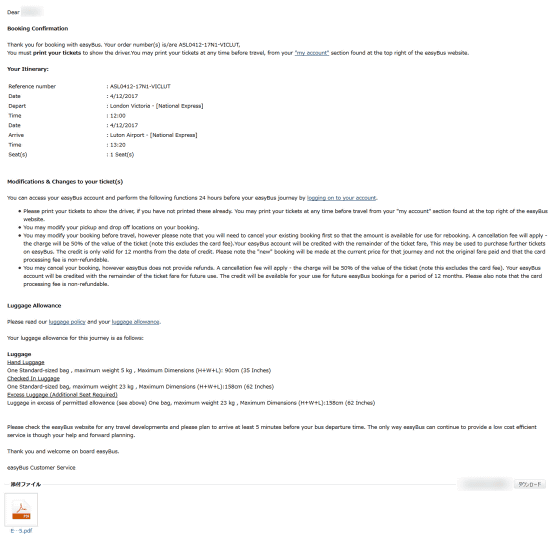 ◆ To Luton Airport
That's why I leave for Munich. Bus departure place "Victoria Coach Station"Arrival in.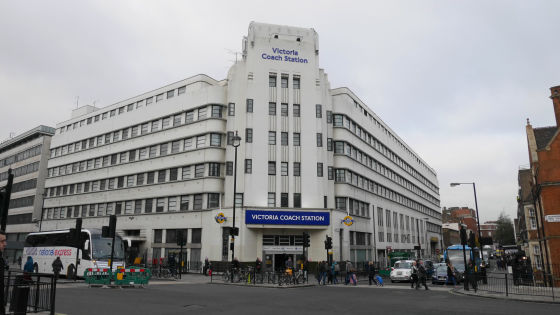 There was a crowd at the information desk at the building entrance.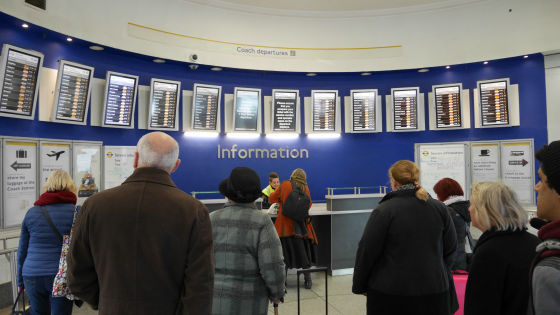 After confirming the information display of national espress, it seems that departing from "Gate 10 (10th gate)" to "Luton & Airport".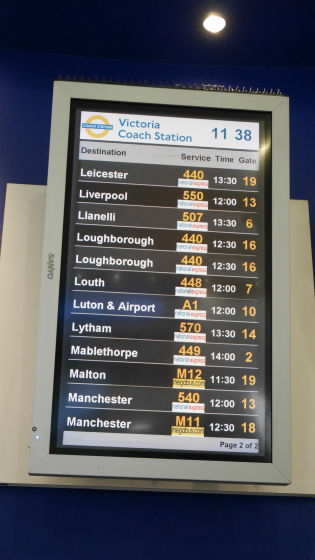 In the station premises, the gate of the bus is lined up like this. Gate 10 is in the back of the picture.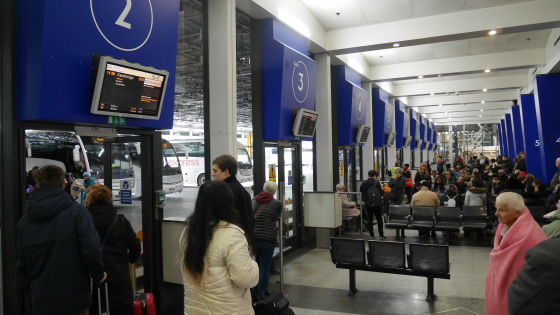 The bus arrived. I showed the ticket saved on the smartphone to the driver, deposited my baggage and got on the bus.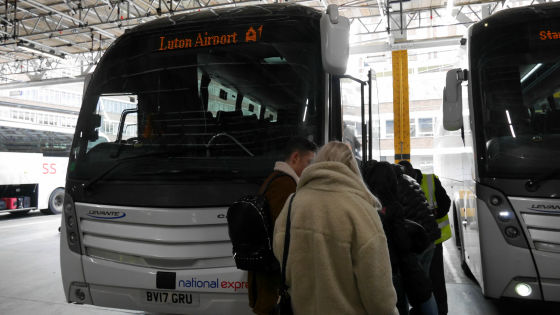 ◆ From Luton Airport to Munich
Traffic jam in London city was terrible and it took 1 hour 50 minutes to Luton Airport this day. It is recommended to leave to Luton Airport with sufficient margin.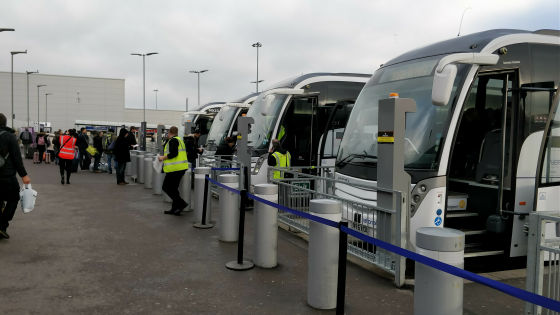 Standing at the bus stop, the left side is the arrival gate and the right side is the departure gate. So, go to the right side and enter the building with the display "Departures (departure)".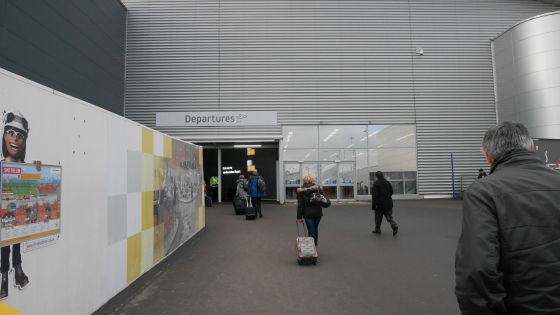 Luton airport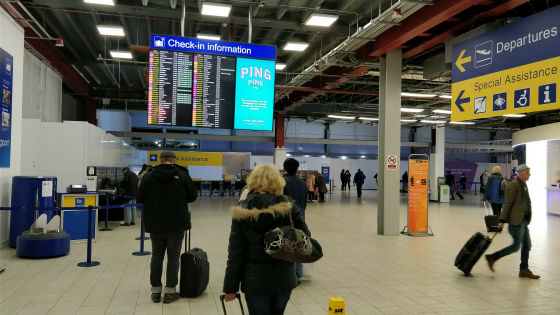 The easyJet check-in counters based on Luton airport are lined up.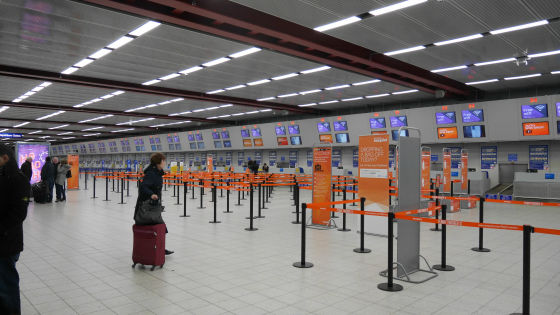 What is extremely important is a metal basket exclusively for easyJet. In easyJet, only one piece of baggage that enters this iron box is permitted for "in-flight" as "baggage". There is no weight restriction on baggage, how much heavy baggage is OK. Even if it is a plurality of bags, it is OK if it is attached with a string and it fits in this box. On the contrary, if you oversize even a slight amount, you will be charged an additional charge as a penalty without asking questions. In addition, I saw that a man carrying a carry bag that can not fit into the box at the boarding gate on the way back from Munich is being sentenced to be heartless "with an additional cost of 60 euros (about 8000 yen)!" did. In order to use cheap easyJet wisely, you should remember that you need to get along well with this box.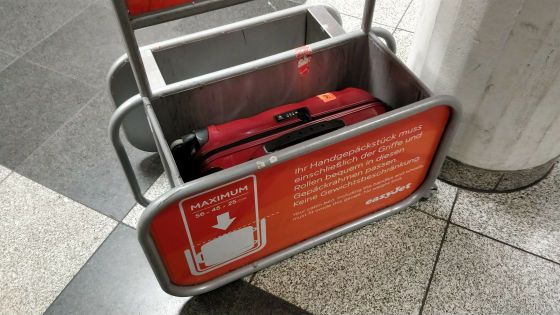 If there is a charged baggage checked, we will deposit it with a machine dedicated to the photo and do the work. The bottom left metal plate has become a measure to weigh the load.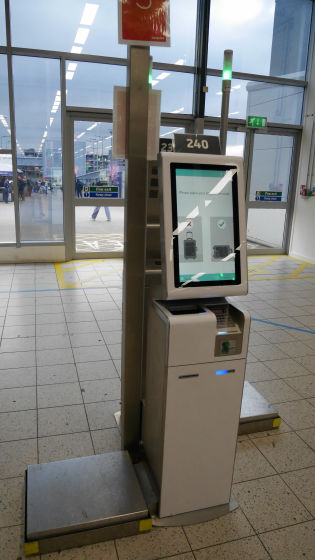 Place the baggage to be deposited on the metal plate and display the boarding pass on the smartphone ......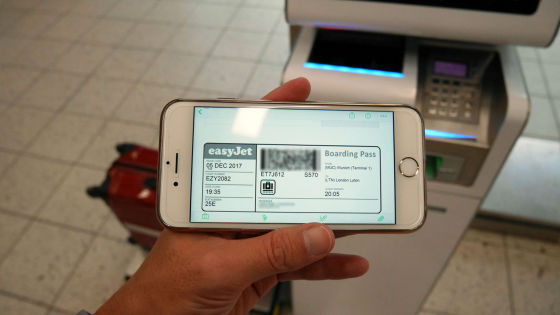 Make it scanner read.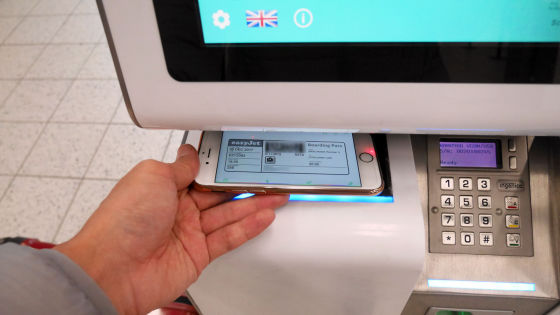 Tap on "Agree" as deposit on the screen and attention to the package is displayed.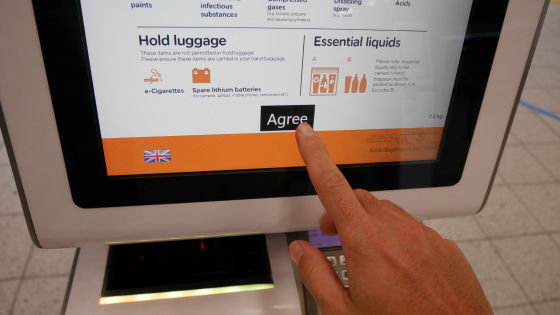 Then tags deposited from the machine and attached to the package are printed out.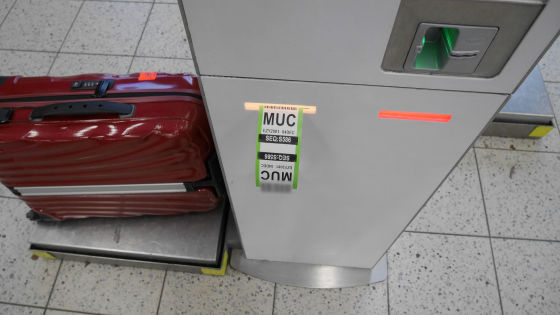 Because the tag is a seal ......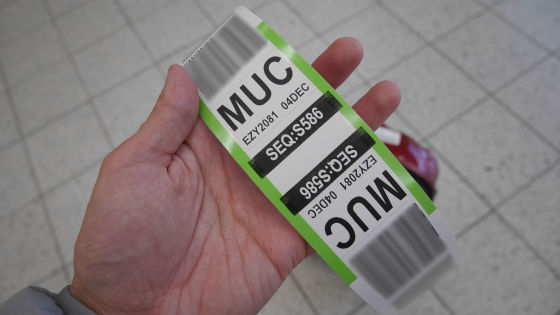 It is ok if you attach it to the handle etc of the baggage you can deposit.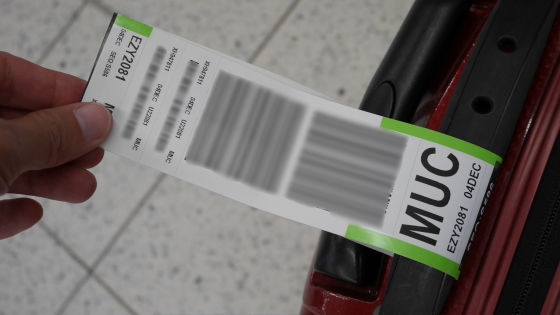 The bag with the tag attached is OK if you deposit it from the belt of the counter.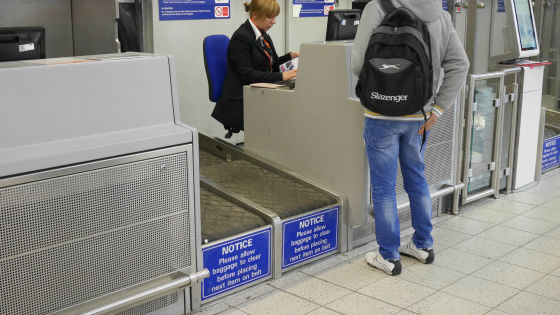 Check-in work is completed earlier than planned. The previous shelter destination that has passed through the security checkpoint a number of airplane of orange color of easyJet, had been prepared.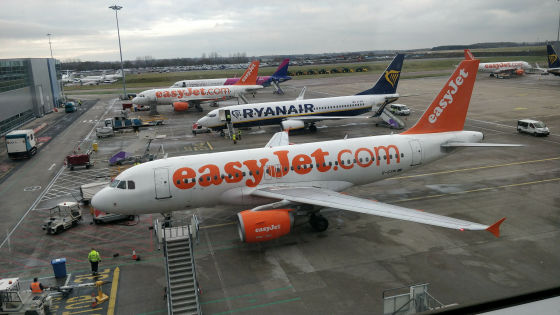 Since the boarding gate can not be decided up to the last minute, it is necessary to always keep in mind.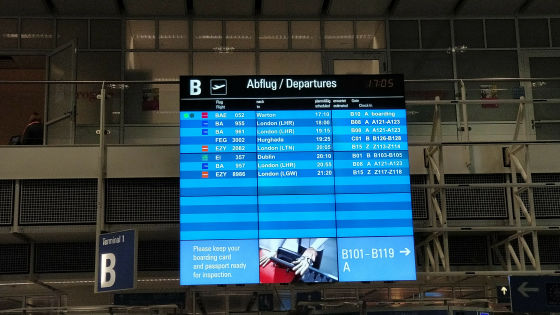 The reason is to survive the fierce competition for carrying baggage. When the boarding gate is decided, the easyJet user starts heading to the gate for us. Although it was pretty quick, it was around 10th.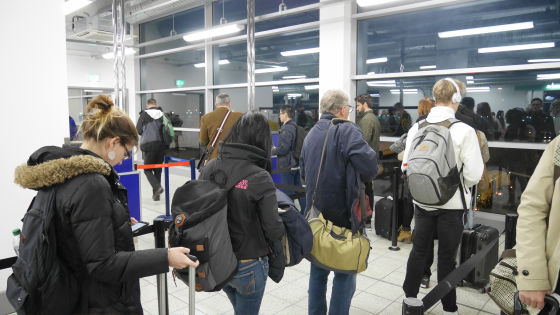 Get on board the plane ......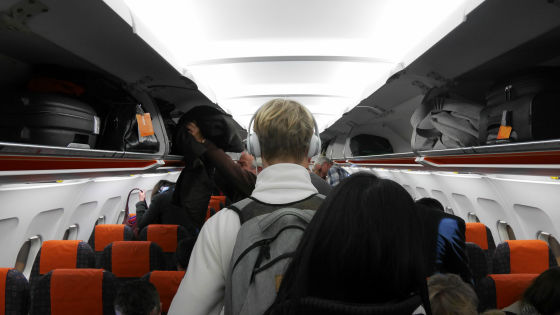 Everything will store your luggage in desperate form. Securing Storage Locations Because the competition is intense, we are all rushing to boarding.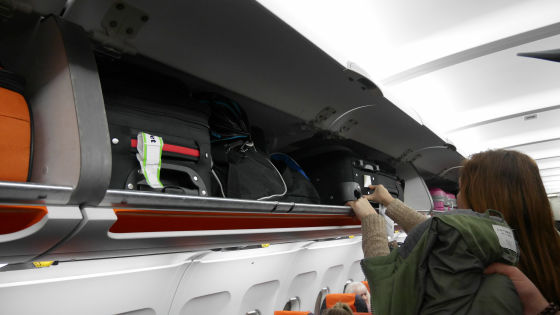 easyJet has rules such as strict baggage restriction regulation and online ticket reservation / check-in work, but if you clear up these difficulties, traveling to various places in Europe with the Luton Airport in the UK as a hub It is possible. When visiting Europe such as England and Italy, it became a powerful weapon to extend to other parts of Europe LCC.