I tried using "PlainStyle" which makes it easy to post a strange looking character on Twitter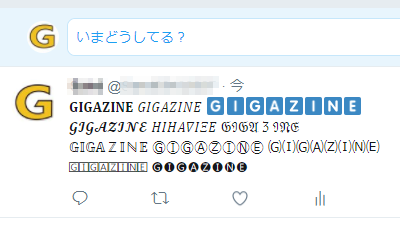 Greek letters and cursiveUnicodeIt is easy to tweet one unusual appearance character of "PlainStyle"is. It is useful when you want to convert a plain text sentence into a special character only partially, and you want to make a tweet with impact.

PlainStyle | Chapo warehouse
http://www.shapoco.net/plainstyle/

◆ How to use
"PlainStyle"And enter the alphabet letters on the input form. In this example, enter "GIGAZINE" and click the "bold" button next to "Default".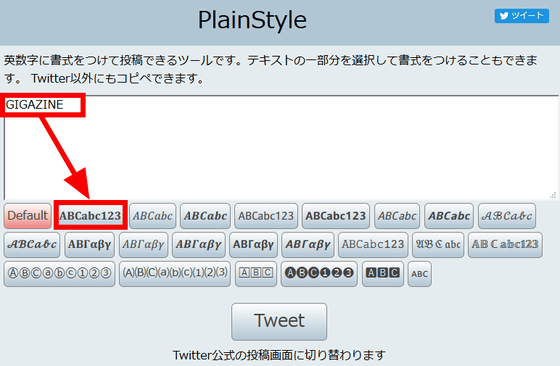 The entered "GIGAZINE" character changes to bold. If you click the "Tweet" button here ...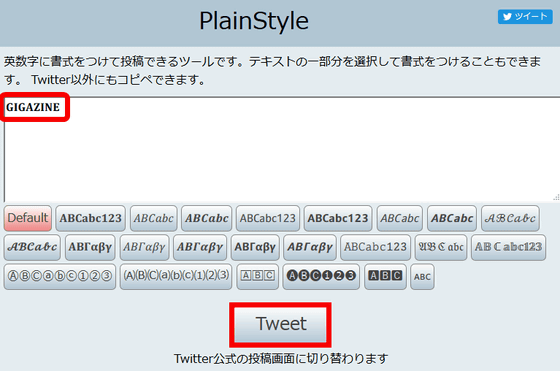 Since Twitter's contribution screen is displayed, click "tweet" button



I was able to mutter "GIGAZINE" in bold.




It is obvious even when compared with Tweet that tweeted "GIGAZINE" without using "PlainStyle".




By the way, you can select only some characters and change the typeface.




Selectable styles
There are 23 styles that can be selected with "PlainStyle" except for the default styles.




Bold




Italic




Bold type / italic type




Sans serif



Sans serif (bold)




Sans serif (italic)




Sans serif (bold / italic)




Cursive




Cursive writing (bold)




Greek letters (bold)




Greek letters (italics)




Greek letters (bold and italic)




Greek letters (sans serif bold)




Greek letters (sans serif / bold / italic)




Monospaced font




Fractuture




Blackboard letter




A circled character.




Characters enclosed in parentheses.




A character enclosed in a square.




Characters surrounded by bullets.




A character surrounded by a black square.




Regional Indicator




◆ Attention
"PlainStyle" converts the alphanumeric characters entered into the character code of the corresponding pictogram of Unicode. Since the characters themselves can be used as text, they can also be used on Facebook etc. However, because it is a special character, even if it is used as a hash tag on Twitter, it does not function as a link, or depending on the OS used, it may not be able to display properly, so be careful. According to the restriction of "PlainStyle", it can be displayed in "Windows 10", "macOS High Sierra", "iOS 11.1", and "Android 8.0". It seems better not to use it when sending important messages.