AMD releases the CPU "Ryzen Mobile" for Vega GPU built-in notebook PC with more than twice the performance of Intel Core i7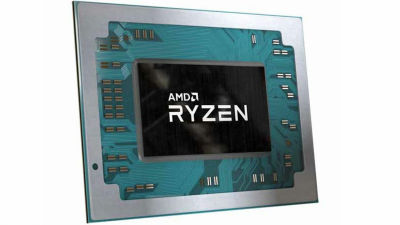 New CPU (APU) for laptop PC that combines Zen microarchitecture CPU and Vega architecture GPU "Ryzen Mobile"AMD announced. With the advent of Ryzen Mobile, which has the performance to overwhelm the Intel mobile CPU, it seems that AMD will be going to slash into the thin notebook PC market.

AMD Launches Ryzen Mobile Processors
http://www.tomshardware.com/news/amd-apu-ryzen-mobile-vega,35771.html

AMD Mobile Ryzen APUs To Power Acer, HP, Lenovo Ultra-Thin Laptops
http://www.tomshardware.com/news/amd-mobile-ryzen-apu-laptops,35772.html

As announced at COMPUTEX TAIPEI 2017 held in June 2017, "Ryzen Mobile" that was supposed to appear within the year. A new CPU (code name Raven Ridge) equipped with a GPU function that incorporates Zen microarchitecture for CPU, Vega architecture for GPU, and new architecture, first appeared from "Ryzen Mobile" for power saving such as thin notebook PC I decided to do it.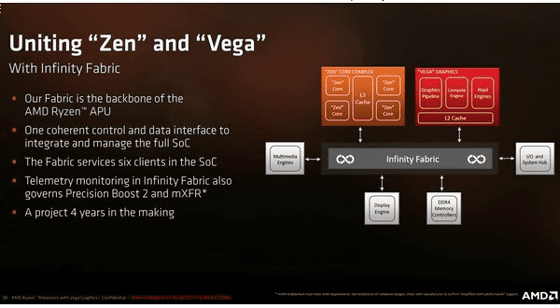 Unlike Ryzen 7 for desktop and Ryzen Threadripper, Ryzen Mobile will mount only one Core Complex (CCX) in the CPU die.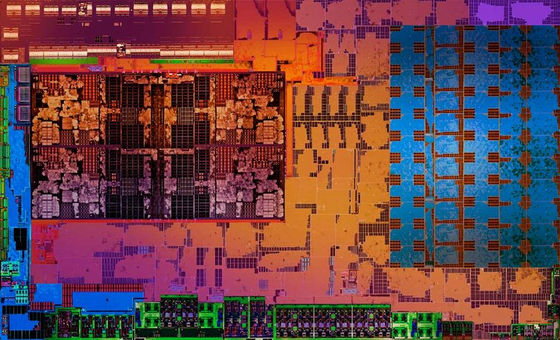 AMD's Lisa Su CEO said, "Ryzen Mobile with a TDP of 15 W will bring the best performance ever to extremely thin notebook PCs." The performance of Ryzen Mobile can be confirmed in the following movie.

AMD Ryzen ™ Processor with Radeon ™ Vega Graphics - YouTube


Ryzen Mobile comes out from two kinds, Ryzen 7 2700 U of the upper model and Ryzen 5 2500 U of the middle model. Both 2700 U and 2500 U CPUs with 4 cores / 8 threads, the number of CU (Compute Units) of the GPU is different.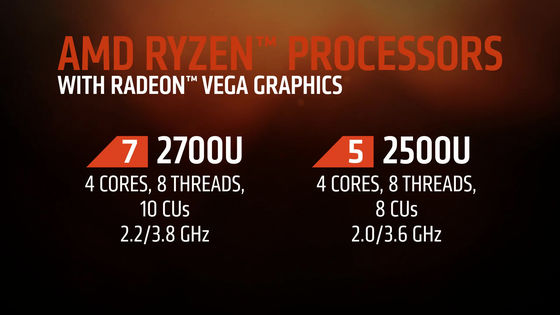 Sue CEO who shows Robert Hallock a demo.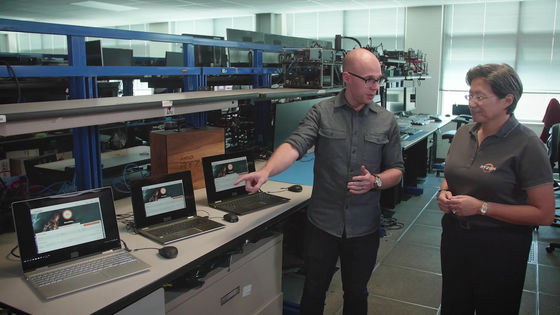 Along with Ryzen Mobile loaded machines, I will compare performance using laptops equipped with rival Intel 7th generation (Kaby Lake) Core i7.



The result of 3DMark is Ryzen 7 2700 U scored more than 2.5 times the ratio of Core i 7 7500 U.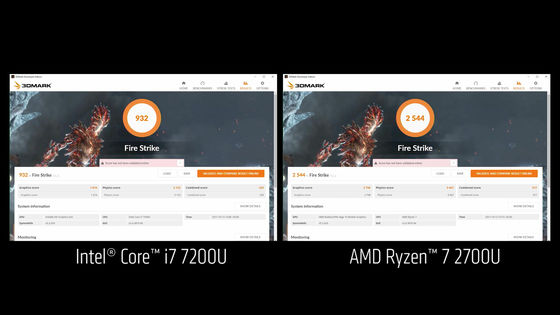 Core i 5 Ryzen 5 2500 U is also double score for 7200 U.



Noteworthy is GPU performance of Ryzen Mobile. Ryzen Mobile's GPU built into the CPU has the ability to perform 3D game play.



In order to appeal the astonishing performance of Ryzen Mobile, AMD is comparing performance against Core i 7 - 8550 U of rival Intel 8th generation core processor (Kaby Lake Refresh). The specifications summarized by Tom's Hardware are as follows. Both are 4 cores / 8 threads, which is the content which raises the performance of notebook PC by one step from the past.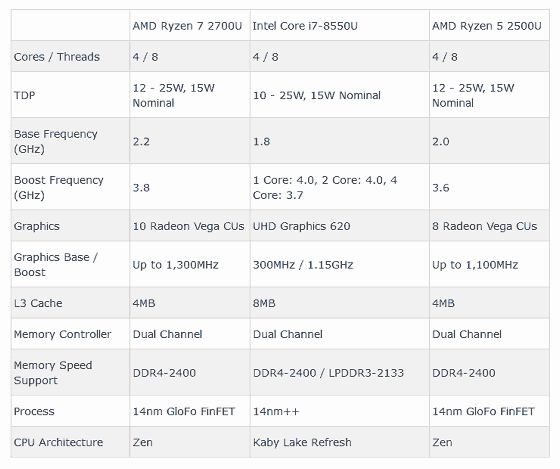 Although it is equivalent performance in single thread, Ryzen 7 2700 U will beat out the performance that separates about 40% of Core i 7 of 7th generation and 8th generation in multithreading.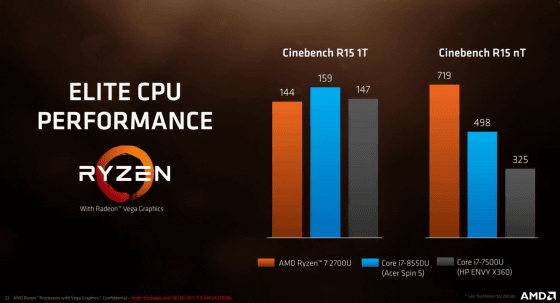 In 3DMark Timespy Ryzen 7 2700 U wins the game. It is possible to realize the CPU · GPU performance exceeding the specification of the gaming PC equipped with Core i 7-7500 U + GeForce 950 M with a lighter notebook PC.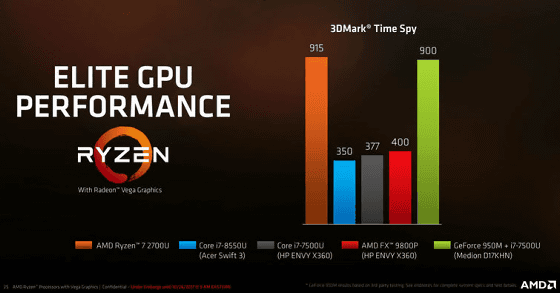 The phenomenal thing is that the Ryzen 7 2700U realizes the performance exceeding the Core i 5 - 7600 K for the desktop with a TDP of 91 W within the limitation of "TDP 15 W" (cTDP 12 W to 25 W). It can bring performance equal to or higher than the main model of the desktop CPU for consumers to a very thin notebook PC.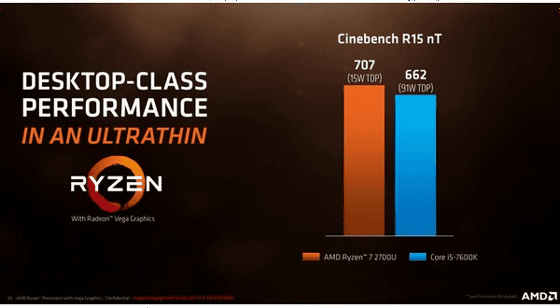 Like the desktop Ryzen 7, it has a function "XFR" that boosts automatically according to cooling conditions. In "mXFR" adopted by Ryzen Mobile, tuning is performed so that the OC state of the clock state can be maintained for a long time if the cooling state is good.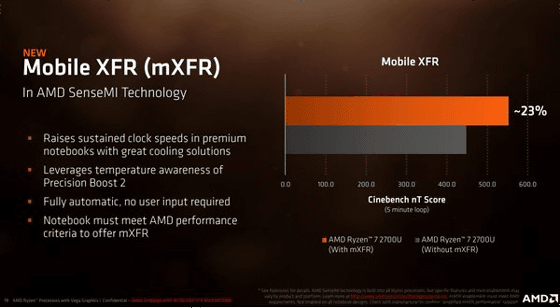 By adopting "Precision Boost 2", the number of active cores to be boosted has been increased to 3 cores (6 threads).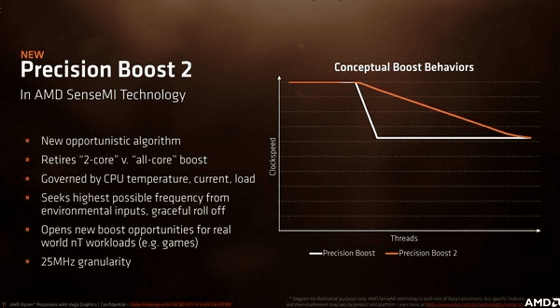 The radar chart showing 3D graphics, power saving performance, productivity, creativity, I / O performance, and data security highlights the superiority of Ryzen 7 2700 U to Core i 7 - 8550 U.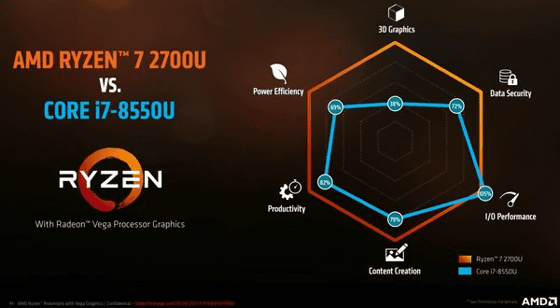 Ryzen 7 FPS of major games is released as if it shows GPU performance of 2700U. With Ryzen Mobile, you can easily move 3D games with an extremely thin notebook PC.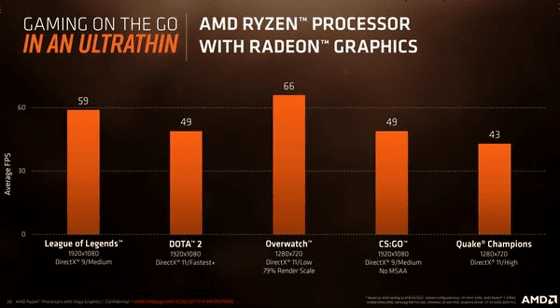 With high video performance, you can watch 4K streaming movie on your laptop.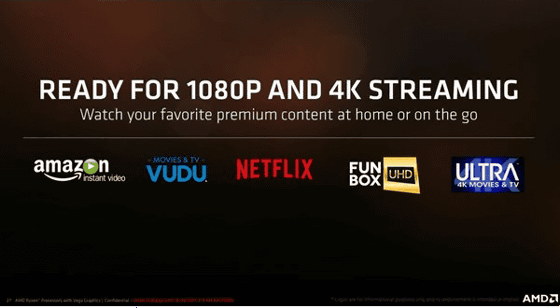 Furthermore, taking advantage of the superiority of AMD "a company capable of providing the only x86 CPU and GPU in the world", Zen microarchitecture + Ryzen of Vega can be used not only for notebook PCs and all-in-one PCs but also for game consoles, aircraft systems, It is appealing in official movies that it can be utilized for cars etc.

Introducing AMD Ryzen ™ Processor with Radeon ™ Vega Graphics: The Ultimate Laptop Processor - YouTube


As Sue CEO touched on the movie, Ryzen Mobile equipped heavy-duty laptop will be put into the market in time for the Christmas season of 2017, and it is already clear that each company has introduced slim-type notebook PC I will.

Acer's "Swift 3"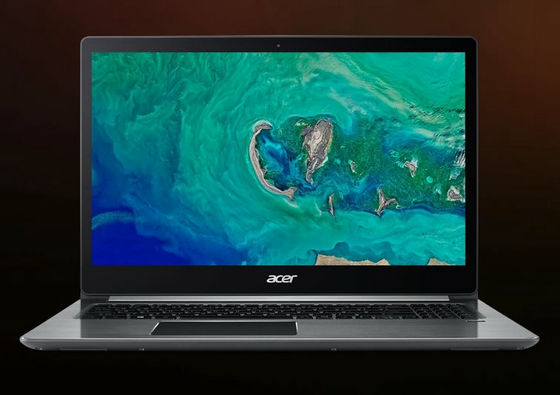 Lenovo's "Ideapad 720S" has a model of Ryzen 7 2700 U / Ryzen 5 2500 U, and can mount 512 GB NVMe · SSD.



HP's "Envy x 360" which adopted AMD FX A12-9800P will also be renewed with Ryzen Mobile. Envy x 360 which adopts Ryzen 5 2500U will be from 699 dollars (about 80,000 yen).



According to AMD's Joe · Makuri, Ryzen Mobile, which was initially developed with the goal of "CPU performance up 50%, GPU performance 50% up, power consumption 50% down", ultimately"CPU performance 200%, GPU performance 128%, power consumption 58% down" achievedAnd that. Ryzen Mobile, which has the power to overwhelm CPUs for rival Intel mobile notebooks, will likely begin to break down the mobile notebook PC market, which was previously the predominant Intel's laptop.

In Ryzen Mobile appearing in 2 models, the lower model "Ryzen Mobile 3" will be released in the first quarter of 2018, "Ryzen Mobile Pro" for business will appear. The desktop Zen + Vega adopted APU will be released after 2018.