AMD's Zen 3 CPU 'Ryzen 5000' series appeared on November 5, 2020, appealing as 'the best gaming CPU in the world'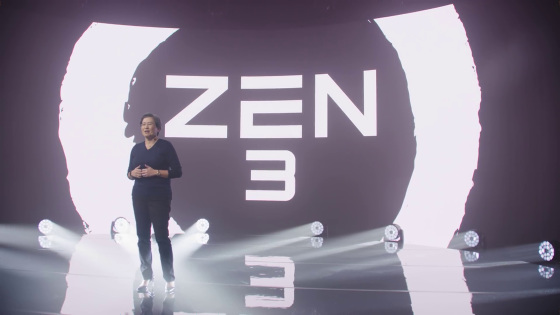 AMD, the chip maker, has announced the Ryzen 5000 series of desktop CPUs with the new Zen 3 architecture. The top model, Ryzen 9 5950X, has 16 cores and 32 threads, and AMD is appealing that it is 'the best gaming CPU in the world.'

AMD Launches AMD Ryzen 5000 Series Desktop Processors: The Fastest Gaming CPUs in the World | AMD

https://www.amd.com/en/press-releases/2020-10-08-amd-launches-amd-ryzen-5000-series-desktop-processors-the-fastest-gaming
AMD Ryzen 5000 and Zen 3 on Nov 5th: + 19% IPC, Claims Best Gaming CPU
https://www.anandtech.com/show/16148/amd-ryzen-5000-and-zen-3-on-nov-5th-19-ipc-claims-best-gaming-cpu
AMD Ryzen 5000 – Zen 3 CPU release date, specs, pricing, and performance | PC Gamer
https://www.pcgamer.com/amd-ryzen-5000-zen-3-release-date-specs-performance/
The announcement by AMD can be seen in the following movie.
Where Gaming Begins | AMD Ryzen ™ Desktop Processors-YouTube
The table below summarizes the specifications of each of the four models that will be the Ryzen 5000 series. The socket standard is AM4, and if the motherboard is equipped with the AMD 500 series chipset, it will be fully compatible with the Ryzen 5000 series by updating the BIOS.
socket
CMOS
Core / thread
Fundamental frequency
Maximum boost frequency
L2 total
L3 total
Thermal design power (TDP)
price
Ryzen 9 5950X
AM4
TSMC 7nm FinFET
16/32
3.4 GHz
4.9 GHz
8 MB
64 MB
105 W
$ 799
(Approximately 85,000 yen)
Ryzen 9 5900X
AM4
TSMC 7nm FinFET
12/24
3.7 GHz
4.8 GHz
6 MB
64 MB
105 W
$ 549
(Approximately 58,000 yen)
Ryzen 7 5800X
AM4
TSMC 7nm FinFET
8/16
3.8 GHz
4.7 GHz
4 MB
32 MB
105W
$ 449
(About 48,000 yen)
Ryzen 5 5600X
AM4
TSMC 7nm FinFET
6/12
3.7 GHz
4.6 GHz
3 MB
32 MB
65 W
$ 299
(Approximately 32,000 yen)
The price of the Ryzen 5000 series is about 50 dollars (about 5300 yen) higher than the previous generation. Also, the CPU cooler familiar with AMD CPU is said to be attached only to Ryzen 5 5600 X. Please note that all processors support DDR4-3200 memory.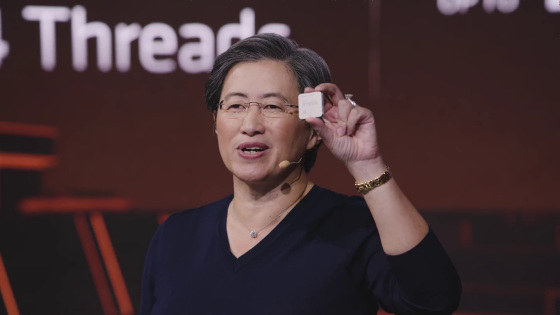 According to AMD, the Ryzen 5000 series, which uses the Zen 3 architecture, has a 19% increase in the number of instructions executed per frequency compared to the previous generation. Also, compared to the competing Intel Core i9-10900K, the performance per power will be up to 2.8 times.

In particular, AMD appeals that the top model Ryzen 9 5950X has the best performance in both single thread and multithread as a gaming CPU for desktop. 'When playing some game titles in 1080p resolution, it's an average of 7% faster than competitors' CPUs, and an average of 26% faster overall game,' he reports.

The Ryzen 5000 series will be released on November 5, 2020. In addition, the Radeon RX 6000 series, which was introduced for a moment at the recital, will be released on October 28th.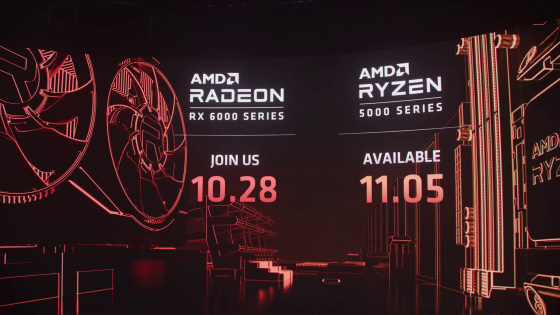 In addition, the 'AMD Ryzen Equipped to Win Game Bundle Program' that allows you to get PC games together is applied to Ryzen 9 5950X, Ryzen 9 5900X, Ryzen 7 5800X, and the digital version of the popular PC game '
FarCry 6
' for PC is available. You can get it for free. Furthermore, from October 20, 2020 to December 31, 2020, FarCry 6 will also be included in the Ryzen 9 3950X, Ryzen 9 3900XT, and Ryzen 7 3800XT that adopted the Zen 2 architecture.
'The new AMD desktop CPUs, the Ryzen 5000 Series, range from instruction per cycle, power efficiency to single-core performance, multi-core performance and gaming,' said Saeid Moshkelani, Senior Vice President, Client Business, AMD. We will expand our leadership, 'he emphasizes that the Ryzen 5000 series is the best gaming CPU in the industry.