VR camera "360 Round" capable of streaming 4K 3D video with 17 camera lenses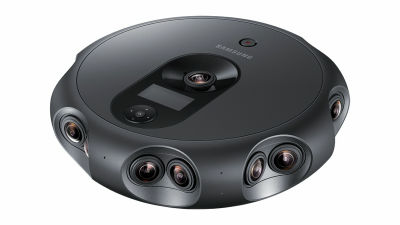 A total of 17 cameras are mounted on the body like a disk, and cameras that can shoot and deliver images around 360 degrees around themselves "360 Round"Samusung announced.

Experience Samsung 360 Round, a High-Quality Camera for Creating and Livestreaming 3D Content for Virtual Reality (VR)
http://www.samsungmobilepress.com/news/experience-samsung-360-round,-a-high-quality-camera-for-creating-and-livestreaming-3d-content-for-virtual-reality-(vr)

The 360 ​​Round announced in the "Samsung Developer Conference" (SDC 2017) held in Samusung in California on October 18, 2017, placed the lens around the body 205 × height 76.8 mm body and the top I did a 360 degree camera. It is possible to distribute 4K 3D video and sound live streaming by placing 2 fish-eye lens cameras on the ceiling, shooting the entire top surface, and 8 sets of one set of cameras on the circumference part. 360 Round has IP65 compliant waterproof and dustproof, it also supports outdoor use including rainy environment. Because it is fan-less design, it is built so that noise does not mix in shooting.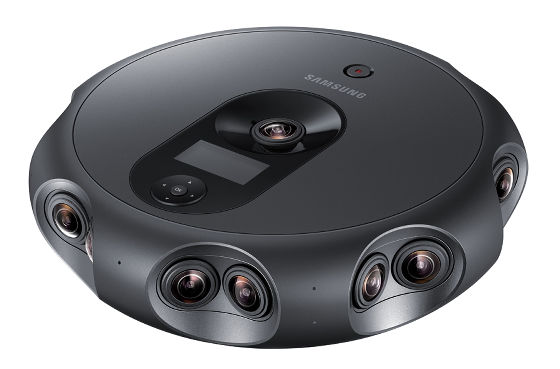 With the proliferation of VR devices and the expansion of platforms compatible with 3D content such as YouTube and Facebook, Samusung is introducing this device in response to the growing needs for VR creators and enthusiasts to achieve high image quality 360 pictures. Suk-Jea Hahn, executive vice president of Samsung Electronics Global Mobile B2B team, said, "Samsung develops products with innovative VR capabilities that video producers and broadcasters can easily produce high-quality 3D content With the response to live streaming delivery, the waterproof / dustproof performance of the IP65 standard, and 17 lenses, this camera makes it ideal for the needs of a wide range of customers, and from multiple streams of large events It is possible to cope with photography at training facilities in the industry, "he says in the release.

360 Round will be sold in the United States first in October 2017. Release dates and prices in other areas are not disclosed at the time of article creation.

◆ Camera
· 17 lenses
· 1 / 2.8 inch 2 million pixel image sensor
· F1.8 lens

◆ Voice
· Built-in six microphones to record 360-degree sound "Spatial Audio"
· External microphone terminal × 2

A picture
【resolution】
· Live streaming (3D): 4096 × 2048 @ 30 fps (one eye each)
· Live streaming (2D): 4096 × 2048 @ 30 fps
· Shooting (3D): 4096 × 2048 @ 30 fps (one eye at a time)
· Shooting (2D): 4096 × 2048 @ 30 fps

【format】
· MP 4 (H.265 / H.264)
· 3D: 4 K × 2 K (for each eye) / 2 D: 4 K × 2 K

◆ Storage
【Internal storage】
LPDDR 3 10 GB, eMMC 40 GB

[External storage]
UHS-II SD card (maximum 256 GB), SSD (maximum 2 TB)

◆ Connection terminal
LAN, USB Type-C

Built-in sensor
Gyro sensor, acceleration sensor

◆ Power supply
19 V 2.1 A Power input (AC adapter)

◆ PC operating environment
Two PCs with software installed (for camera control and preview / streaming distribution)

【Editing environment】
· Windows 10
· 64-bit OS (for 4K video editing)
· 16GB DDR4 RAM 2EA or more
· Power supply capacity 850 W
· Intel Core i7-6700K or higher processor
· GPU NVIDIA GTX 1080 x 1EA

【Preview / streaming delivery environment】
· Intel Core i7-6950X or higher
· 32GB DDR4 RAM 2EA or more
· GPU NVIDIA GTX 1080 Ti x 2ea

Body size
205 × 205 × 76.8 mm, 1.93 kg

◆ Other features
· IP65 waterproof · dustproof