Information on the next iPad Pro adopting face ID authentication face ID same as iPhone X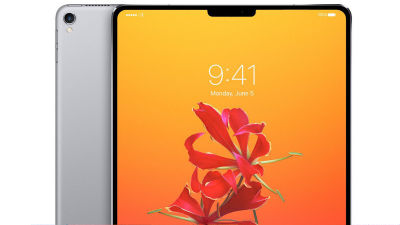 Face authentication function newly adopted in iPhone X "Face IDThe information that Apple is going to adopt for the new iPad Pro is also out.

KGI: iPad Pro upgrade will likely gain Face ID from iPhone X | 9to5Mac
https://9to5mac.com/2017/10/09/kgi-ipad-pro-face-id-iphone-x/

KGI Securities analyst Min-Chi Kuo, known for accurate leak information on Apple products, said reliable source sources said "Face IDs similar to iPhone X may be adopted in the next iPad Pro" He said he got information. iPad Pro is a flagship model of the tablet iPad series, and it is seen as equipped with a TrueDepth camera and Face ID function to differentiate it from other iPads.

A design plan for iPad Pro that shares the concept of iPhone X has already been created by designers.

iPad Pro mockup, z notch. Śliczny. Nie używalny, ale śliczny. Ekran miałby 11, 5 ".https://t.co/l3dQy82OYhpic.twitter.com/MsSMgsKgAT

- Wojtek Pietrusiewicz (@ morid 1 n)September 16, 2017

The Face ID function is a unique function only for iPhone X, not in the iPhone 8 series, but in order to promote the development of applications that utilize the function, releasing the function not only to iPhone X but also to other terminals It makes sense. However, as one of the reasons why manufacturing of iPhone X is difficult is delay in parts procurement of the sensor housing unit including the TrueDepth camera, it is unclear whether the face ID function can be opened to iPad Pro as well as iPhone X .

The current model of iPad Pro was announced in June 2017As a result, it seems that iPad Pro adopting Face ID adopts from 2018 model as soon as possible. In addition to the TrueDepth camera, details such as whether to adopt a bezelless display or a Toutch ID function are unknown.