"BEATLESS" decided to animate, director Shizu Mizushima of "Mobile Suit Gundam 00" and "Paradise expulsion"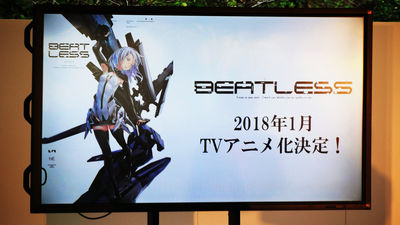 Machi ★ Asobi vol.19In the event entitled "KADOKAWA New Works Presentation" at the Mountain Top of the Mountains of Buddha, SF work of original teacher Toshiji Haseya "BEATLESSAn animation of TV animation was announced. Broadcast is from January 2018. Directed by Shuji Mizushima, whose main works are "Mobile Suit Gundam 00" and "Expedition From Paradise -", series composition is Mr. Tatsuya Takahashi and Miscellaneous Fancy, Character Design is Hiroko Yaguchi, Animation Production isDiomediaI am in charge.

TV anime "BEATLESS Beatless" official website
http://beatless-anime.jp/

Mr. Tamura of Mr. Tamura and Mr. Shimji Mizushima of KADOKAWA appeared on the mountain top of Meiyama, and immediately it was announced that TV program animation of "BEATLESS" by science fiction writer Toshihiro Haseya was made.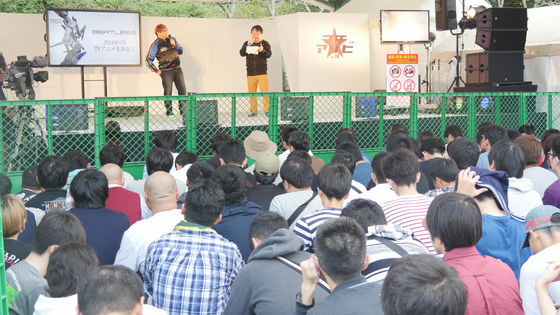 AmazonThe synopsis of the original by.

The future after 100 years from now. A world where most of society has been left to a humanoid robot called hIE. A super altitude AI exceeding the wisdom of mankind has appeared, and the substance "unexplored product of humanity" which far surpassed human technology was born. Lacey with a device like a black coffin. She was "an unfinished product of humanity" produced by super altitude AI exceeding human understanding. A 17 - year - old boy, Endo Arato meets Leishia. Alto is puzzled, suspected, murdered, and is forced to make a choice, with the "human" like human beings evolved to a very advanced state in front of us. Do you believe or not believe? "Boy, Meets, Girl of" Human "and" Mono ". Why were they born? Their existence and the significance of human existence are questioned. And the 17 - year - old boy decides -.

The series composition isTakahashi RyuyaWithMiscassionMr. And the character design is taken care of Hiroko Yaguchi who served as the character design of the animation "Akatsu!" Diomedia is in charge of animation production.

Subsequently, Professor Toshiyasu Haseya (the second from the left) and redjuice (rightmost) who handled the original illustration appeared.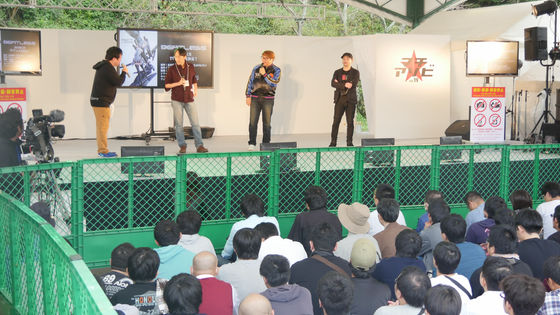 Professor Nagatani makes a screenwriting every week in animation, and in that it seems to be said that Takahashi san of the series and miscellaneous champion are firmly loading the original, the interpretation of the scene is also very firm I was thankful that anyway.

Director Mizushima not only has a large amount of information of the original but also a lot of charm of the character by redjuice's original illustration, so when it animates it it is the first time for animators to know BEATLESS good work It is said that he works hard so that he can be immersed in his work so that he can tell firmly. In animation it seems that you can draw the original basically until the end, the main axis of the story is to become Boy Meets Girl of Lathia and Alato. And about other factors, it seems that we are continuing the discussion of two members of the series composition, Mr. Mizushima and Mr. Nagatani's original four.

In addition, the design drawing of Lesia drawn and raised by redjuice was also released. The design is different from the original suits and designs, rebuilt around the buttocks and reveal that the devices etc. have changed smarter.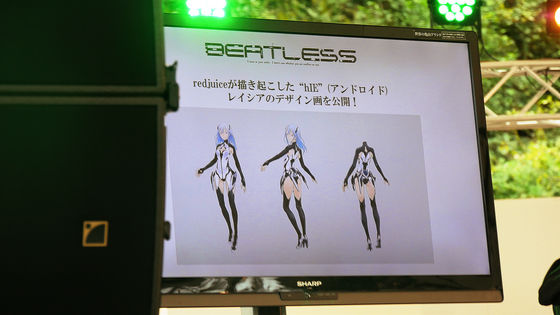 After the presentation, the official website of animation opened.

TV anime "BEATLESS Beatless" official website