"Wii shopping channel" of download purchase service for Wii ended in January 2019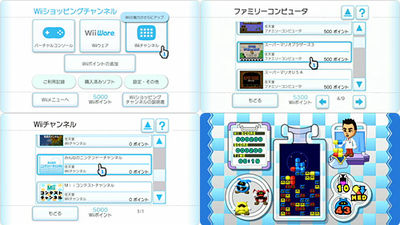 Started service in 2006, available on Wii / Wii U "Wii Shopping ChannelThe schedule for the end of the session was announced. On the Wii shopping channel, I purchase games and contents using "Wii points", but the addition of this Wii point ends at 4:59 on Tuesday, March 27, 2018, purchase of contents will be completed in 2019 It will be finished at 14:59 on January 31 (Thursday).

Notice of closing "Wii Shopping Channel" | Support Information | Nintendo
https://www.nintendo.co.jp/support/information/2017/0929.html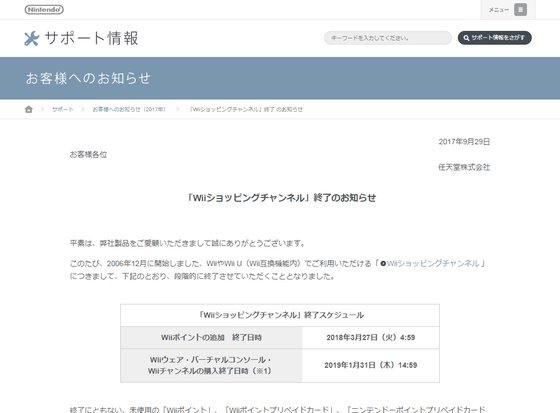 Nintendo announced the end of the service of the Wii shopping channel. The Wii shopping channel is a "virtual console" where you can download nostalgic game software such as NES, Super Nintendo, NINTENDO 64, "Wii channel" where you can enjoy delivered content such as Mii contest channel and everyone's Nintendo channel, new Wii not sold at stores A service that can use functions such as "Wii ware" that can download software for purchase.

The Wii shopping channel end schedule was announced. The addition of the Wii point ends on March 27 (Tue) 4:59 in 2018, the content purchase ends at 14:59 of January 31, 2019 (Thursday).




With the end of the service, it seems that we can refund unused "Wii Point", "Wii Point Prepaid Card" and "Nintendo Point Prepaid Card", but detailed procedural methods etc. will be announced again as soon as we are decided Thing. The "refundable"Nintendo point prepaid card"Is a 4 digit number at the beginning of the management number," Nintendo prepaid card "handled at the time of article creation (7 digits at the beginning of the management number) is not eligible for refund.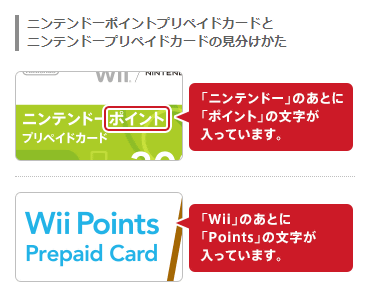 Also, although purchase service will be terminated, you can continue to use "Wii Ware" and "Virtual Console" once purchased and "Moving from Wii" service that moves data from Wii to Wii U. However, it is said that services will be terminated in the future for these functions as well.

Even if the Wii shopping channel ends, the Wii channel · Wii ware · virtual console downloaded to the Wii main unit can play as long as the content side service is not terminated.