A cheap drone is manufactured by a Marine Corps than an iPhone made by a 3D printer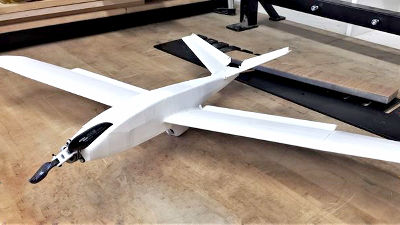 "Drones" and "3D printing technology" are examples of technologies that have developed rapidly in recent years. Regarding drone, there is a need for urgent legislation concerning the use in the private sector, but as for use in the military, problems such as banning the use of drone of DJI from the security problem are occurring. Meanwhile, the NexLog next-generation logistics team of the US Marine Corps is trying to "put in a drones outputted by 3D printing to the actual war" in order to create a cheaper and more user-friendly drone.

The Marine Corps wants to 3D print cheaper drones | Popular Science
http://www.popsci.com/marine-corps-3d-printed-drones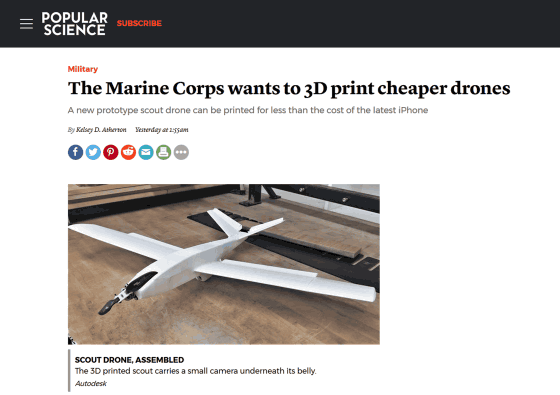 Until now, the US Marine Corps has launched a drone "RQ - 11 Raven" for reconnaissance in Iraq and Afghanistan. Raven is a type of drone that sends out as if it were throwing a spear. If you can throw it well it will be able to produce speeds as fast as 80 km / h, rising to about 9.7 km. Since the camera is installed, it is possible to grasp the surrounding situation and always send feedback to the operator on the ground, but the problem is that the cost is quite expensive. The cost per Raven 1 machine with a total length of 4.5 feet (about 140 cm) and a weight of 4 pounds (about 1.8 kg) is 30 thousand dollars (about 3.3 million yen), but if it fails to send it out in the air it can crash and break There is sex. In addition, the total cost including the system controlled from the ground will be $ 250,000 (about 28 million yen). In addition, the cost of repairing Raven's broken wings was 8,000 dollars per wing (about 900,000 yen).

Trucks are used for transporting Raven, but packages are packed with suit, water, fuel etc in the truck, and soldiers board with weapons on top of it. Raven needed to bring it in the case of a pelican when moving, but there was a problem that there was not enough room to put a big case on a truck full of luggage and people.

Many troops were disliked to use Raven because they were in the way of getting in the way, getting in the way, being expensive to repair, and in the event of a broken it was necessary to write a document about the repair and the document work increased. is.

Rhet McNeal, a marine corporal corporate citizen, said, "We are working on projects on 3D printing and wearable technology"LOGISTICS INNOVATION CHALLENGESWe made a proposal on drone in ". Although Mr. McNeal's proposed drone works similarly to Raven, it drastically reduces costs and does not take up space when carrying. McNeal is a 3D model crowdsourcing library "Thingiverse"I found a drone" Nomad design "that can easily repair the wings and decided to divert it to a drone for the Marine Corps. Nomad design is Creative Commons license, modular drone with GoPro · motor. That being modular means that it was possible to output damaged parts easily, meaning that you can disassemble and assemble as needed.

Nomad, an FPV / UAV 3D printed airplane. By CaptainObvious - Thingiverse
https://www.thingiverse.com/thing:272478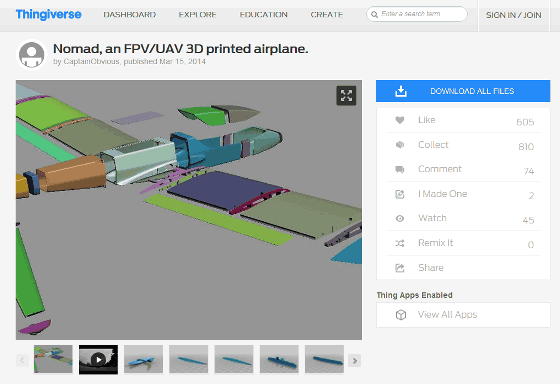 McNeal's modified Nomad design was selected as one of the 20 ideas that won the LOGISTICS INNOVATION CHALLENGES in 2016. And since the beginning of February 2017 the US Marine Corps is in AutodeskPier 9 Residency ProgramWe completed the prototype of a new drone outputted with a 3D printer called "Scout" in cooperation with the company.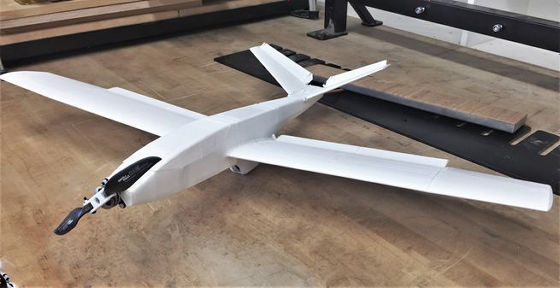 According to McNeal, the cost of Scout is about 615 dollars (about 68,000 yen) as a whole system. Also, Raven cost about 900,000 yen repair cost just by breaking one wing, but for Scout it seems it costs only $ 8 (about 890 yen). However, the function and ability are limited compared with Raven, the operable range is less than 2 mile (about 3.2 km) in radius, the maximum speed is the same as Raven with speed of 80 km, but the available time is from 12 minutes to 20 minutes It is. There is no laser to mark the target, the camera does not support infrared. However, Scout using an open source controller and software has a big advantage in terms of cost, and it is scheduled to be introduced by reconnaissance in actual war.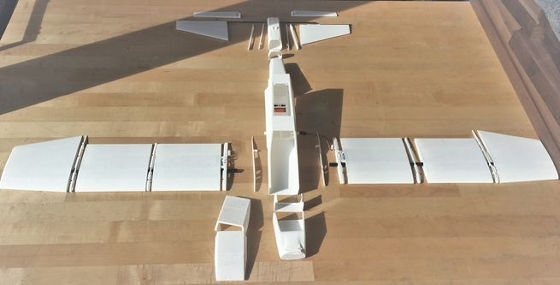 Meanwhile, it was forbidden to use DJI drone in the US military because August 2017 "There are risks and vulnerabilities on cyber security", but McNeal who uses off-the-shelf products Drone is also considered to have similar risks. However, there is a view that the risk of advancing Scout from the prototype of 3D print is very small, because the range of operation is narrow and it is limited to the necessary minimum control. Christopher Wood of NexLog says, "We do not have the perfect answer and the situation will remain the same for the time being. The technology on drone is evolving rapidly, predicting what will happen next will be difficult We believe that we need to understand and understand the risks of the technologies we use. "

There are three manufacturers and laboratories in the US Marine Corps as fixed facilities in California and Virginia, and Wood's "Mobile Lab" that trains technology to assemble Raspberry Pi and Arduino from technology related to 3D printing exists Thing. Using these technologies, he seems to be making use of outputting a drone for practice assuming actual combat with a 3D printer and making a replica of munitions required for training.