YouTube's AI deletes war criminal movies with material value as "Extreme Videos"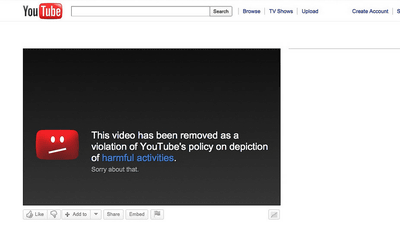 ByGed Carroll

To prevent YouTube's video distribution service from spreading inappropriate content on the service,Censoring contents using artificial intelligence (AI)We are doing. While this AI program deletes massive amounts of Middle Eastern extremistic content, it has received criticism because it began to delete similarly valuable videos that record war crimes.

YouTube AI deletes war crime videos as 'extremist material' | Middle East Eye
http://www.middleeasteye.net/news/youtube-criticised-after-middle-east-video-taken-down-over-extremist-content-1244893230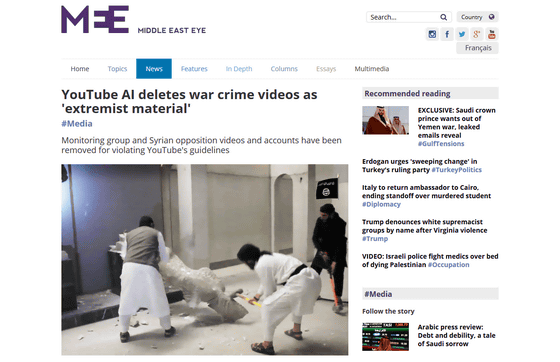 Deliver news and videos about Middle Eastern countriesMiddle East EyeAnd the monitoring organization of extremist groupsAirwars, Open source survey siteBellingcatVideo content published on YouTube, etc.,Community guidelinesIt was deleted because it violated.

It seems that deletion of contents began the day after the introduction of the AI ​​program which Google emphasizes that "Extreme videos on YouTube can be found", and the introduction of this AI program has also been posted in GIGAZINE.

75% of "violent extremism" video on YouTube introduced the machine learning system to be unpublished before the user points out - GIGAZINE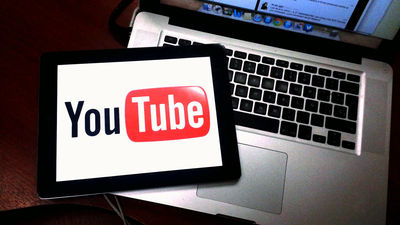 After introducing the system, leaked US confidential information to WikileaksChelsea ManningMovie used as evidence in the case of former upper soldiers and videos containing violent acts of art objects by Islamic countries were judged as "movies by extremists" and deleted.

The news site Orient News by the Syrian opposition party opened in 2008 has been deleted for each YouTube account.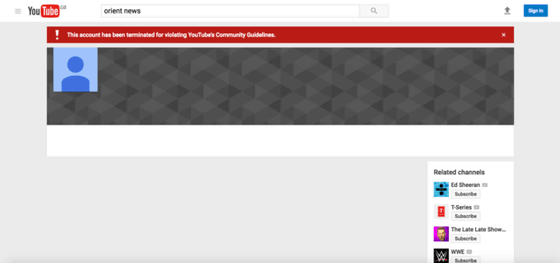 Airwars says that the video has been deleted "Do you know why YouTube deleted our three videos? We do not know. Since 2014 we have uploaded more than 100 videos, I was tweeted and raised a problem.

Can you work out why@ TeamYouTubeHas banned these three videos? We can not. Of 100s we have archived since 2014, these 3 blocked this weeekPic.twitter.com/Yu0ZniC6My

- Airwars (@airwars)August 8, 2017

Two of the deleted three videos are as follows.

First dates to 2015. Coalition removed from its own@ YoutubeChannel a while back, so a publ; ic record is importanthttps://t.co/txtgbaJ1CI

- Airwars (@airwars)August 8, 2017
The 2nd is from March 2016, and is still on Pentagon's media channel. A war act, though unclear how it breaches T & amp; Cshttps://t.co/CglVqcnDcA

- Airwars (@airwars)August 8, 2017

After that, it seems that the deleted movie was restored, but it seems that it was classified as a movie that can not be watched unless it is 18 years old or older.

.@ TeamYouTubeAlso placed 18 restriction on some Coalition videos (tho since removed on appeal.) Would be great if someone could explain banPic.twitter.com/FHHmysObVz

- Airwars (@airwars)August 8, 2017

YouTube was published by Middle East Eye "Drone footage by Islamic State shows suicide car attacks on Iraqi forces inside Mosul"Video appears to show Egyptian soldiers carrying out extra-judicial killingsWe also deleted videos such as "Violation of community guidelines or temporary penalty" on the reasons for that reason and it seems to have explained on the e-mail. About these, Middle East Eye appealed to YouTube and it seems that there was a reply saying "As a result of reviewing the contents, you have reconfirmed that your videos are in violation of YouTube's Community Guidelines" , Restoration of the video did not come true. From other YouTube accounts, it seems that movies that documented the destruction of Nimurud by Islamic countries, which are relatively easy to obtain on the Internet, and movies featuring al Qaeda were deleted.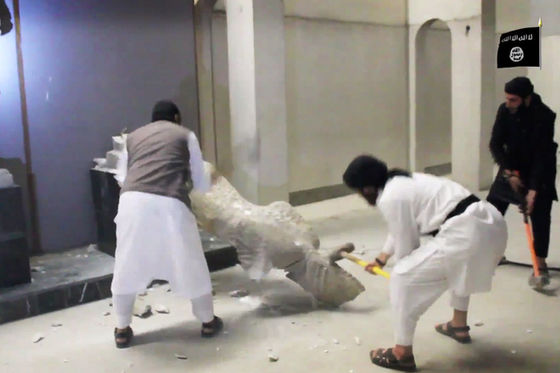 Because YouTube began to remove militant-related videos using AI because he was criticized as delivering video content by radical groups like Al Qaeda or Muslim countries. This problem is bigger than I imagined, hating that advertisements would appear next to "inappropriate content", in March 2017Major enterprises withdraw from ad serving on YouTubeIt is up to you to do.

YouTube started censoring contents using AI in order to eradicate the extreme faction's video content,Official blog"The accuracy of the system has dramatically improved by machine learning technology." "These tools are not perfect and they are not suitable for all settings, but in many cases they will be removed Proving that it is a more accurate system than humans in finding videos that are necessary, "said AI highlighting the high degree of censorship accuracy.

In addition, it seems that YouTube account seems to be deleted for each account if there are three violating the community guidelines, which is why the YouTube account which released videos related to Syrian civil war was deleted . Several videos included graphic images that lead to conflict, but most of the videos seem to focus on politics and interviews.

Mr. Chris Wood of Airwars said, "I think that what is happening now is a problem, from the Syrian account's point of view, these videos describe the situation of the civil war of six or seven years, It is a record of the most important part of the war ", which appeals the material value of the movie deleted from YouTube.