Google's Waymo acquires automatic driving car patents that softens and reduces passersby damage when a traffic accident collision occurs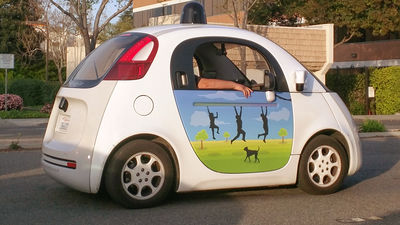 ByWayne Hsieh

Independent from Google's automatic driving car divisionWaymo"Is an automatic driving car that has neither a handle nor a pedal"FireflyWe finished development of the new automatic driving car, but we continue to develop. Waymo has acquired a patent that detects collision of accident, softens the bumper etc. and reduces the damage of passersby.

United States Patent: 9725060
http://patft.uspto.gov/netacgi/nph-Parser?Sect2=PTO1&Sect2=HITOFF&p=1&u=/netahtml/PTO/search-bool.html&r=1&f=G&l=50&d=PALL&RefSrch=yes&Query=PN/9725060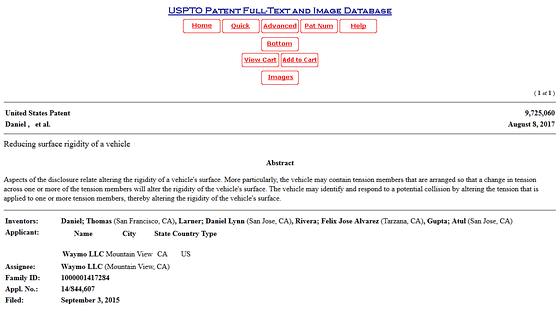 Google spinoff Waymo patents the incredible floppy self-driving car
http://www.siliconbeat.com/2017/08/08/google-spinoff-waymo-patents-incredible-floppy-self-driving-car/

Generally it is said that if an automatic driving car is established it is said that it will be a better driver than a human being, but since the traffic accident never goes away, when the automatic driving car accident happens in parallel with the development of the automatic driving technique You also need a way to minimize the damage of. As an idea to realize this, Waymo developed a technology that reduces the rigidity of the bonnet, panel, and bumper of a vehicle when an automatic driving car predicts a collision, and reduces the impact at the time of collision, August 8, 2017 We got a patent on.

According to patent documents, the rigidity of each part is a mechanism to lower by using a cable which has been wrapped around, and it is said that only the place where collision is expected is softened technology. Although it is an idea to soften the shock which softens the car body and gives great damage to the passersby in a traffic accident, the influence on the safety of the passenger at the time of a collision is not stated because the rigidity of the car body is lowered .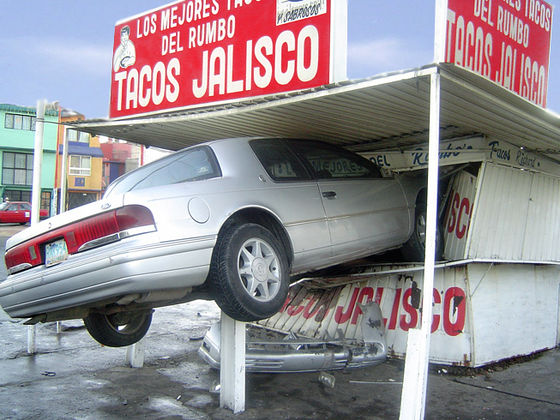 ByOmar Landeros

Even when Waymo was Google's automatic driving car project, he also said, "We will attract passerby who collided like flies to reduce damage."PatentWe also have acquired.
in Ride, Posted by darkhorse_log