Google's full disclaimer of the full text of e-mails from Google CEO to all employees on a fake basis with employees who made remarks of "female contempt"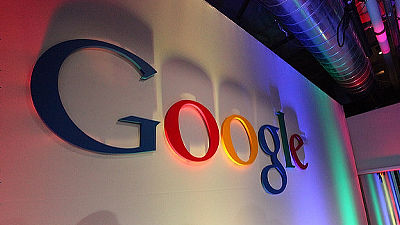 ByRobert Scoble

The document written by senior engineer James Damore against Google's policy on diversity is going to Google's internal mailing list, and on August 5, 2017 local time, the news mediaMotherboardReported. In the document, it included controversy that "women are not suitable for coding" and was controversial as "female contempt", but we found that Google dismissed Mr. Damore in this case.

Google has fired the employee who penned a controversial memo on women and tech - Recode
https://www.recode.net/2017/8/7/16110696/firing-google-ceo-employee-penned-controversial-memo-on-women-has-violated-its-code-of-conduct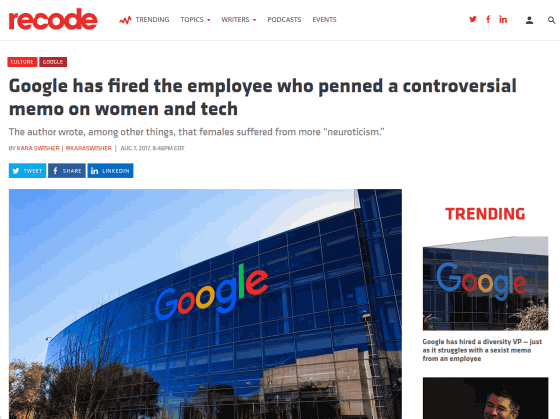 The document which became a problem "I am evaluating diversity and its acceptance, neither denying the existence of sexism nor admitting to argue with a stereotyped stereotype Although it began with a passage like "It is not scientific basis" since the woman is not suitable for coding (male-female proportion) should not be forcedly divided by half "was written. The details of the document can be read from the following.

GIGAZINE discovered on the net that internal documents such as "Women are not suitable for coding" were shared within Google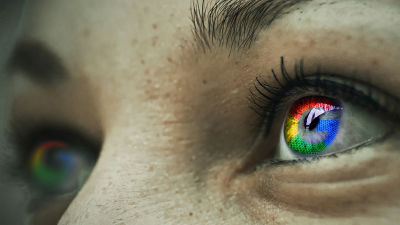 In response, Mr. Thunder Pichai, Google CEO, sends a message to employees titled "About the importance of our words". The content of the mail is also published on the following page.

Note to employees from CEO Sundar Pichai
https://www.blog.google/topics/diversity/note-employees-ceo-sundar-pichai/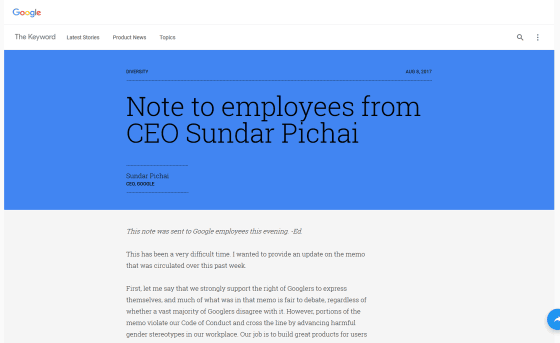 Pichai CEO says, "We support Googlers (= Googlers) right to express ourselves, even though opinions are not approved by many Googlers, we discuss a lot of things in the memo However, part of the content of the memo violates our code of conduct and brought in a stereotype that hurts people to our workplace, asking colleagues "biological workplaces It is insulting and not being tolerated to show that it is not suitable for "it is an unjustifiable thing This is a basic value of ours and the fact that Googler tries to eliminate harassment and threatening, prejudice, illegal discrimination It is contrary to the code of conduct that states as much as possible to create culture ".

Because employees feel that they are hurt by documents written by Mr. Damore, they feel that they were "judged by gender", and some employees feel that it is less likely to issue opinions from a minority point of view, "Employees are threatening The opportunity to say freely without feeling was impaired, "CEO Pichai wrote. On the other hand, Damore's document also emphasized the discovery of many of Google's problems.

Pichai CEO's document did not mention what kind of action will be taken against Mr. Damore, but on August 8, 2017 local time, Bloomberg reported that Damore was dismissed from Google It was.

Google Fires Author of Divisive Memo on Gender Differences - Bloomberg
https://www.bloomberg.com/news/articles/2017-08-08/google-fires-employee-behind-controversial-diversity-memo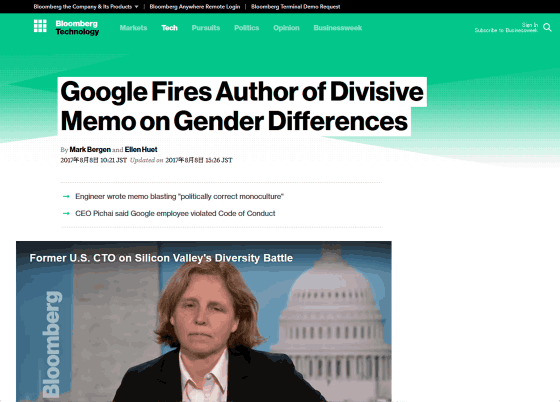 According to Bloomberg that Mr. Damore received the e-mail, Damore who was fired on the grounds that "stereotype of gender was fixed" is examining the possibility of taking legal measures on this subject It is said that it is place.

Also, before Mr. Damore was dismissed to the Labor Relations Committee (NLRB) "Google's senior management was misinformed, I complained about murdering me to complain," This is NLRB It is reported that it is an act that violates the rules of the law ".

Women's issues are moving to the courts for Google, as James Damore has filed a labor complaint and a class-action suit on pay gap is prepped - Recode
https://www.recode.net/2017/8/8/16116218/court-womens-move-google-james-damore-files-labor-complaint-class-action-suit-pay-gap-prepped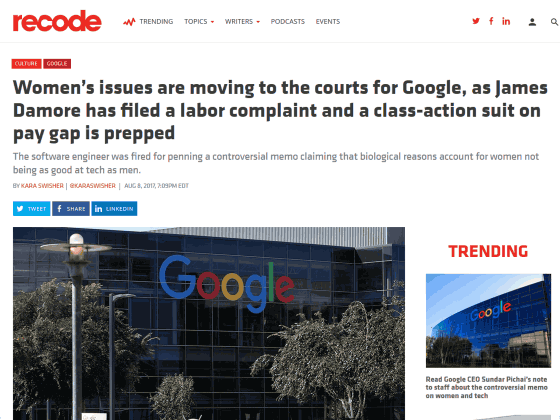 Meanwhile, there are women who bring out lawsuits against Google on the basis of equality between men and women, and the voice that "wages of women are less than men even if they do the same work" is also growing .
in Note, Posted by logq_fa