A story of a patron model platform "Patreon" that illustrators, manga artists, musicians, etc. creators can "donate" directly from fans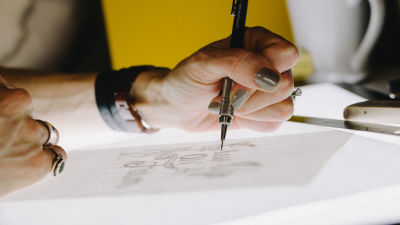 ByKelly Sikkema

"The artists and creators who wish to make a living should be used all the time" is said to be said that the platform that is helping the creators working individually is "Patreon"is. It is possible for people making things to receive donations from fans on a monthly basis, and distribution amounts are also large unlike advertising-based YouTube, so Patreon is characterized by easy revenue stabilization, but why The Verge of foreign news media is closer to inside, such as how it was made with the circumstances, how much people who actually use it are able to earn money, and so on.

Inside Patreon, the economic engine of internet culture - The Verge
https://www.theverge.com/2017/8/3/16084248/patreon-profile-jack-conte-crowdfunding-art-politics-culture

What is it with Patreon?
Patreon is the platform that started in 2013. As you can see from the name Patreon, I financially supported artists in medieval EuropepatronWe provide services based on models.

You can access Patreon from the following.

Best way for artists and creators to get sustainable income and connect with fans | Patreon
https://www.patreon.com/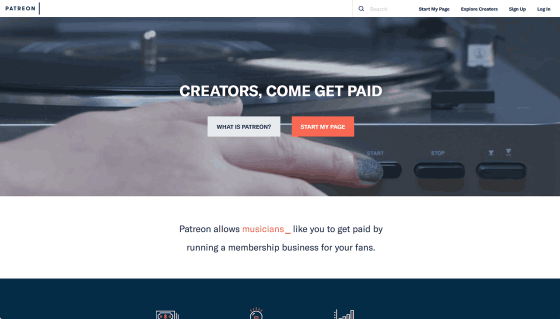 "Explore Top CreatorsYou can see popular creators list by opening the page "....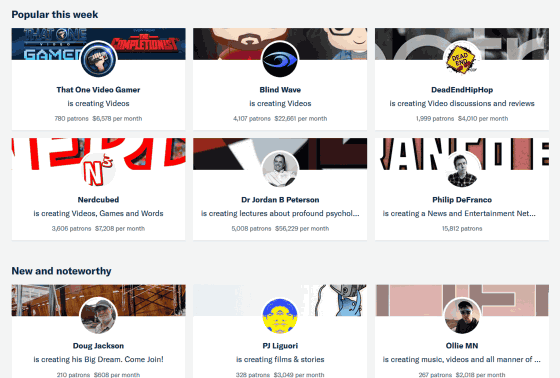 You can also see creators by genre such as "Video & Film" "Comics" "Podcasts" "Comedy" "Game" Click on "Photography".




A list of creators is displayed ......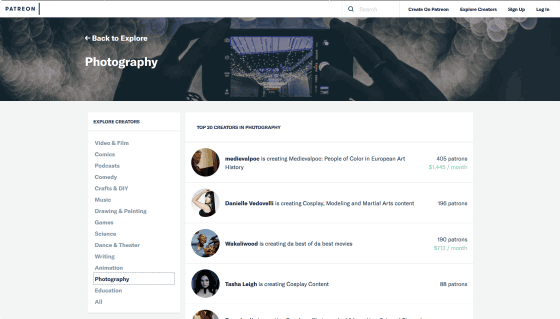 Looking at it, it became clear that how much patrons existed in creators, how much money was paid from patrons monthly? Most patrons "MedievalpocClick on the account.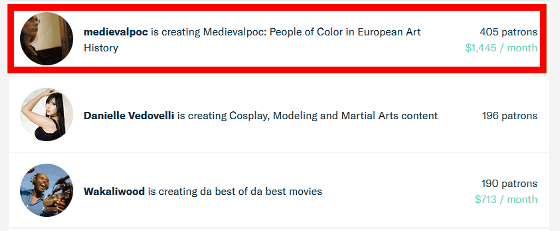 Then it was a historical teacher & fantasy writer, and the page of the creator who published works on art and history was displayed. Click "BECOME A PATRON" ......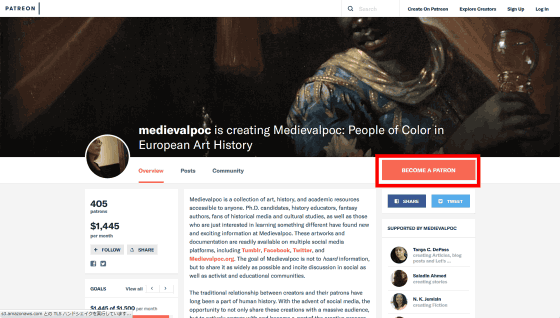 From 1 dollar per month it was possible to pay creators their own amount of money. It is characterized by easier creator revenue because creators are paid out the amount of 5% which is the fee of Patreaon, so much more distribution than YouTube etc., payment can be based on month. In addition to fixed monthly settings, you can also make a form that will be paid each time you create a work.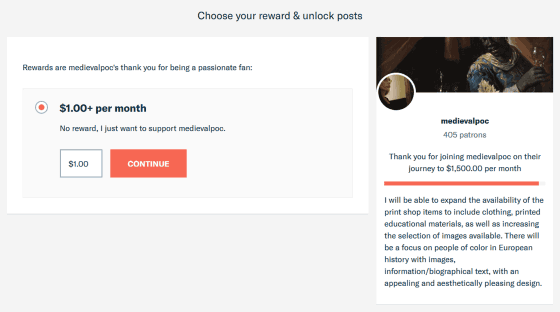 Patreon is a cloud-funding platformKickstarterAs in the case of companies like Kickstarter, developers and manufacturers can collect money directly from end users, but rather than investing in "the final product" like Kickstarter, it is more flexible It is characterized by becoming a donation system. According to Patreon's CEO Jack Conte, Patreon's goal is not simply to be a "payment service", but to "cultivate creative people". "I want to make it think that it is possible to be a professional creator" when children grow up and graduate from high school or university after 10 years from now. We are aiming, "Conte says.

Mr. Conte was originally a musician. At one point, when I published the music video "Pedals" made over three months on YouTube, although I watched 1 million times in 1 year, the YouTube advertisement model saw income of $ 100 (about 10,000 It was only about 1,000 yen).

Conte's publicly released music video "Pedals" is below. It is a work that has been built like SF movies.

Pedals Music Video (featuring REAL robots) - Conte - YouTube


Conte, who was only able to earn 10,000 yen in 3 months, said, "Why would a fan pay for music videos and agree to support artists directly? And that is what other musicians Why should we have a mechanism that can also be used? "I consulted with former roommate Sam Yam, founder of mobile advertising company AdWhirl. After that, development of the platform takes place for two months, and in May 2013 early version of Patreon will be released.

Originally, Conte had anticipated that "Someone will pay 1 to 2 dollars", but contrary to expectations, Conte went on sale for 4000 dollars (about 44 Ten thousand yen) you earn income. Patron's payment amounted to an average of $ 9 (about 990 yen). Of course, the targeted music video is still published on YouTube, so you can watch as much as you want, but as a bonus you can choose from only patron limited content and the right to buy tickets preferentially at the time of live By attaching, it seems that we were able to gather a lot of supporters. As of 2017, there are 50 thousand creators making use of Patreon, and it can be seen that Patreon's system succeeded in supporting many creators. Although Patreon had a service of the same mechanism before it started, Patreon said that easy setting and easy management by anyone led to growth of service.

Actually, Peter Hollens, a musician registered in Patreon in 2013, said that income was not stable until Patreon started, but now, after four years of registration, it gained support from as many as 3,600 fans, He said that he was able to earn income of $ 13,000 (about 1.4 million yen) twice a month. Hollens says, "Artists and creators who wish to make a living should all use Patreon."

◆ How do you get popularity with Patreon and get lots of support?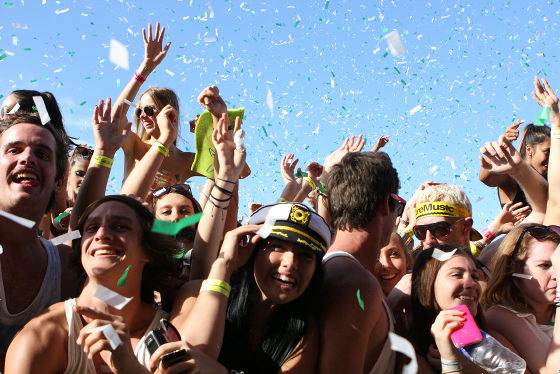 ByEva Rinaldi

As a privilege of support at Patreon, you often have the right to access high resolution images and movies. However, Patreon does not just support "works", but supports people, styles, ideas, who create works.

And this is the key to separating creators who succeed in Patreon and creators who do not.

As a musician and producerMichael ArandaHe has 287 patrons on Patreon and has obtained $ 1,460 a month (about 160,000 yen) from Patreon. Aranda said "Synema Studios"Although he is a creator of a production company or a private video blog channel, he says he has set the boundaries of the project on Patreon very clearly. In other words, the YouTube channel "CrashCourseSupporters for money are paid in the sense that the channel can continue to be released for free, but those who pay for more private video blogs interact with Mr. Aranda As we are seeking to do so, Mr. Aranda regularly participates in a private maincraft server and plays games with the supporters. It is important to understand what kind of motivation people donate for content and motivate them, and give benefits tailored to supporters.

Also, as Patreon does not promise a specific "finished product" like Kickstarter, it is a more flexible form, so it is less likely that even if the project fails it will not produce a large number of angry people to anger. Unlike Kickstarter, it seems that it is helpful for supporters to get angry because the amount paid per person is small.

It is also a platform feature that contributes to artists who produce erotic works by indies, as content to be donated on Patreon is diverse and generous for adult content. Of course, there are popularity / unpopularity by genre, and as of 2017 the most popular are podcasts and YouTube movies. However, according to Conte, regardless of genre, a successful account is said to be an account that has "a creator who loves fans and loved by fans" regardless of the genre. Conte's view that podcasts and YouTube channels are popular as content because they are good at exchanging with fans because of their nature.

◆ New relationship between creators and fans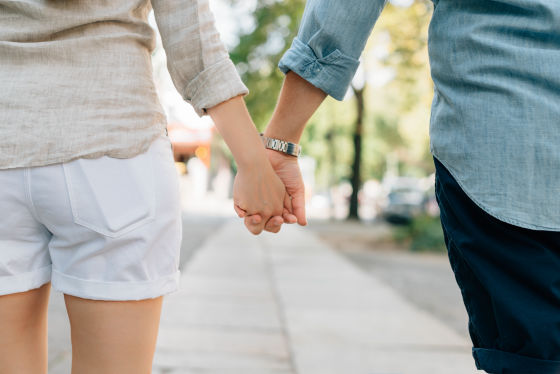 ByCrew

In the past era, as there was a distance between Hollywood celebrities and fans, there was a distance between creators and fans. However, with the advent of platforms like SNS and Patreon, the distance between them is getting closer. For creators who work online, this is a very big problem, for example, a comic web site "The OatmealMatthew Inman, who runs a great success with cloud funding in 2012, does not have a comment section on its own comic site. This is because Mr. Inman feels stressed for interaction with viewers.

Of course, there are people who think that the distance between creators and patrons is "productive". Rebecca Watson, a video writer who uses Patreon from the early days, said, "When someone requests me at Patreon, it does not mean a disgusting man who is on the Internet, he supports me I understand that it is a person's speech. "I believe that Patreon will help to distinguish trusted viewers.

Also, for creators who have already established a way to earn money, Patreon is not a social space but simply works like a chip insert. For artist Arlin Ortiz, Patreon boosts revenue, and although it is related to fans, it is not closely related to the hosts and supporters of the YouTube channel. "Everyone just like what I make, I think that no one wants me to appear on YouTube and talk to people," Ortiz says.

On the other hand, some people wonder about the idea of ​​"patron" itself. Mr. Mike Errico, a singer-songwriter, showed that medieval artists had the possibility of being scattered if they mad the patrons, "We now make similar things in the virtual world "It points out the problem of patron model. Of course, Mr. Errico admits that Patreon is financially distributing to musicians, but with patrons, creators can not take risks or do free activities I am concerned.

Dark side of "Free platform for creators"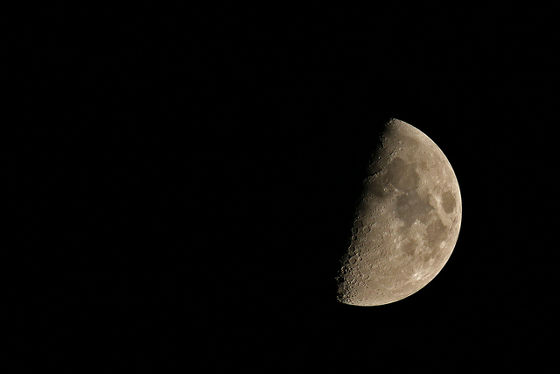 ByZach Baranowski

Patreon has flexibility as a platform, and Patreon also has aspects that raise hate speech. For several years after launching the service, Patreon had only general guidelines for people with bad manners. However, as with other websites, this becomes a nuisanceGamer Gate problemIt was used by anti-feminists who caused them, and it seems that Patreon is not "a space friendly for artists" in some cases. Gamer Gate problem appeals the problem of female contempt in gamesMedia critic Anita SarkeesianMr. Sarkeesian focused on Mr. Sarkeesian's movie "The Sarkeesian Effect", which is a series of events that Mr. Sarkeesian focused on after a series of events canceled the event due to a killing notice from a net user who seemed to be opponents.

The Sarkeesian Effect: Inside the World of Social Justice Warriors on Vimeo


From this time on, Patreon added prohibition on exposure, hate speech, harassment, and at that time Conte said "We were in a very tough position." The problem of hate speech in Patreon like this continues and feminist Anna Kreider says, "Unless Patreon tries to stop those who collect money by hate speech, minorities and women say" Patreon is a woman and minority It's a platform that welcomes those who are being neglected, "he says.

◆ Patreon's future vision of generating $ 250 million (about 28 billion yen) payment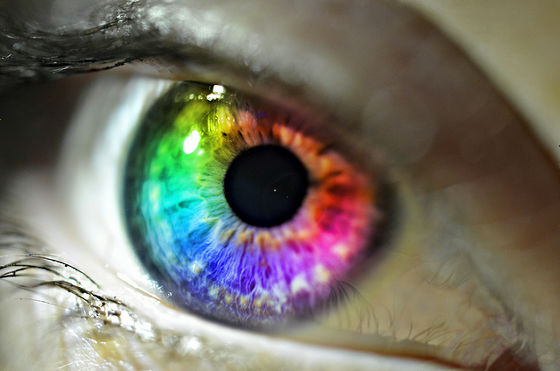 ByBen Mortimer

Looking at creators who use Patreon in just 4 years, 50,000 people, more than 1 million monthly active users, the total amount paid by fans to artists in 2017 amounts to 250 million dollars (about 28 billion yen) It is done. As you can see only numbers, the system that Patreon has built up has had a great impact on creators. However, although Patreon is a tool that allows creators who already have fans to receive financial support from fans, it is not suitable for "creating fans from 1". Mr. Conte is aware of this and seems to want to create a mechanism to collect funds even for creators who are not yet a fan.

On the other hand, Patreon is a newly born platform, and there are also problems that it is still not enough to recognize it even though it has many creators. As part of public relations activities, in 2016 Conte said to PatreonKanye WestI invited the artist,Creatrix Tiara"Superstars like Kanye West do not need services like Patreon and Patreon is going to try to help them, even though there are promising black artists that have not yet succeeded There is no such thing. " According to Tiara, when searching and examining it seems that many of the users collecting a large amount of funds on Patreon are white people. Tiara said, "Patreon does not need publicity, but Patreon needs to make the service more than payment platform to make the ideal a reality."