Study result that men will become "Playboy" and "Female dislikes" at the timing of seeing porn for the first time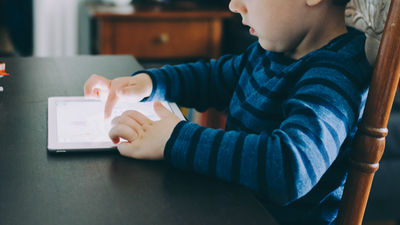 ByKelly Sikkema

Researchers discovered that there is a relationship between when men first saw pornography and when men adopted a sexist attitude towards women. Studies have shown that men who have seen pornography for the first time in a younger age tend to dislike females, and on the other hand, when they see pornography for the first time after taking older than average they tend to be sexually disarrayed playboy It is also clear that there is a trend.

Boys who watch porn are more likely to be sexist | Daily Mail Online
http://www.dailymail.co.uk/health/article-4757558/Young-boys-watch-porn-likely-sexist.html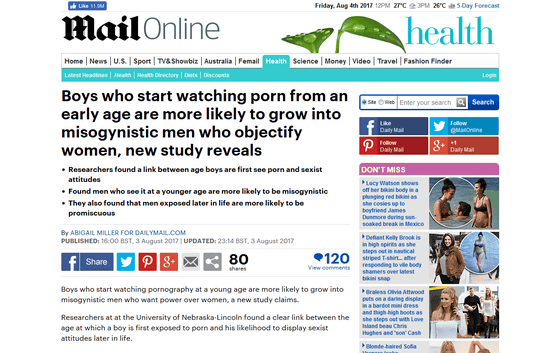 A researcher at the University of Nebraska Lincoln found that the boy who started watching pornography from a young age has a high possibility of growing to a man who tries to dominate a woman who dislikes women. Studies have shown that men who have seen porn for the first time by men have a deep involvement in the current sexual attitude and men who have a slower opportunity to contact pornography than average are more likely to be sexually disarrayed, It is also pointed out that there is a high possibility of it.

"The goal of this survey was to investigate the age at which pornography first touches and its experience on the two men's norms," ​​said Alisa of the student who studied · Bishmann. Two "men's norms" are two things, "Do you tend to take sexually disoriented behavior" and "Wish for women's control?"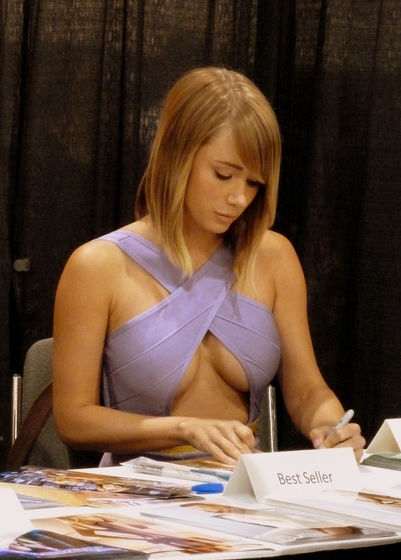 ByGabboT

Mr. Bishmann and his colleagues surveyed 330 undergraduates from 17 to 54 years old. 85% of the subjects were white and 93% were heterosexual. In the survey, we asked each person about "when we first saw pornography", when we saw it concretely, whether it was intentional, whether it was accidental or mandatory It is. Furthermore, in order to measure two male norms, the subjects seem to have also responded to a unique questionnaire.

As a result of the survey, it seems that the average age of first mentioning porn was 13.37 years old. The subject who touched porn during the youngest age is 5 years old and the late one is 26 years old. Also, the situation when I saw porn for the first time seems to have said that 43.5% are accidental, 33.4% are voluntary and 6% did not give detailed answers on how they saw it.

Furthermore, as a result of analysis including the questionnaire result, "It turned out that the younger the time to see pornography for the first time, the more it tended to rule women," "On the other hand, seeing pornography for the first time became late Men are more likely to think that they want to take actions like Playboy, "Bishmann says.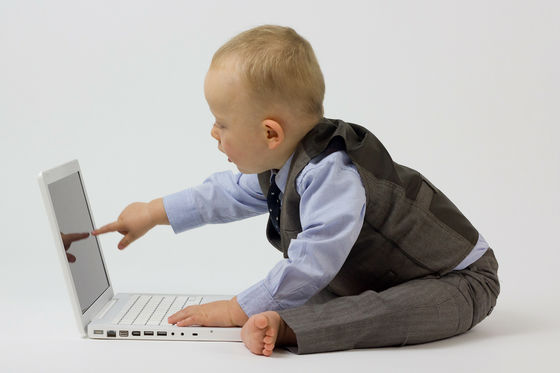 ByPaul Inkles

Co-researcher Clichy Richardson said, "The most interesting discovery of this research is that men who are late for the first time to see pornography tend to be playboy.This discovery is based on the role of sex in society and Since it was quite different from the way we perceived in exposing to the media, it will cause many doubts and research ideas in the future. "

However, Mr. Bishman is explaining the necessity to conduct more research in the future, and various variables such as anxiety about religion, sexual activity, negative sexual experience, etc. are also related.

This research result also leads to treatment of various emotional and social problems of young heterosexuals who watch pornography, Bishmann says.
in Note, Posted by logu_ii