Finally, a vending machine that can buy Instagram's "Like!" Appears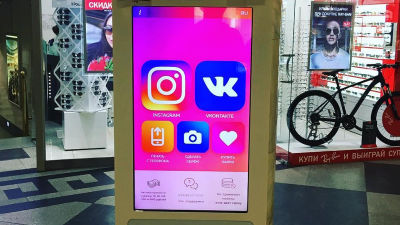 Those who are doing SNS such as Facebook and Twitter are concerned with the number of "Like" who will be posted to their post by themselves. In order to respond to such a demand, although the site which sells "Funk" of fake and the follower has also appeared on the Internet, how to sell "Like" in Russian shopping center Vending machines seem to have appeared.

This Russian Vending Machine Will Sell You Fake Instagram Likes - Motherboard
https://motherboard.vice.com/en_us/article/russian-vending-machine-fake-instagram-likes

Russian journalist Vasily Sonkin discovered the following vending machine. Mr. Sonkin's colleague Alexey Kovalev said that along with a comment that "Russian capitalism has gone too far to the limit," Instagram and the logo of SNS "VK" popular in Russia etc. A state of a vending machine that is displayed largeTweetsdoing.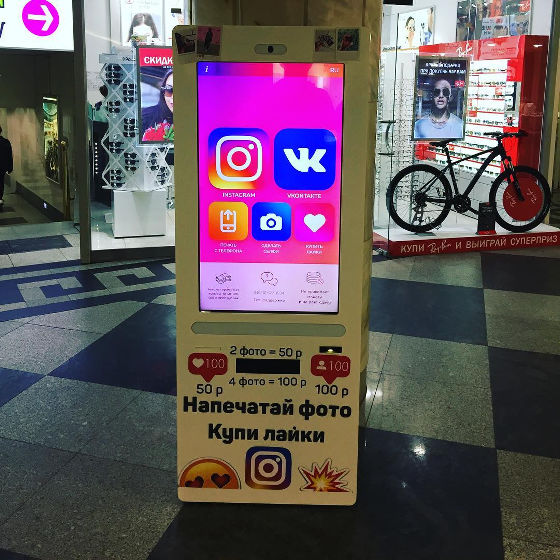 This vending machine was discovered within the building of "Okhotny Ryad Shopping Center" which is the downtown area of ​​Moscow. It's fake of Instagram at 50 rubles (about 100 yen)! You can get 100 pieces, and if you pay 100 times rubles (about 200 yen), you can get a follower of imaginary Instagram as well. Moreover, it seems that it is possible to purchase similar services for VK.

Actually purchasing 150 thousand followers with $ 850 (about 93 thousand yen), up to 1500 each post! It seems that it is possible to have you press.

Instalike vending machine is for cheapskates. For $ 850 you can buy 150,000 followers guaranteed to deliver up to 1500 Likes to each post.Pic.twitter.com/5V3HTQ4kfl

- Alexey Kovalev (@ Alexey__Kovalev)June 6, 2017

Actually it is good! You can see the state of purchasing from the following movie. It is a mystery that "Most of them are good from a man of semi - nature".

There you go. My friend@ VsonkinMade a video of the Like machine in action.Pic.twitter.com/v0EWkpGR3R

- Alexey Kovalev (@ Alexey__Kovalev)June 8, 2017

Although it is a vending machine full of gladness, it has a function to take pictures and print Instagram pictures as other functions as well. Furthermore, Mr. Sonkin says that this vending machine has been found here and there in Moscow City, and its presence is confirmed in major cities throughout Russia.